Branded mini-games have proven to be one of the most converting and engaging social media tools. Social media users love a bit of a challenge and surely, so does your audience! Want to diversify your content? Looking to interact with your online community? Make branded game apps part of your strategy and not only boost social media engagement but also maintain it. The Easypromos applications are there to help you achieve your marketing goals.
But this time we take it one step further because now you can combine various games in a single application and prolong user engagement with long-term campaigns. Yes, this is where customer loyalty comes in!
You can run Multi-Game promotions for:
Followers that are not yet your clients but you wish to expose to your brand, the longer the better.
Clients that you want to reward for their purchases through interactive exclusive promotions.
Website visitors that you want to convert into qualified leads.
What objectives can you achieve with the Multi-Game app?
We've already mentioned some of the goals that the Multi-Game application can help you achieve. The application allows you to launch multiple stages in a single promotion, for example, daily, weekly, or monthly – and this takes us back to the classic old-school computer games where you had to complete a level before proceeding to the next stage. In the Easypromos Multi-Game application users participate in numerous games where they collect points that are then summed up in the overall ranking page.
Gamification not only attracts attention but also generates rivalry between the participants, and therefore boosts user engagement even further.
All games and stages can be fully customized with the corporate image of the organizing brand (logos, corporate colors), which allows you to expose the audience to your brand and reinforce branding.
Participants gain access to the different game stages by registering through an integrated registration form. That's how you achieve another goal – you get to generate new leads and therefore expand your mailing list.
How does the Multi-Game application work?
The Multi-Game application allows you to launch various games in one promotional campaign. To be exact, you can launch Puzzle, Memory, Word Search, Hidden Objects, Match It, and Minesweeper games. By participating in each game, the user obtains points which are then added up and displayed on the overall ranking page.
The application comes with the following pages:
Welcome page – with participation instructions and information about prizes and participation dates.
User identification page where participants register – it's a compulsory step so that all games played can be linked to the same account.
User registration page where participants leave their contact details the first time they participate. Here's where entrants leave all the information you wish to obtain.
Game stages – each stage is a different game. Normally, new games open daily, weekly, or monthly but you can choose to open all games at the same time and invite users to participate in all the stages straight away.
Thank you page – this is where the user sees their score. You can also personalize a "Thank you" message. From here the participant can access the overall ranking page or play the game again in an attempt to get a better score.
Overall ranking page – this is where all participants and their scores are displayed. You can filter the results by different stage, or look for your friends to compare your scores.
Prizes page – showcase all incentives if you're raffling various prizes. Here you can also present the winners.
Other sections of the Multi-Game application, such as Terms & Conditions Privacy Policy and "My networks" must be configured only once in the Multi-Game application and not in separate stages – what a timesaver!
Try our Multi-Game DEMO to test the user experience! Do you like it? Download our pre-configured template and launch your own long-term campaign.
The promotion organizer gets to decide how many games they want to incorporate into their campaign, how long each stage will be active for, and how many times users can participate. Put simply, it all depends on your plan and objectives that you want to achieve. For example, if you've decided to reward the fastest participant, it'd be a great idea to give users 5 chances, so that they can practice and better their score. If you want to draw a random winner from among all participants, one participation per player will be enough.
Types of Multi-Game promotions that you can launch
The Multi-Game application is a great tool for fostering customer loyalty and retention, as it encourages repeat participation for weeks, and thus works on the brand-customer relationship over a longer period of time. You have full flexibility over the different stages of the game; you can add new stages anytime you want, and you can also hide all the games that are already closed.
The great thing about the Multi-Game app is that the user registers only once. The next time they want to participate in your Multi-Game promotion they must only log in.
Do you want to create a long-term campaign for members of a private area like mobile apps, customer area, or intranets? Learn how to launch promotions where users log in using your brand's login system.
The Multi-Game app works very well for long-term campaigns such as Advent Calendar, as the user comes back daily to interact with your branded app. Take a look at this Advent Calendar DEMO: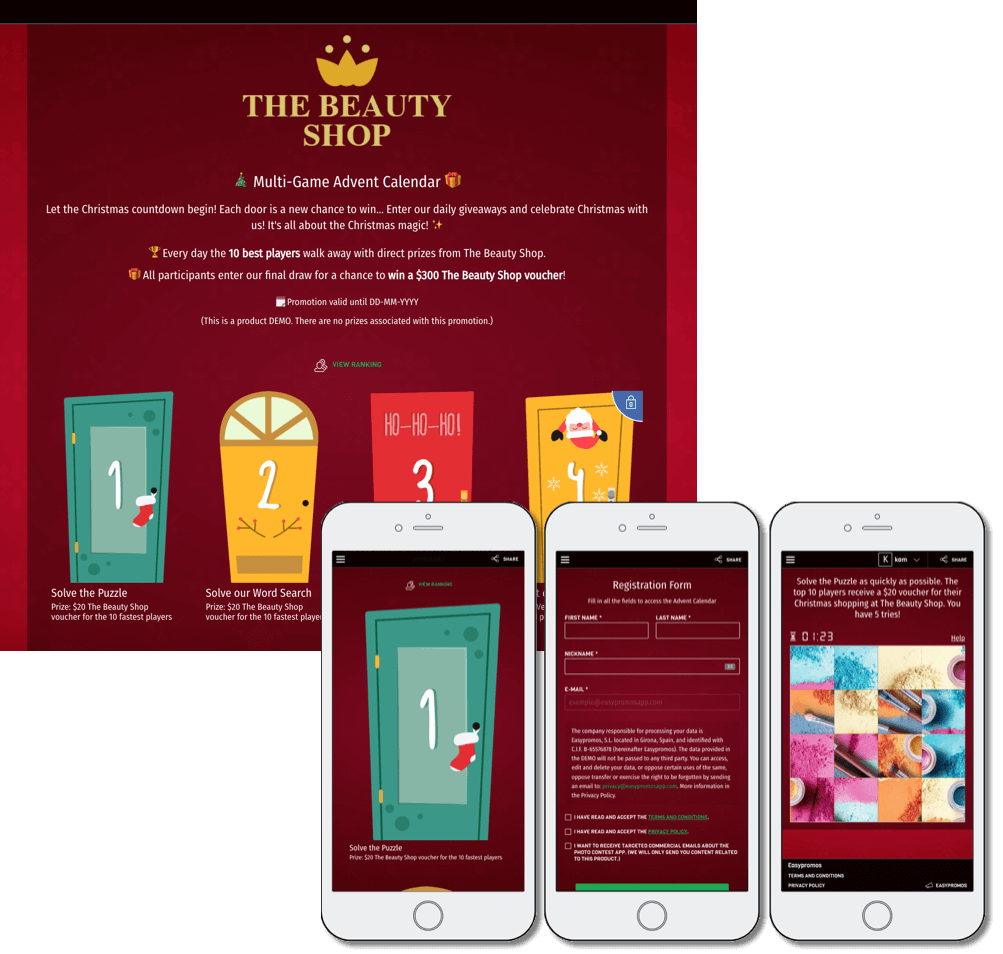 It's also possible to set participation requirements for different stages of your campaign, so that only the users that meet the requirements can gain access to the games. You can for example associate the stages with purchases. To do so, distribute unique codes every time clients shop at your store and use the codes as a stage password. The user will be asked to introduce their code before accessing the new stage and the app will automatically verify whether the code is valid.
How to distribute prizes in the Multi-Game application?
There are many different ways to distribute prizes in Multi-Game promotions, however, the most popular are:
Prizes for the top players in the overall ranking
Random prize draws among participants of a specific stage
Prizes for the top player of each stage
Random draw for all registered participants
Direct prizes for participating, they can differ depending on the stage
How can you try the Multi-Game app?
It is completely free to create a draft version of the Multi-Game application. Log in to your Easypromos account, choose the Multi-Game app, and start testing! You won't be asked for any payment unless you decide to activate your campaign. Bear in mind that the Multi-Game application is available in the White Label and Corporate plans.
Do you have some doubts about the application? Chat with our Support Team, they're ready to answer all your questions.