The product launch process has changed massively over the last decade. In some ways, it's easier, but in others, it's more difficult. Years ago it was quite a task to reach a wide target market. Product launches were executed with the use of TV and magazines. But now social media took over. Brands use social media influencers and celebrities to deliver their message to a wider public. Sneak peeks of new products and collections create buzz and excitement within online communities. However, the number of brands that market online is increasing daily. It might be quite tricky to stand out from thousands of other messages that users see every day. But it's possible! There are many different ways to execute a successful product launch. All you need are great tools and some creative ideas. So today we will take you through examples of new product launch campaigns on social media! Let's take a look at successful product promotion strategies!
Social media giveaways to increase engagement and brand visibility
Instagram Giveaways
9 out of 10 brands have an Instagram account. If you're reading this post you're probably already in that group. Or maybe you're this one person that still hasn't created a business Instagram account. Then you better get to work!
Looking at our statistics, Instagram is currently the most popular network to host giveaways. You might be wondering why! The reason is clear. There are one billion active users every month. Instagram Giveaways are also easy and quick to set up, and even easier and quicker to participate in. Comment-based social media sweepstakes encourage so desired engagement. Instagram has a younger user base than Facebook, and according to Sprout Social, the average engagement rate is also higher on Instagram.
Let's have a look at some engaging Instagram Giveaways that achieved success and created a lot of buzz around the new product.
Natural and vegan products are gaining more popularity, as we learn about the impacts that they have on our lives. St Rose is a producer of natural fragrances. The brand turned to Instagram Giveaways as part of their product launch marketing plan.
St Rose gave two of its followers a chance to win the newly launched product. The entry requirements were simple. The entrants had to follow the account and mention two friends in the comment section. This requirement would generate extra engagement, and the campaign could reach a wider audience. Remember that to attract the attention of your online community you should post an attractive and creative picture. In this example, the brand organized a professional photoshoot, resulting in high-quality pictures of the new product.
Are you looking to create real engagement with your comment-based giveaway? Ask an open question! This will motivate a lot of high-quality comments, where people will be sharing their stories, experiences, dreams, or favorite recipes for a chance to win in return. Comment-based giveaways are great to start conversations between the brand and the followers!
Many clothing brands turn to Instagram Giveaways when it comes to promoting new collections and clothing lines. The same tendency is noted among shoe and accessories brands. Here's an example of Nfinity – sports apparel brand that wanted to promote their newly released product. This promotion followed exactly the same structure as the previous example of the fragrance brand. Nfinity was looking to increase social media engagement and gain new followers.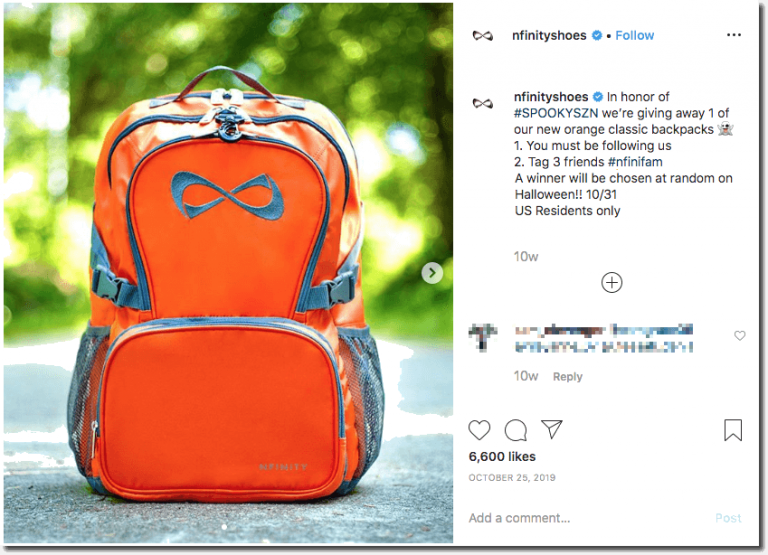 Increased engagement and many followers lead to the improvement of your brand exposure, thereby brand awareness.
Here's another example of a new product launch on social media. This campaign used exactly the same dynamics of the previous examples. The brand asked the participants to follow their profile and mention friends interested in nutrition.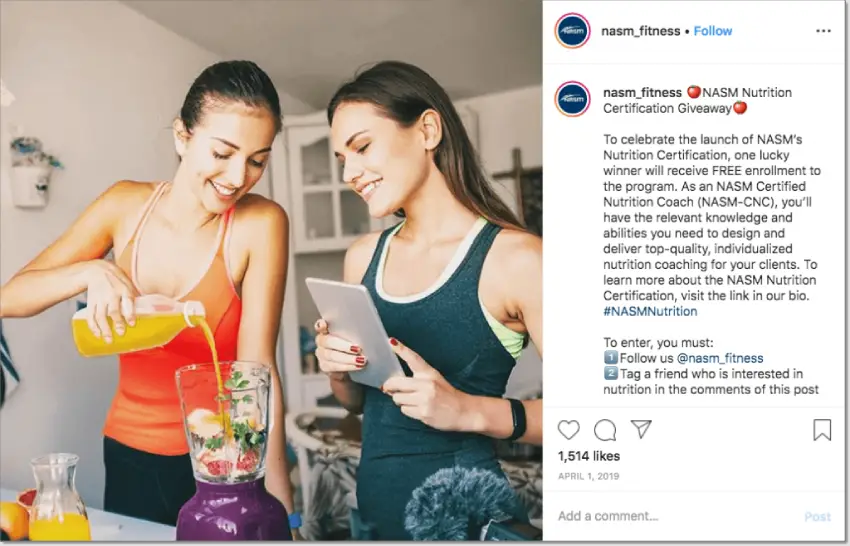 And now imagine that you ask an open question in your Instagram Giveaway! "What is your favorite healthy breakfast?", or "Share your best recipe for a quick and sugar-free snack!". This would not only increase your social media engagement, but also quality comments that could give you ideas for future campaigns or contests!
Facebook Giveaways
Facebook is another great social media network for new product launches, and many brands wanting to target Millennials turn to this platform. You definitely shouldn't discount Facebook when preparing your social media plan for a new product launch. It might have a little less engagement than Instagram, but its older user base means that they have more available income. So once you've identified your audience and decided that Facebook is the right network to promote your new product launch, it's time to get an idea of what Facebook Giveaways should be like!
For instance, here's a giveaway organized by Dermstore. Dermstore wanted to promote vegan skincare products. They looked to increase their social media engagement and spread the word about the newly launched products.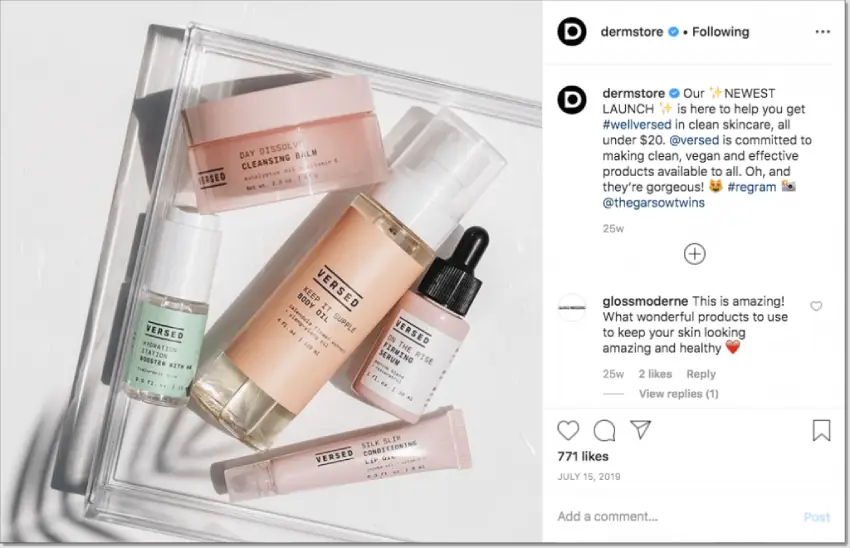 Facebook doesn't allow the "Follow the page" requirement. Hence why the brand asked their audience to like the post and leave comments.
Asking an open question will also create more engagement and conversations. You can also suggest that your followers share the post, or tag their friends in the comments section, so your promotion can get more participants. Remember, that high-quality comments increase the organic reach of your social media post. More comments mean more views, which then leads to more participants and a better success of your campaign. tag a friend in comments.
Are you planning to launch a new product on social media? We have good news! You can download our ready-made templates for your Instagram and Facebook Giveaways! Your first social media giveaway with Easypromos is always FREE!
Lead generation with new product launch campaigns
Clearly, the main goal of a new product launch campaign is to inform the audience about the new products that you offer. You want to create buzz, excitement, and demand. But why don't you take it to another level? We recommend you take full advantage of your new product launch marketing strategy. And use it to complete some of your marketing objectives while promoting your new release.
Let's look at the campaign launched by Gear Institute and Hoka One One. The two brands teamed up to promote the new hiking shoes by Hoka One One. The brand collaborated with another company in order to reach a wider audience. It was also in Gear Institute's interest to promote the new shoes as they were the dealer of the new product. Interested followers filled in the entry forms and submitted them through the Entry Form Giveaway app. Then 20 random winners would walk away with the new product boots by Hoka One One.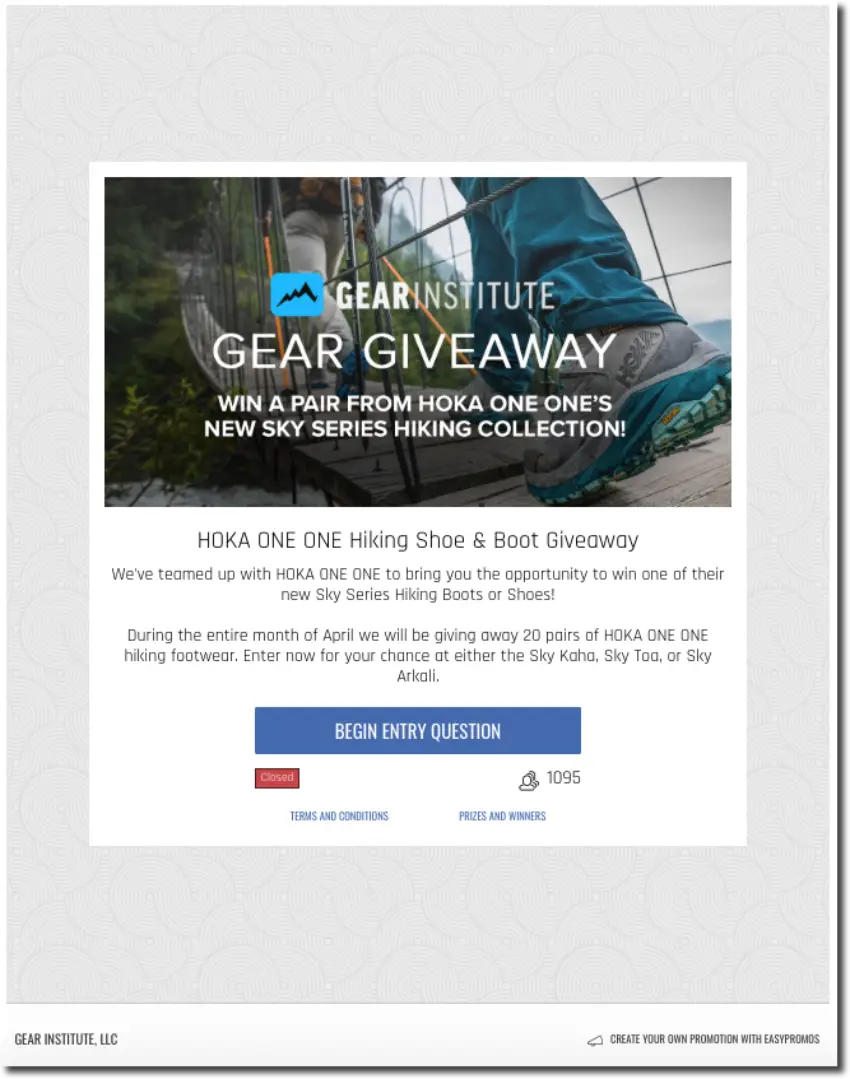 More than 1000 people entered the competition, meaning that the brand's mailing list increased!. But what else can you do once you have all the new contact details…? Target them! But not with irrelevant newsletters or offers that the users will be most likely to unsubscribe from. Email discount codes! If you know that more than 1000 people entered your giveaway, it can only mean that they're potentially interested in your new products. Take this opportunity to send the participants discount codes and vouchers for your new product.
Another way to distribute discount codes while promoting your new product is with the use of the Spin the Wheel application by Easypromos. Play the DEMO to get a taste of the user experience!
Offer discounts for new products and drive traffic to your website
Online users love interactive content. Quizzes and surveys are popular with online communities, as they are entertaining. So this could be a great opportunity for your new product launch campaign. Let's take a look at this Survey organized by Yankee Candle Singapore. The brand wanted to promote its new spring fragrances, therefore they went for an online survey. Each participant had to answer three questions, fill in the entry form and wait to see if they've won! However, each participant received a 10% discount code for any of the new products.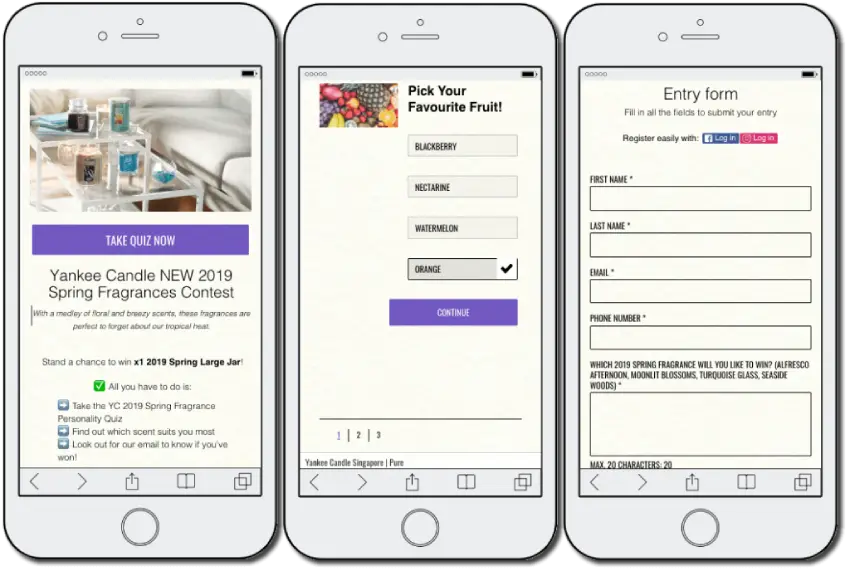 This is a great way to increase sales. Don't worry if you don't want to distribute discount codes to all participants. While drawing the winners of the main prize, you can also draw winners of the discount codes.
Apart from entertaining and engaging your audience, promoting your product, and distributing discount vouchers, you can also collect new leads! Once the promotion is over you can download all the details of the participants and target them in the future.

If you choose to promote your new product or collection with one of the apps, make sure you share the promotion link on your social media pages. This way you will attract more attention and drive more traffic to the contest.
Are you ready to start your own product launch strategy?
We hope all these examples gave you an idea for your own campaign. Any doubts? Don't worry! Our Support Team will answer all your questions through our online chat. You can also create your Easypromos account, it's free! Work in the draft mode to see features of different apps, and the platform won't ask for any payment until the moment you wish to activate the promotion!