Posted in: Success cases
The agency

Lifecom Agency is an online marketing agency that works with sportsmen and women, celebrities and FMCG companies. Jorge Lorenzo is currently one of its principal clients.
The agency is dedicated to the management of social media communication of brands, helping them meet all their communication needs with their followers and fans.
It covers all fields of digital marketing and its aim is to improve online positioning of brands, encouraging greater user engagement and loyalty.
Lifecom wants its clients' ideas to become reality, its clients' followers to be as well informed as possible, and its clients' brands to be top of mind for internet users.
The Client
Jorge Lorenzo, Moto GP world champion in 2010 and 2012 with the Yamaha team, and 250cc world champion in 2006 and 2007. With a total of 49 victories, he is the seventh greatest driver in the history of motor racing.
The official Facebook page of Jorge Lorenzo has 965,631 fans (October 2013). His Twitter feed also redirected users to the contest being held on Facebook.
The Campaign
After reaching 2 million followers on his various social networking sites (Facebook, Twitter, Google +, Instagram and YouTube), the racer launched a campaign on his official Facebook page to raffle prizes, with the aim of thanking his fans for their support.
Under the title, 'Win one of Jorge Lorenzo's 5 incredible prizes!', the contest consisted of a raffle of 5 Jorge Lorenzo packs, including a signed helmet, a paddock pass to attend a MotoGP championship of the user's choice, and a special edition watch. In order to take part, users had to invite their friends to also take part, getting at least 4 of them to enter the contest. Only those users who met this challenge could enter the raffle. The user who won the contest, plus their four friends, would each receive a pack.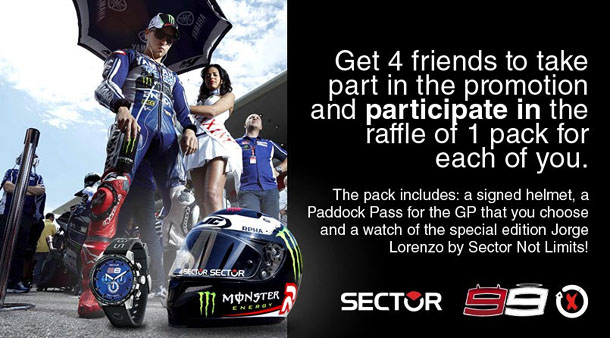 Read more »