What's the point of being on social networks if we can't get our followers engaged? Increasing the level of interactions on social networks is one of the main objectives of brands and marketing professionals. These are some tips to increase engagement:
Post frequently.
Adapt the message to each social network.
Set a clear objective for each post.
Create your own, original posts.
Interact with your audience through Q&As
Do live streamings.
Create content to connect to your audience's needs and interests.
These are all good tips, but at Easypromos we don't settle for that only. We are looking to take it a step further and make original solutions available to brands to help them boost social networks interactions as well as to gather users' data. Building a large online community is as important as gathering contact details of users loyal to your brand to be able to carry out marketing actions outside of social networks.
So let's take a look at four examples of dynamics that combine social networks interactions and user-data collection.
Canasta used the Wordle game to get social networks interactions
In our first example, we're taking a look at a dynamic aimed at getting user interactions the the wine brand La Canasta organized. This Williams&Humbert brand created a Twitter account (#decanastaconhumor – @CanastaOficial) where they organize weekly giveaways, contests, and dynamics to foster engagement and build customer loyalty.
One of the actions that stood out the most for us was a comment-based giveaway on Twitter. Users had to guess the hidden word in Wordle and share their results in a comment.
Wordle is a word guessing game with a mechanic similar to "Mastermind" and gives the player six chances to guess the word. Once the player guesses the word, the result can be shared without showing the solution, which fosters virality and competitiveness.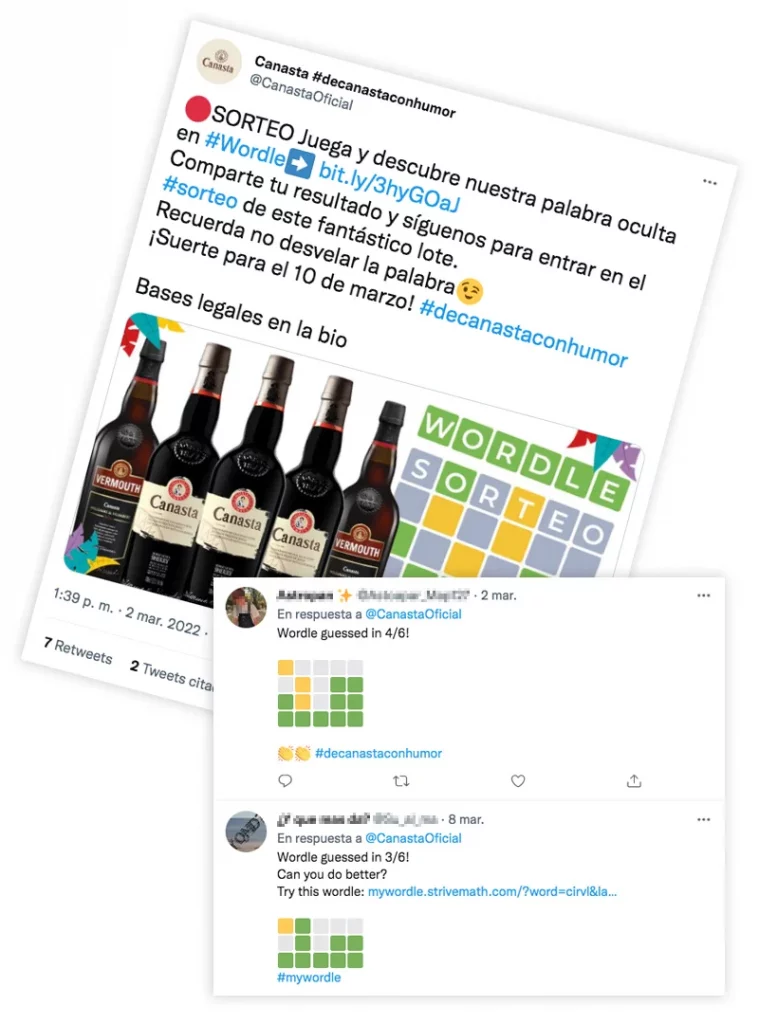 Finally, the brand held a final prize draw among all the participants that played and commented on the promotion post. The prize consisted of a pack of the brand's products. Furthermore, the organizers used the Easypromos Twitter Giveaway app which allows for a fully automated giveaway and includes a certificate of validity to guarantee a fair and transparent result.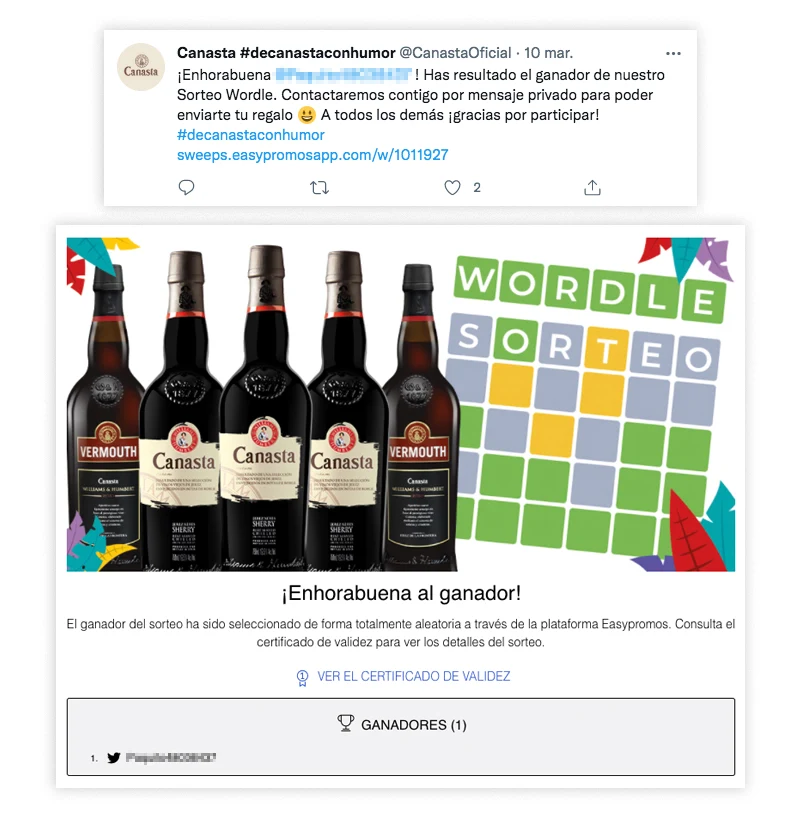 Marketing objectives. While Canasta didn't gather any of the participants' data, it did dinamize its online community and got a high volume of social network interactions. "Interactions" is defined by the number of times that a user performs an action on your social network profiles. It's an important indicator of how much time a user dedicates to your brand.
B The Travel Brand came up with a clue game on Instagram to gather user data.
Travel agency B The Travel Brand came up with an original clue game on Instagram. They posted several versions of the game but we will focus only on one. Jose's and Xavier's living room had clues to figure out what their holiday destination was.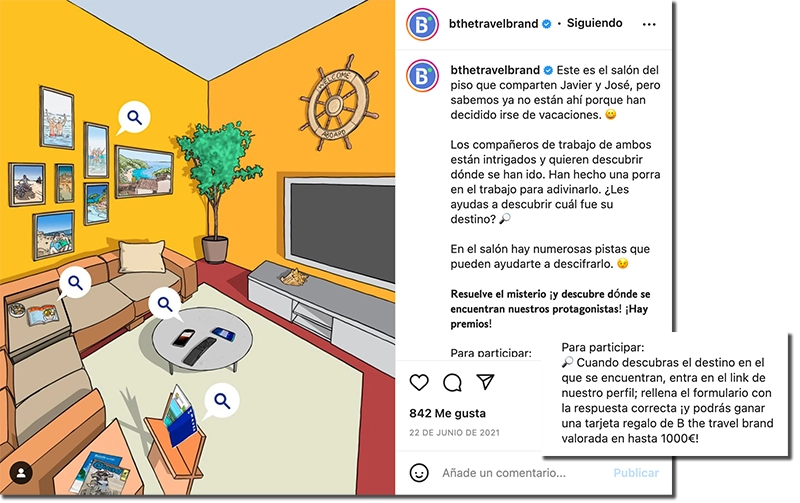 Each challenge consisted of an Instagram post with some clues in it. Clicking on the clues opened a new window within the social network that gave more information about the clues to figure out where Javier and Jose had gone on holiday.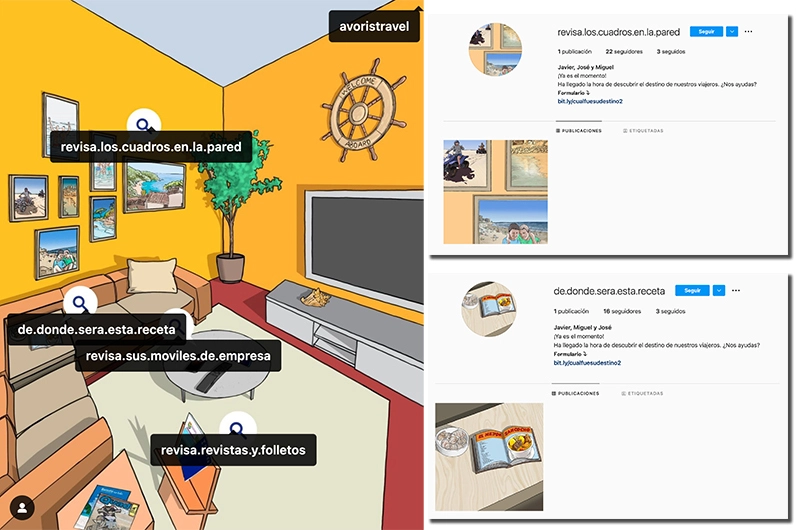 This clever dynamic was not only very successful at triggering users' curiosity, but it also rewarded their effort by offering a chance to win a prize. After figuring out the characters' holiday destination, users could enter a prize draw by filling out a registration form, created with Easypromos, accessible through a link on the brand's profile. The prize at stake was a 1.000€ gift card.
The promotion was shared on Instagram stories and other social networks to give it more visibility.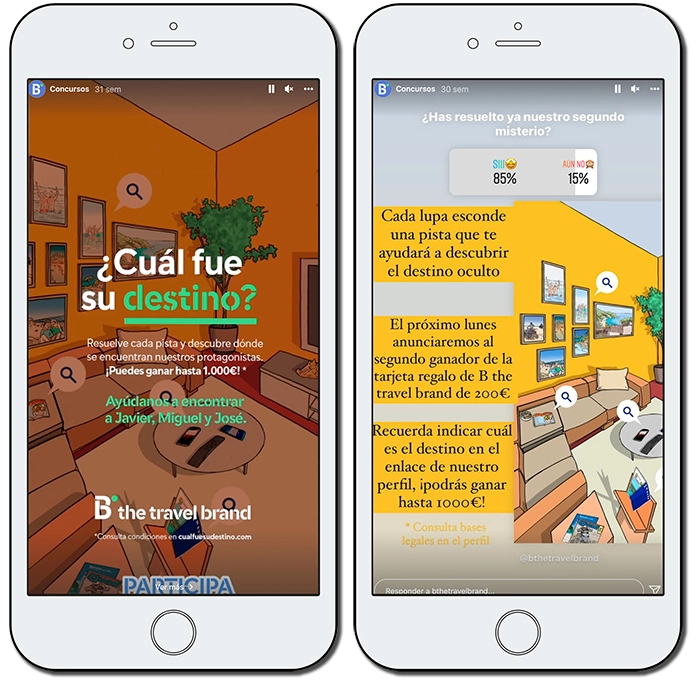 Marketing objectives. B The Travel Brand successfully created an innovative action related to its core business. To be eligible for the prize, participants had to fill out a registration form, providing the brand with valuable information on its audience and potential customers.
The Mediterranean Corridor educated its community and nurtured its database.
The Mediterranean Corridor is an organization that advocates for a better rail connection between Spain and the rest of Europe. To be able to bring their claims forward, they need to reel in supporters willing to sign their petitions. With this in mind, the organization came up with a promotional and educational strategy to get social network interactions.
They came up with a word guessing game based on a popular Spanish TV Game Show (The Alphabet Game in UK) to educate the online community on the infrastructure and its benefits. The game consisted of questions posted on Instagram Stories for the participants to answer and learn about the project.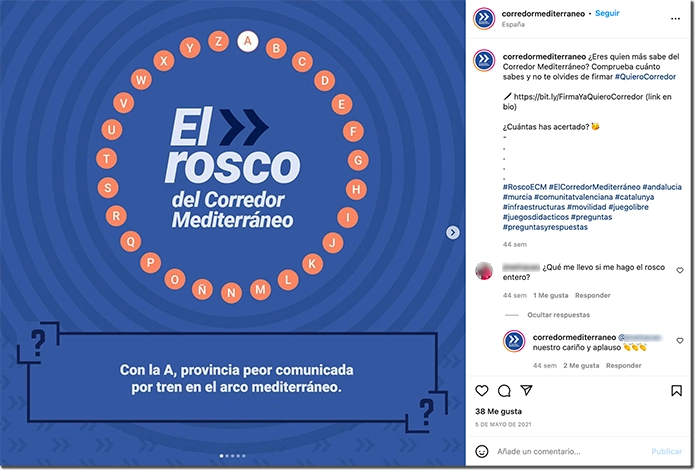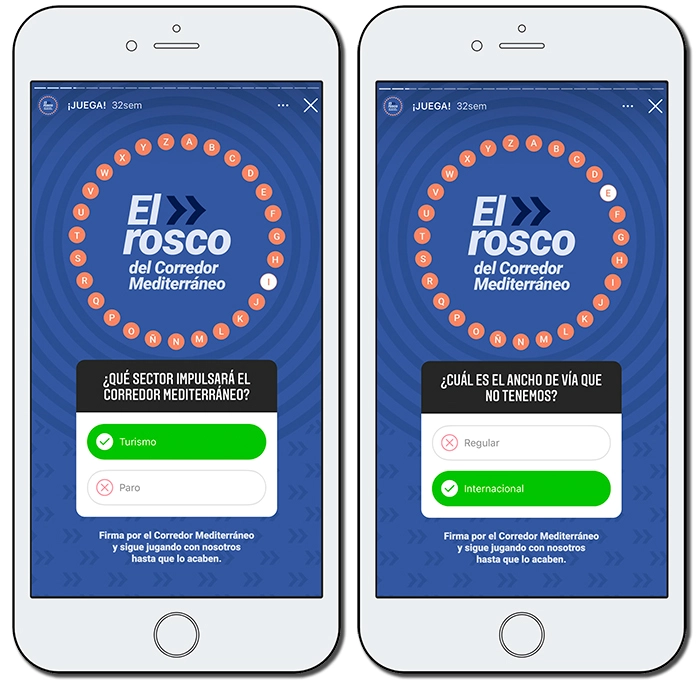 After capturing users' attention through the word guessing game, a message kept popping up informing the players of the possibility to register and support the initiative by following a link on the organization's social network account.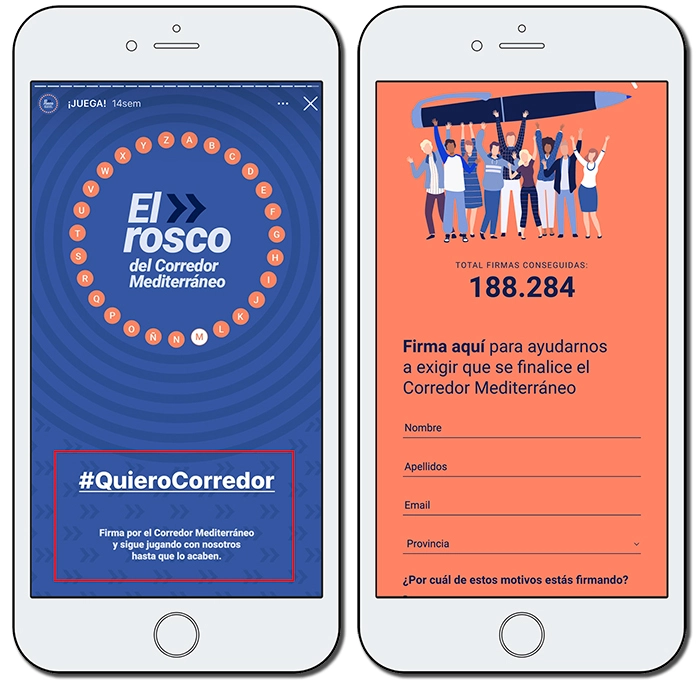 Marketing objectives. With this action, the organization captured users' attention with an educational challenge and later on redirected them from the social network to an external website where users could register to support the initiative. If you find this action interesting, we recommend using our quiz apps to create surveys or quizzes.
Get social network interactions and gather UGC
Finally, we are taking a look at a dynamic that combines social network interactions and UGC (user-generated content). Facebook and Twitter are the best social networks for this kind of action as they allow participants to include images in the post comments.
This dynamic is often used by doughnut brand Donettes. The brand carries out these promotions on its Facebook page as well as on an external website. With Easypromos' Photo Contest app, participants can upload their photos directly to the contest gallery. Alternatively, with a comment-based giveaway, the whole giveaway can take place on the social network itself.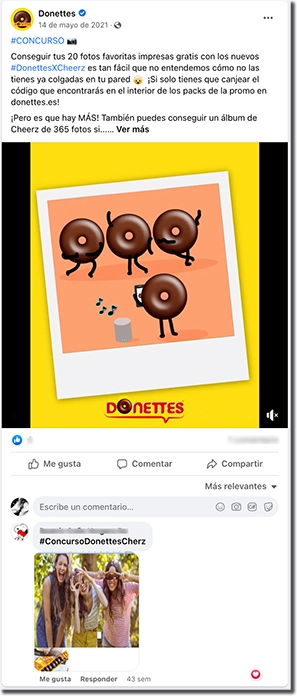 The idea is to put a topic or a question forward and ask users to comment on the post and include a related image in it. This will get users more involved, which gives the brand more visibility and keeps it top-of-mind.
Here's an article with real examples to further illustrate this idea.
We hope you find these promotion ideas interesting. Contact us if you want to learn more about how to increase your social network interactions. We will be happy to help.