What is a newsletter
A newsletter is a digital publication periodically sent by email, i.e. daily, weekly, monthly, or quarterly. It compiles contents of interest to a brand or business subscribers: news, information, sales, promotions, etc.
Newsletters are a tool to build loyalty and have a high conversion rate as they directly reach a database of subscribers that at some point have expressed interest in the brand. They also constitute the perfect tool to drive traffic to a website, blog, or as in this particular case, to increase participation in a promotion.
Therefore, using a newsletter to promote a giveaway is always a good idea to increase the promotion's chances of success and attract more participants.
Useful tips to promote a giveaway using a newsletter
Have you ever pondered about how many emails and newsletters your clients get every day? So, what is the best way to make your newsletter stand out in their inbox? There are several ways of doing so, one of them is to offer content of interest such as giveaways or promotional actions.
Having said that, let's take a look at what are the key elements of a newsletter and how to use them to promote your giveaway:
Sender. The name of the sender and the email address must be coherent and from a real person. Avoid impersonal email addresses such as sales@ or no-reply@
Subject. Once you've decided on the contents of the newsletter, it's time to come up with a catchy subject line to get the recipient's attention. You can even use emojis to make it more attractive, but don't overdo it. It's a best practice to show the prize that users would win if they participate in the giveaway. Or ask a direct question to incite their curiosity: ?Do you want to win a pair of running shoes?

A personalized header that includes your logo. The reader must associate the contents of the newsletter with your brand or product. And although not essential, it is a good idea to include a personalized header that includes your logo. However, using your corporate colors, font, register, and tone in your newsletter is essential.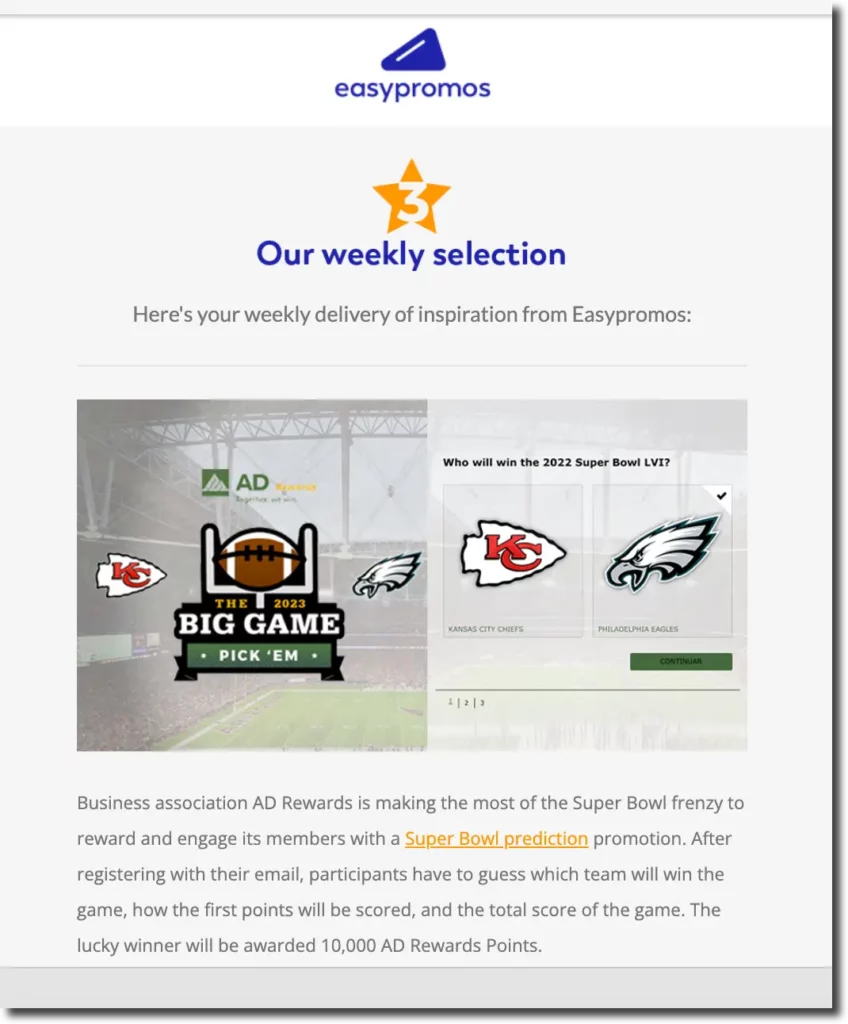 Images. Do not overuse images in your newsletter as the email platform may consider it spam or the size of the images might make it load too slowly. Try to find the right balance between image and text. And don't forget to include images to promote the giveaway and show the prize.
Headers and texts. The contents should have a header and introduction that catches readers' attention and makes them want to want more about your promotion or the information that you are sharing. In the case of a giveaway, you should include the participation period and instructions, and a description of the prize.
Call to Action (CTA). Every newsletter should include a CTA, whether in a button, hyperlink, or image. This is very important as it will draw traffic to your promotion or any other site you wish readers to go to.
Footer. A personal signature can be included in the newsletter or not. However, it is essential to include a footer that displays the brand's information: name, logo, contact information, social media access icons, unsubscribe button, etc.
Newsletters that promote a giveaway or promotion
Now that we have covered the structure and main elements of a newsletter, let's take a look at how some brands have used this channel to promote giveaways or promotions. We have divided them into three groups: Newsletters with the promotion at the top, with the promotion at the bottom, and newsletters exclusively showing the promotion.
Newsletters with the promotion at the top
As previously mentioned, a newsletter can include different kinds of content. Usually, the most relevant, important, or attractive content comes first to catch the readers' attention and direct it toward the newsletter's content.
Casa Dorada resort and spa in Los Cabos celebrated its 11th anniversary with a 50% discount promotion for its subscribers. The newsletter featured the promotion first and most prominently. It included all the information regarding the promotion as well as a hyperlink to their reservations website.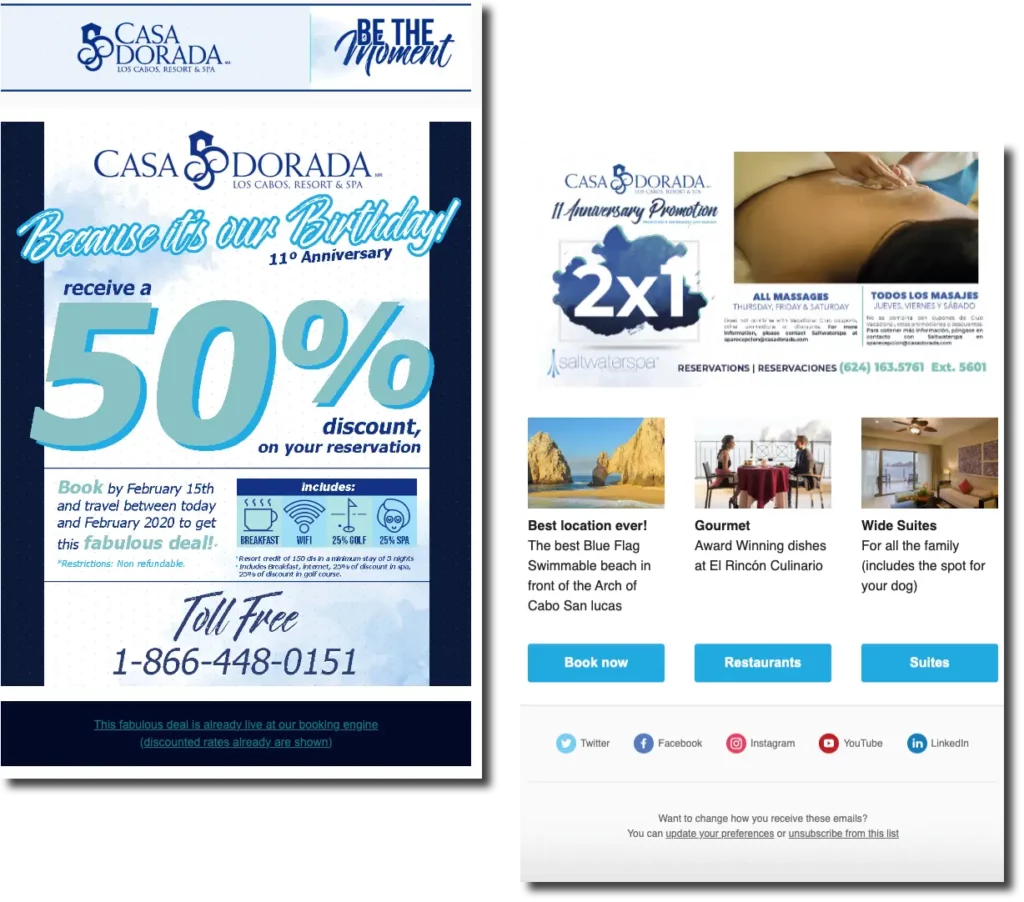 Impossible bakers raffled 20 coupons worth 20€ among all clients who placed an order before midnight. To highlight this promotion, they included it at the top of the newsletter emphasizing how much time was left to participate.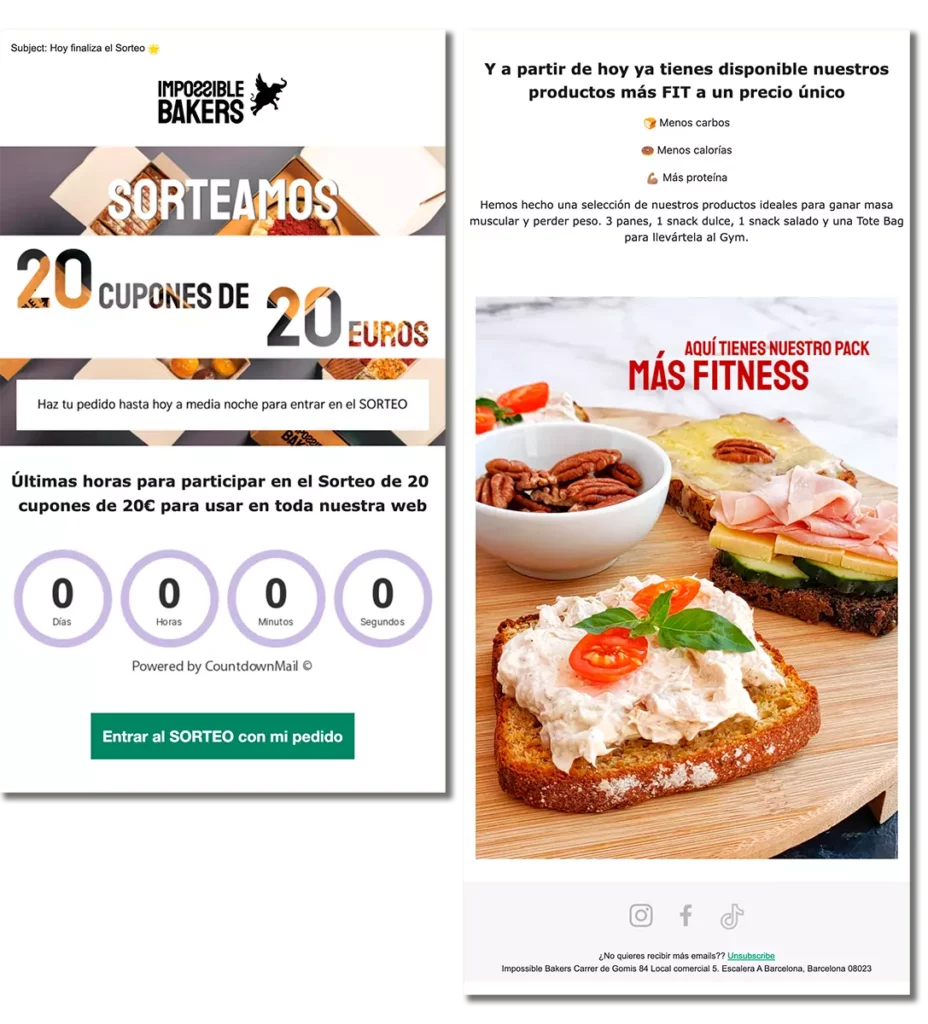 Newsletters with the promotion at the bottom
Many times, the promotion is inserted at the bottom of the newsletter, after featuring the brand's products as a way of nudging customers to make a purchase. Other times, it is inserted after other content simply to remind the readers that the promotion is taking place.
Children's fashion brand Boboli sent a newsletter to their subscribers showcasing their most original Christmas pajamas. Their sales strategy consisted of rewarding customers who purchased their products after reading the newsletter.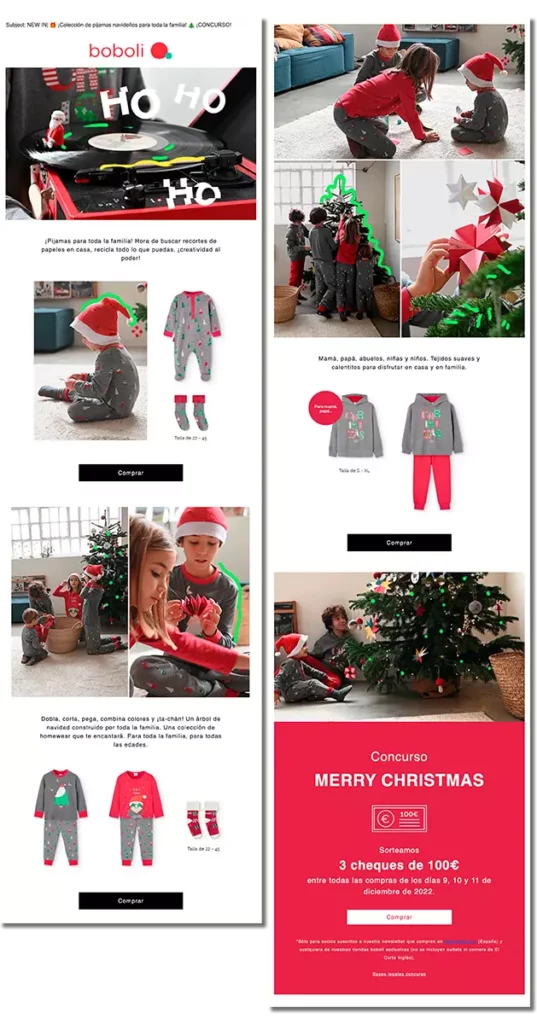 Too Good To Go included information about a giveaway in their newsletter. The brand presented information about their Tik Tok giveaway and how to participate right after the regular content of the newsletter.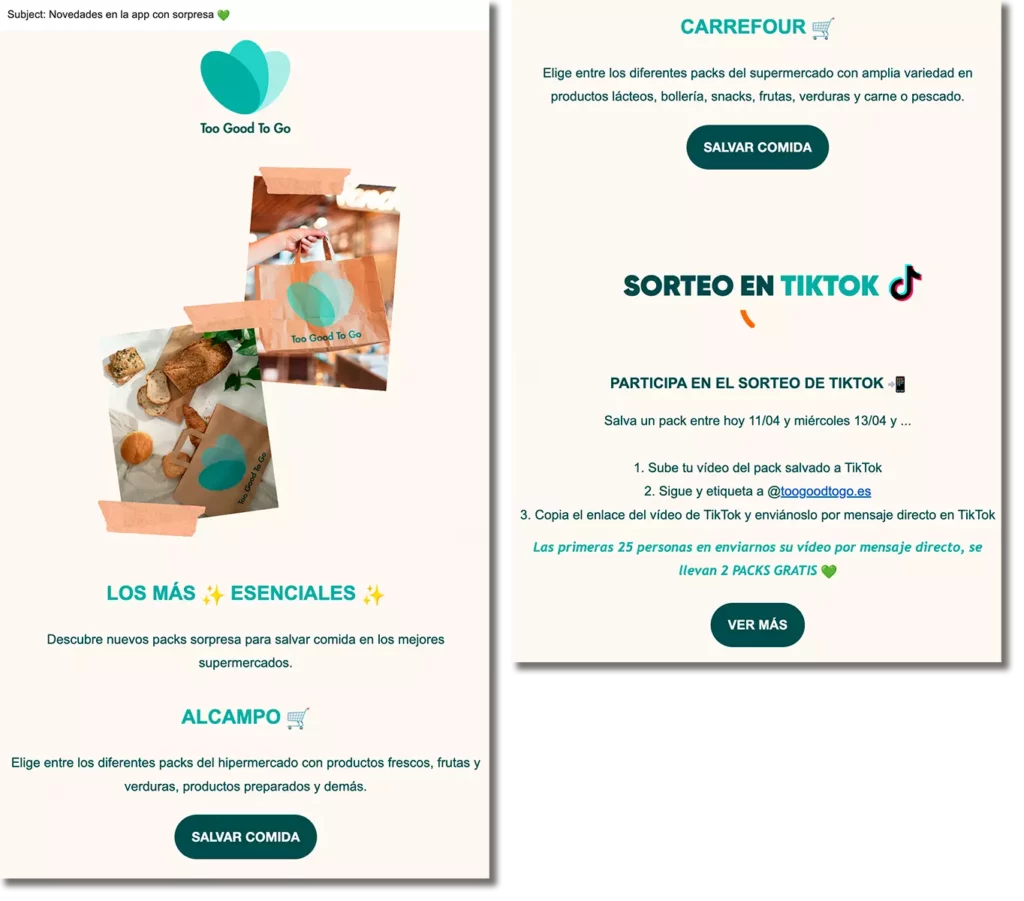 Monographic Newsletters to communicate a giveaway or promotion
Monographic newsletters that exclusively feature a promotion or giveaway are aimed at engaging the readers and building customer loyalty by offering a chance to win a prize, an exclusive offer, or a discount code. This kind of action improves the brand's reputation and consequently, boosts brand awareness.
PixlipGo sent a Christmas newsletter/Christmas card that featured an online game and a chance to win a really attractive prize. Their newsletter was dedicated to explaining to the readers how to play a game and enter their Christmas giveaway, which offered a really attractive prize: A Segway!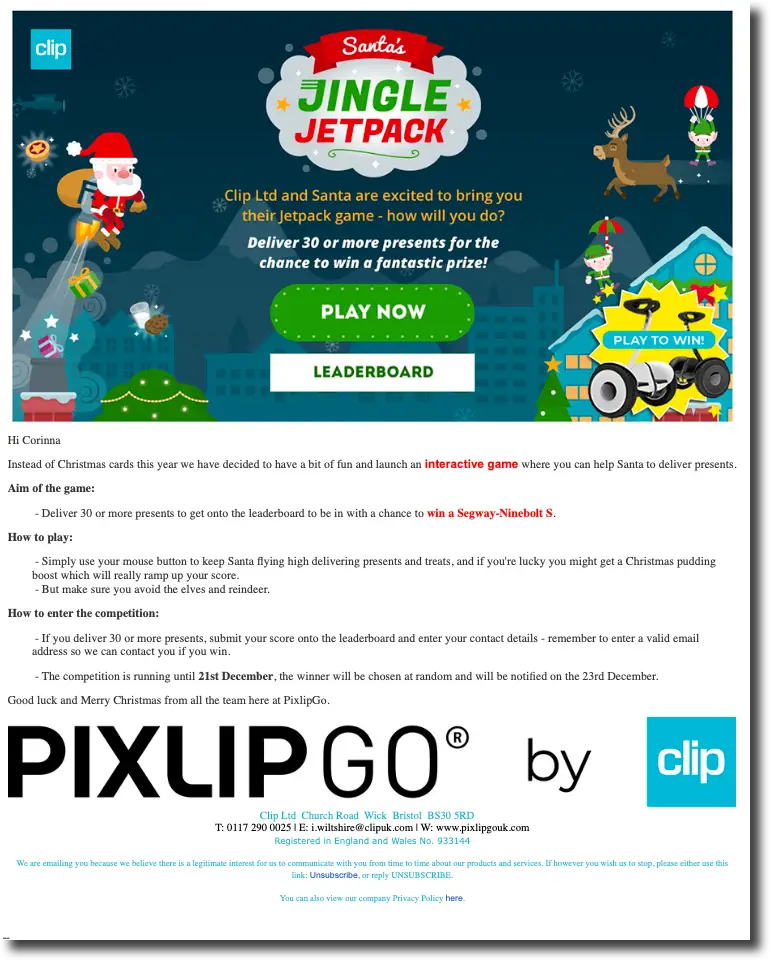 The brand Pompeii sent a newsletter to its target audience: sporty men. The idea was to offer an exclusive discount to customers that presented the newsletter at the point of sale and also to offer them the possibility of entering a giveaway for the chance to win additional prizes.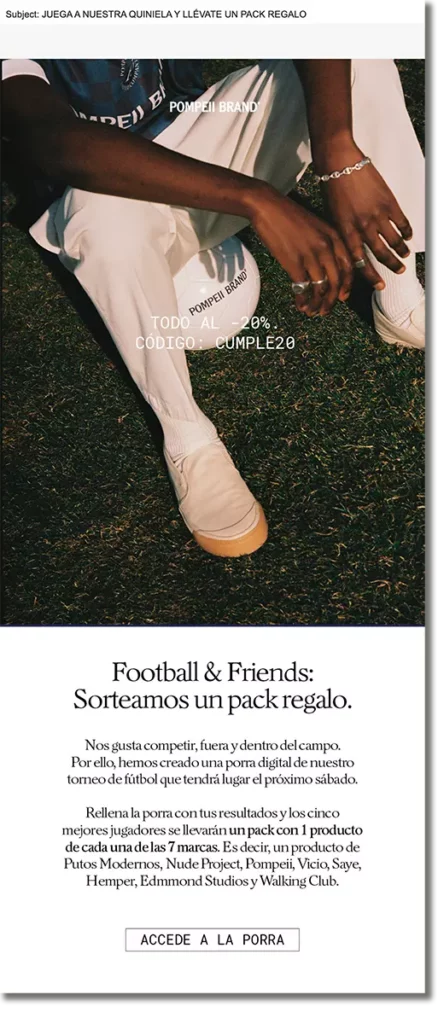 We hope you find these tips and examples useful. Use Easypromos to build and manage your promotional actions and promote using your newsletter to increase reach and achieve your marketing objectives. Would you like to get more information or to see an example of a giveaway or promotion? Request a DEMO from our sales team.