Posted in: EventsLast update: 02/04/20
Easter is sometimes overlooked in marketers' busy calendars. But it's a fresh, family-friendly holiday with potential for creative and interactive promotions and online content. Here are 5 ideas to get you started – with free promotion templates and design resources.

Social media giveaways, mini-branded games or maybe photo competitions… Let's see what promotion will be ideal for your Easter campaign. Let's dive in!
Creative Easter Photo Contests to collect user-generated content
Like every great festival, Easter has its own, instantly recognizable, visual style. Eggs, bunnies, baby chicks, flowers, baskets, chocolates…
And that makes it the perfect occasion for a themed Photo Contest. Nowadays almost everyone has a smartphone, therefore almost everyone is able to take pictures. And family events such as Easter encourage people to take even more shots at family gatherings or during Easter preparations. So why don't you ask your community of customers, or social media followers, to share their Easter pictures? Offer your audience a chance to win a prize and in return ask them for their festive shots. Remember, the incentive is the best motivator to join a promotion! Offer your customers chocolate boxes, Easter decorations, or even small getaways. Looking to increase brand awareness and reinforce product promotion? Offer one of your products as the main prize!
Interested in creating an Easter Photo Contest? Try our DEMO and if you like it use our ready-made template for your Easter Photo Contest. It will save you up to 70% of time!
User-generated content is the best-quality content to share on your social media channels if you're looking to encourage customer loyalty and brand trust. Pictures, videos, and texts produced by your audience give more authenticity to your brand and your potential customers might be more likely to convert when reading and watching content shared by your existing client base. By using Photo, Video, and Writing Contest apps by Easypromos you automatically obtain consent to reshare the pieces produced by your audience. This is because at the moment of submitting their entry the users accept your terms and conditions, in which they give you permission to reshare their photos, videos, and texts for your marketing purposes.
When setting up your photo contest choose a theme that incorporates products from your brand, or encourages your followers to try another activity. The most popular themes for Easter photo competitions are decorated eggs, egg hunts, Easter outfits and decorations, Sunday lunch, family gatherings, and celebrations. Also, let's not forget about pets! At Easypromos we notice that photo contests with pets attract a lot of attention and many participants! You could even ask your audience to share pictures of their pets' Easter costumes or decorations!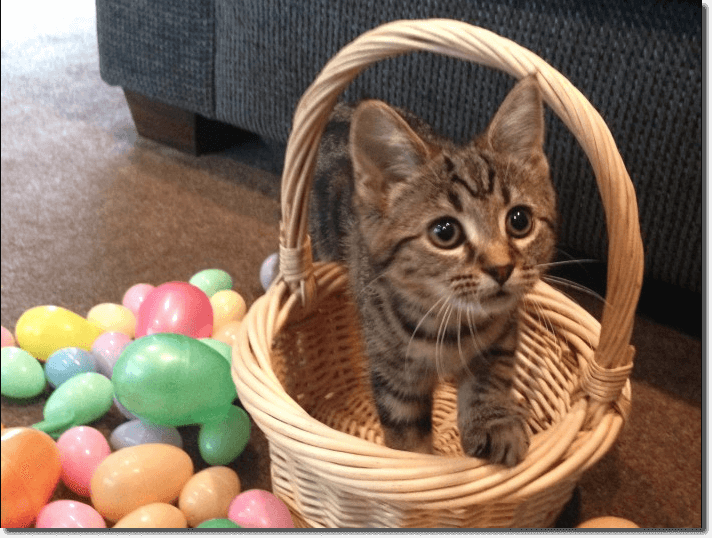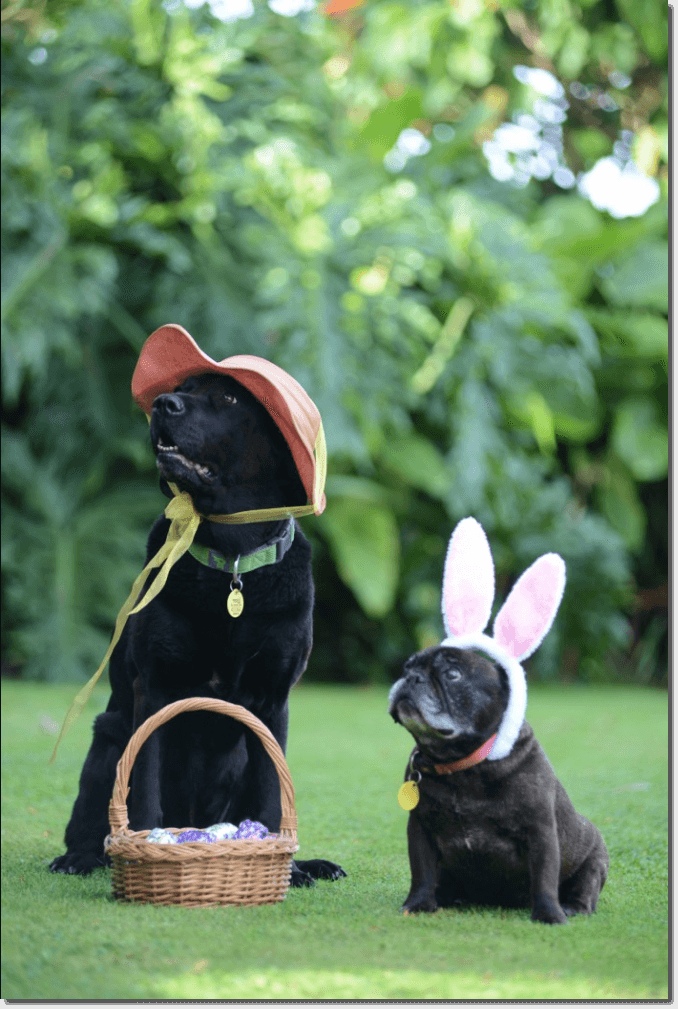 As well as the fun of joining in, photo contests bring plenty of benefits for your brand. When people sign up and share their photos, you can collect contact details for sales leads, as they fill in registration forms in order to submit their entries.
Just make sure you offer a prize to make it worth your followers' while! The prize should be exciting, designed for your target market, and just a little bit luxurious.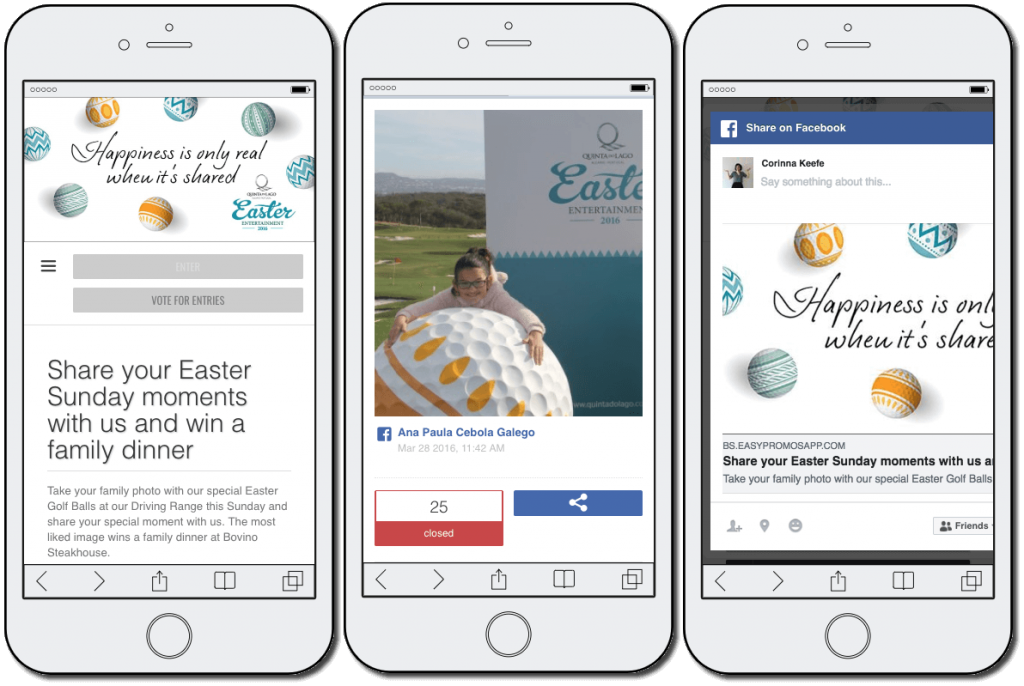 Here's a well-designed example from a golf course. They asked people to share family photos at Easter – and in return, they gave away a family meal.
Creative Easter promotion: Scenes Photo Contest
Finally, here's one more way to bring traditional Easter egg decorating fun online: with our Easter Scenes app.
Instead of running a standard photo contest, give your followers the tools to let their creativity unfold. Use our Scenes app to ask your online community to decorate their Easter eggs. Simply use the stickers provided in our app, or upload your own branded stickers to increase brand awareness and visibility.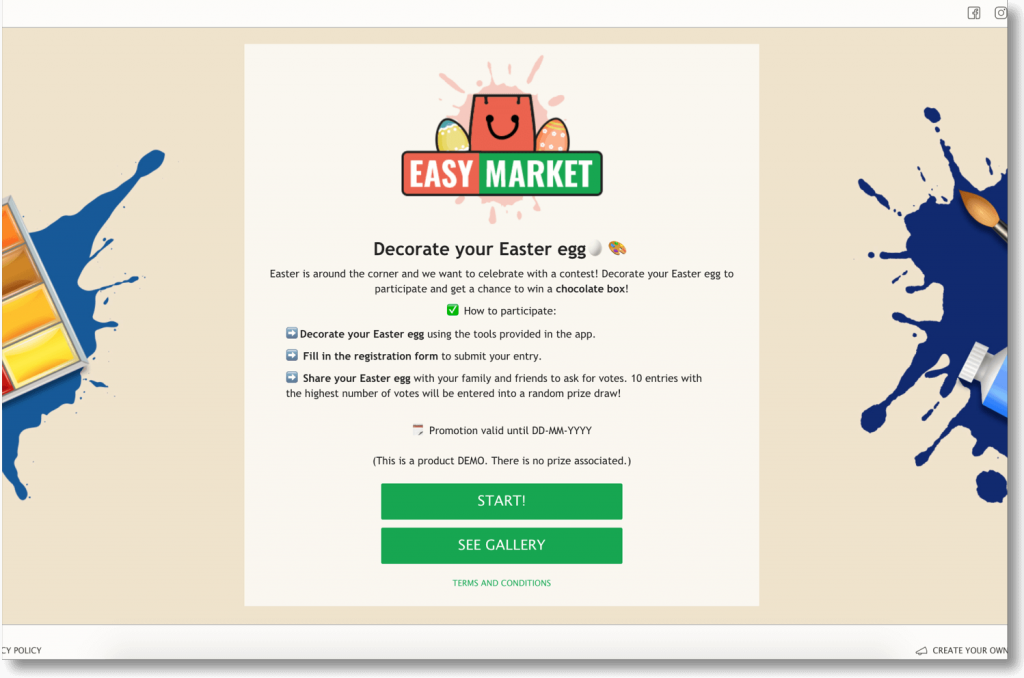 By launching your own Easter Scenes promotion you will not only entertain and engage your audience. You get to collect user-generated content and contact details that you can then use for future marketing campaigns. Encourage users to also share their decorated Easter eggs on their social media pages; this will attract the attention of other potential users. Motivate more people to join your promotion by offering a special prize to the entry that collects the highest number of votes.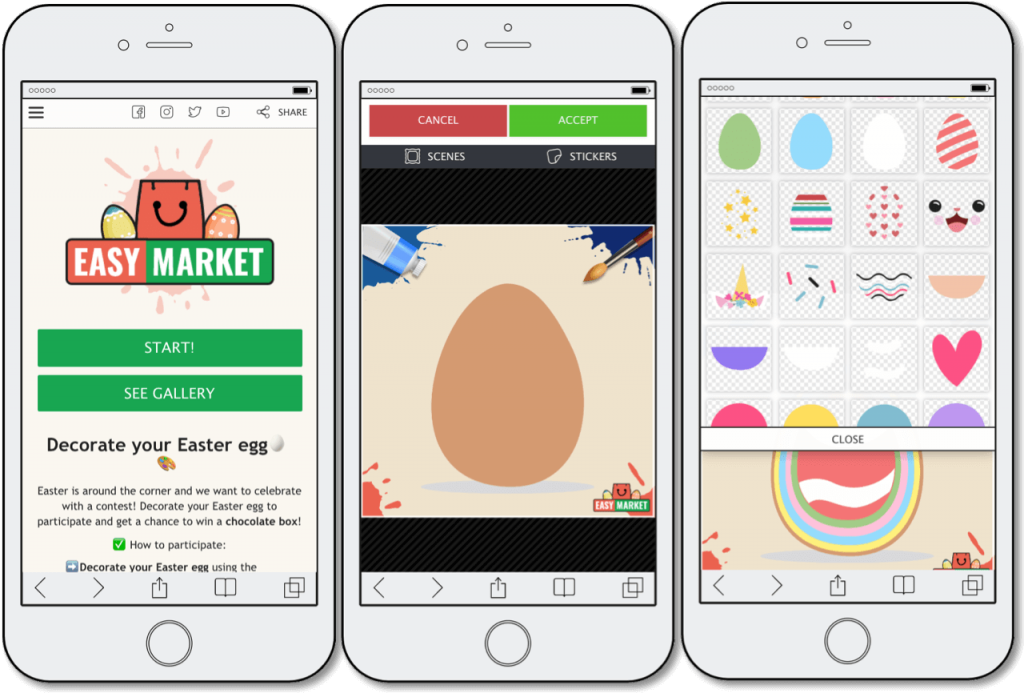 Try our Easter Scenes DEMO and if you decide to create your own promotion use our ready-made template to get you started just in a few minutes!
Easter quizzes, games and puzzles
There are lots of traditional games and kids' activities at Easter, from the traditional egg hunt to Morris dancing or reading stories on the White House lawn. You can play along too, but obviously with online branded mini-games!
Here's an example of a Memory game that you can create as part of your Easter campaign. The users have the task to find matching pairs of decorated Paschal eggs.
What's so good about this game? Your users get entertained while they're also getting a chance to win! Motivate participation by giving your audience a chance to win one of your products or services. To encourage even more users to participate you can distribute discount codes to all registered users.
Play our Easter Memory DEMO and if you want to create your own branded Memory game use our ready-made template.
Easter egg hunts, on- and offline
The Easter egg hunt is a classic game. And it works anywhere: you can set up an Easter egg hunt at home, at school, or in the office.
And even… online. This is one of our favorite ideas for Easter promotions. We like the idea so much that we have created an Easter egg hunt game!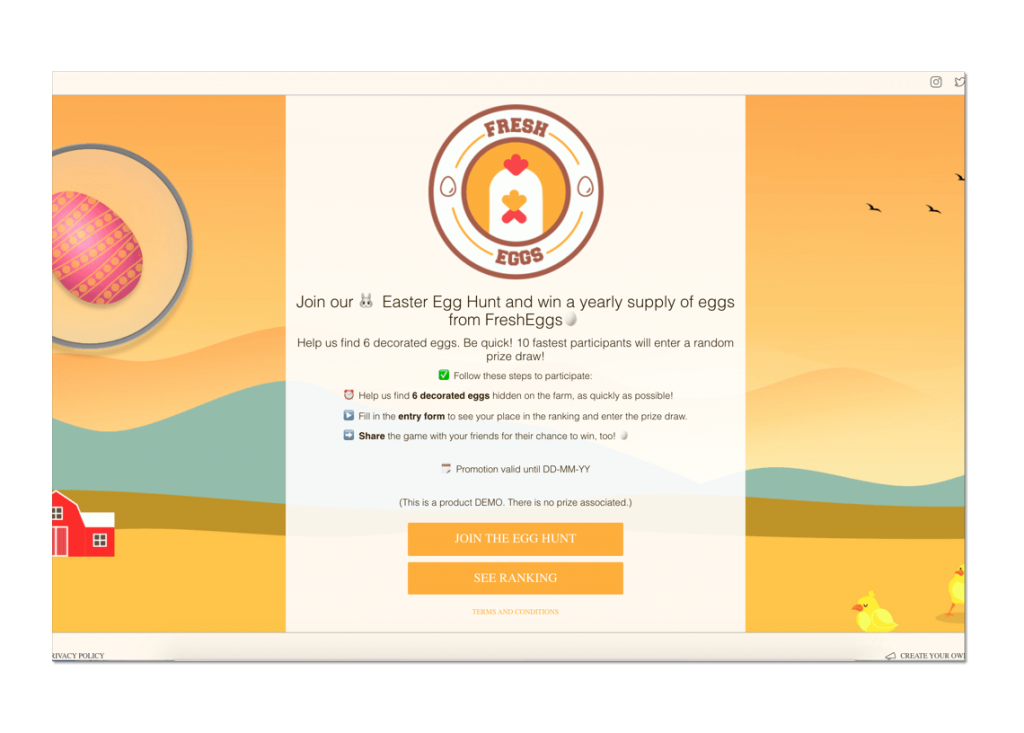 You can now hold a Paschal egg hunt fully online. Give your audience some entertainment with the use of interactive content. This will guarantee increased brand awareness and extra exposure. Gamification is currently the hottest trend of digital marketing, therefore make sure you make use of it.
Motivate your audience to join your promotion by offering incentives, and use the entry form to collect new leads for future marketing purposes.
Find out more about the online Easter egg hunt and try our DEMO to see how you can use our app in your marketing strategy. If you like the idea of launching your own Easter egg hunt online you can use our ready-made template to save some time.
Social media giveaways to boost engagement during Easter
Let's not forget social media giveaways, which are the easiest and most effective tools if you're looking to increase social media engagement and presence. Sweepstakes are very quick and simple to set up and finalize, and themed holidays like Easter are perfect excuses to run an online promotion and create buzz on your social media networks. We've put together a separate blog post with effective and successful examples of Easter giveaways.
Easter bake-offs and recipe contests
For many people, the highlight of Easter is all the delicious treats on offer. Chocolate eggs and hot cross buns, Simnel cake and Sunday lunch, peeps and jelly beans…
It's exactly the right time for a recipe contest. Ask people to share their secret family recipes, new twists on old traditions, or ideas for Easter baking with kids.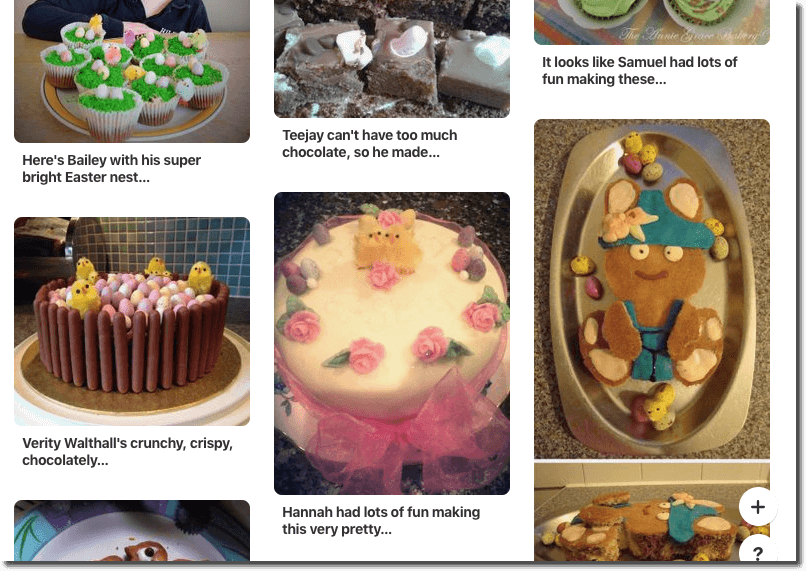 You can share recipes in any format: with a photo contest, as written recipes, or even in video format.
Just make sure that you display all the entries in a public gallery for people to experiment and enjoy. And just like any other contest, you can use the contact details and user-generated content from the bake-off to guide your future campaigns.
Even more Easter promotion ideas
And we're not done yet! Click here to visit the Easter campaign hub – with even more ideas for Easter promotions, contest templates, social media resources, and case studies.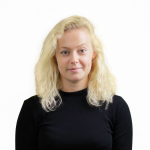 Kamila Palka
Easypromos marketing team
Publication date: 2014-04-04