Posted in: Ideas for your websiteLast update: 16/08/21
Every year on March 17, the Irish and the Irish-at-heart across the world celebrate St. Patrick's Day with parades, parties, and a whole lot of green. This post provides some simple, easy and effective ways to share some St. Patrick's Day fun with your followers on social media.

We've rounded up five ideas for a St. Patrick's Day online promotion. They will help you collect leads, get user-generated content, build customer loyalty, but also entertain and engage your audience!
Create a St. Patrick's Spin the Wheel promotion to give away prizes
Any holiday is a great occasion to acquire and retain customers. And St. Patrick's Day is no different.
So what is the best way to drive existing and potential customers to the point of sale? We say discounts and vouchers! And distributing them has never been easier… or more fun!
Spin the Wheel is an interactive prize wheel that you can use to share coupons and vouchers, but also to collect new leads. The best part? It's fully customizable and you don't need any coding or programming skills to set it up. Personalize the wheel with your campaign and corporate image… or use our ready-made template that has been designed with St. Patrick's Day in mind!
Try our St. Patrick's day Spin the Wheel app DEMO!
St. Patrick's Day Photo Contest to collect user-generated content
Photo Contests are a powerful way to increase brand visibility and collect user-generated content. Online communities love a bit of a challenge and there's even more fun if the photo competition is themed, so St. Paddy's Day is a perfect occasion to organize a photo contest.
Ask your online community to share pictures of their costumes, favorite traditions or they can show how your product can be used on this fun holiday! If you want to expose your brand further, use our PhotoFun app where you can upload personalized stickers and frames. They can be customized with your corporate image, or shamrocks, Celtic crosses, and leprechauns to add more into the holiday vibe! Then you can display all submitted pictures in an online gallery, and enable the voting system to attract more attention, and encourage social media sharing to collect more votes.
However, if your goal is to increase social media presence you can organize the contest fully on Instagram. With our Mention + Hashtag app, you can collect all the content that mentioned your brand and uses your campaign hashtag.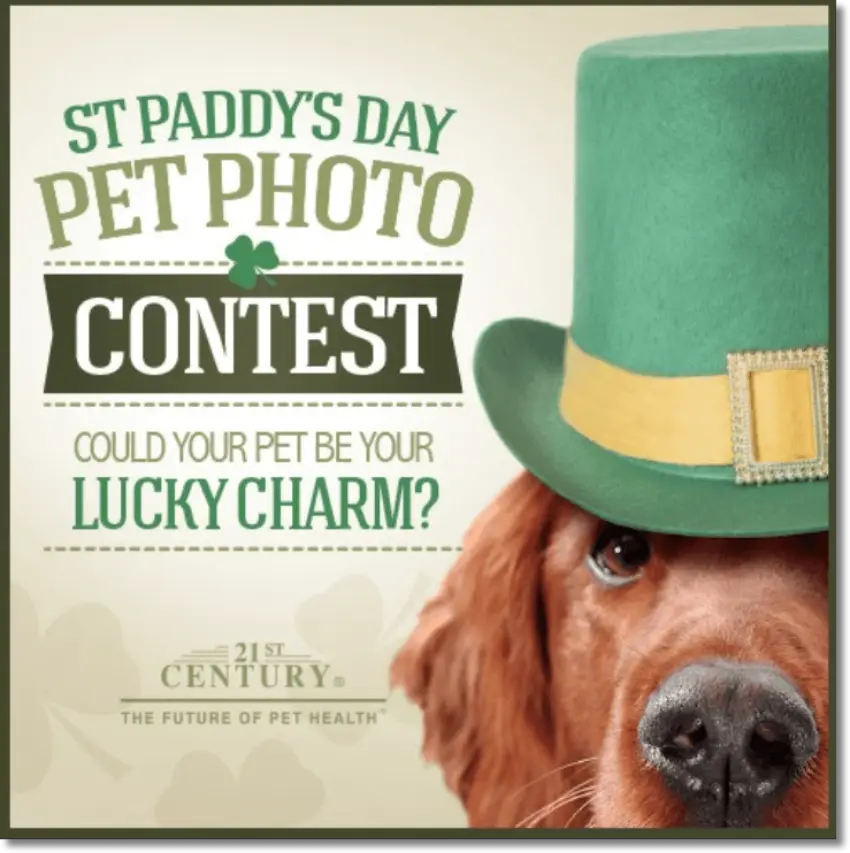 User-generated content builds customer loyalty as it's more trustworthy than content generated by your brand. This is why UGC is great to share on your social media channels!
Create a St. Patrick's Day Quiz to entertain your audience
What are the origins of St. Patrick's Day? How old is the Boston St. Patrick's Day parade? How do you say hello in Gaelic?
For a St. Patrick's Day promotion with a competitive edge, try challenging your followers to a Knowledge Quiz. This type of promotion creates excitement and rivalry, which results in a positive customer experience. Motivate participation by offering small rewards or promotional codes for everyone who takes part – and a grand prize for the most correct answers.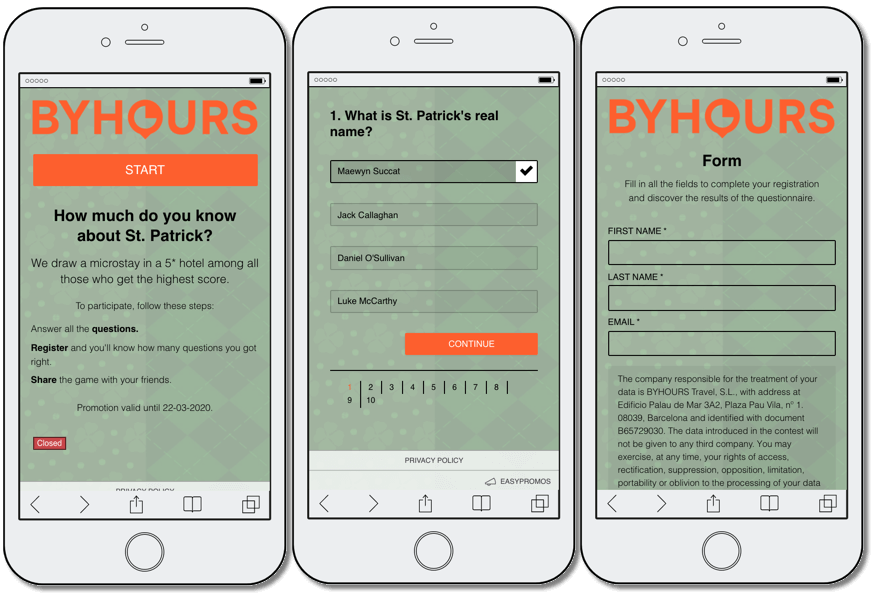 In the above example, you can see how By Hours, a hotel micro stay booking platform engaged their audience right in time for St. Patrick's Day. They launched a Knowledge Quiz with 10 questions about the history of St. Paddy's Day. The participant with the best score won a micro stay in a 5-star hotel.
Easypromos apps come with integrated registration forms, which you can fully customize. You can then export all new leads and target them in the future! Ensure that you ask the entrants only for the information that you need. If you want too many details they might feel discouraged to leave their info.
Try our Knowledge Quiz DEMO to discover the user experience of participants, and understand how you can personalize your own promotion.
St. Patrick's Day social media giveaways will boost engagement
Social media giveaways are fantastic to boost engagement and social media presence. Online users love getting a chance to win, and Instagram or Facebook sweepstakes take only a few seconds to participate. Head to our blog post dedicated to organizing social media giveaways for St. Patrick's Day and get inspired!
Ready to go? Sign up to draft a St. Patrick's Day promotion for free! Or you can use our Online Chat to contact our experienced support team!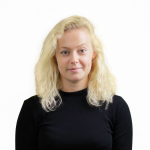 Kamila Palka
She forms part of the Easypromos marketing team and holds a combined honors degree in Digital Media and Marketing, currently studying for a Masters Degree in Digital Marketing. Her tasks include everything that is content-related in English, including social media communications, new blog posts, product demos, and success cases. If she's not working on a new content piece for Easypromos you will find her working out, skydiving, or starting a new series with her rescued cat.
Publication date: 2015-09-08