Posted in: EventsLast update: 30/08/18
Halloween is almost here! And it's scary how much it can help with your marketing strategy. A simple Facebook promotion for Halloween can increase your sales, grow your online audience, boost engagement, and raise your reputation. Read on for four freakily effective ideas for your social media giveaways on Halloween. We've gifted you some free resources and templates, too!

If you want to set up a seasonal promotion, then a Facebook giveaway might just be the simplest, most effective option. You can organize Halloween promotions on Facebook within minutes. And if you've created a smart promotion with an attractive prize, you can expect to increase followers, engagement, and even sales. In this post, we've shared four powerful promotion ideas to get your Halloween campaign started.
Don't forget to read all the way to the end for free resources, extra tips and Halloween hacks!
Best ideas for Halloween promotions on Facebook
Run exclusive events from Facebook Likes
You don't have to set up a complicated competition to make your promotion effective. Instead, keep the contest simple, but offer a dazzling prize!
That's what happened in this example. Two brands teamed up to organize a classic sweepstakes, where they picked a winner from everyone who liked their Facebook post. What made the promotion special was the prize: four pairs of tickets for a thrilling Halloween party.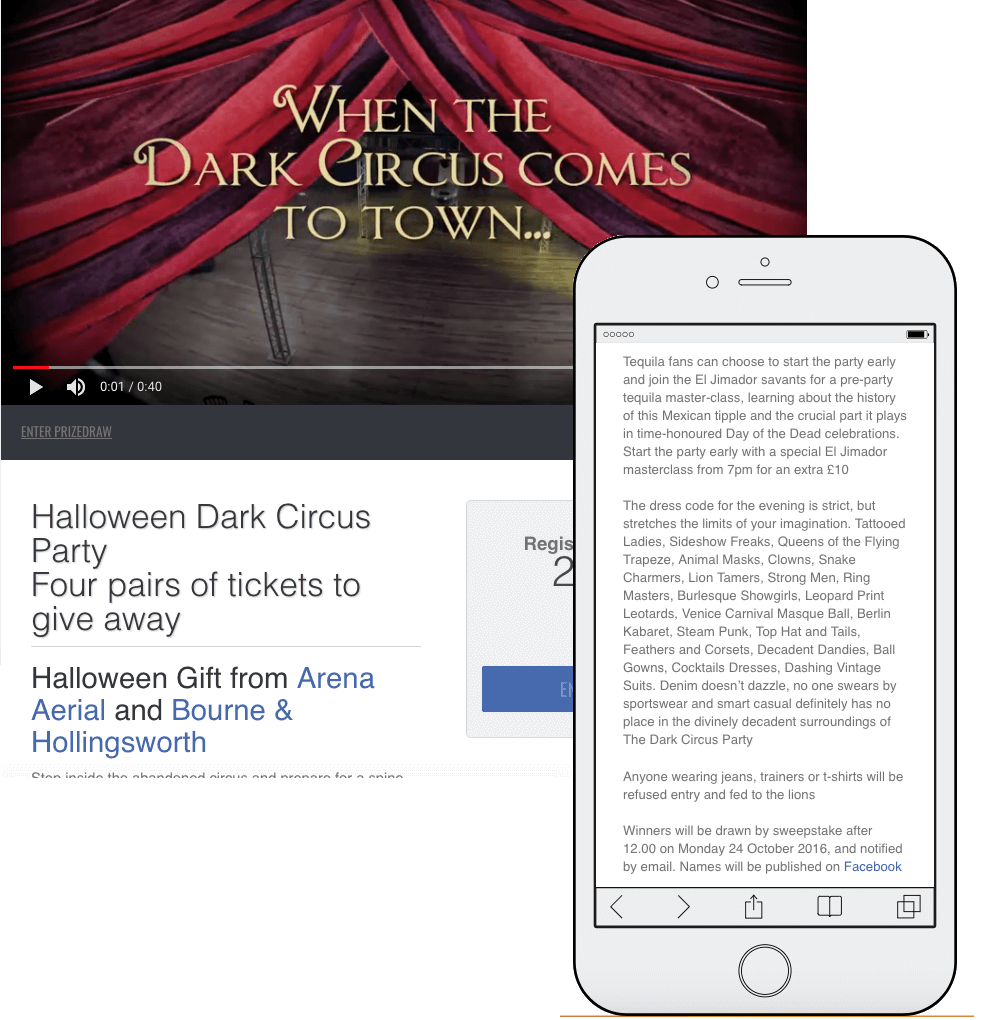 The two brands designed their viral promotion very carefully. Take a look at the screenshots above. First of all, they made the giveaway exciting and dynamic by using a video as a header. Next, they tapped into the "social" side of social media, by offering a prize which could be enjoyed with a friend.
Their sales strategy was on point, too. Although there were eight tickets up for grabs, all other tickets had to be paid for. The prize draw was a powerful advertisement for the event and boosted ticket sales. Plus, by announcing the contest and the winner on their Facebook page, the brands encouraged customers to follow them on Facebook and keep checking back for more.

Highlight your top products with a Facebook Comments contest
If you already have an active online community, then challenge them to a Facebook Comments contest. This is a great way to increase engagement, and get followers chatting about your Facebook Page. In the example below, the brand decided to run a classic sweepstakes, selecting a winner from followers who answered a question correctly. But they added some killer details to make the promotion a viral success.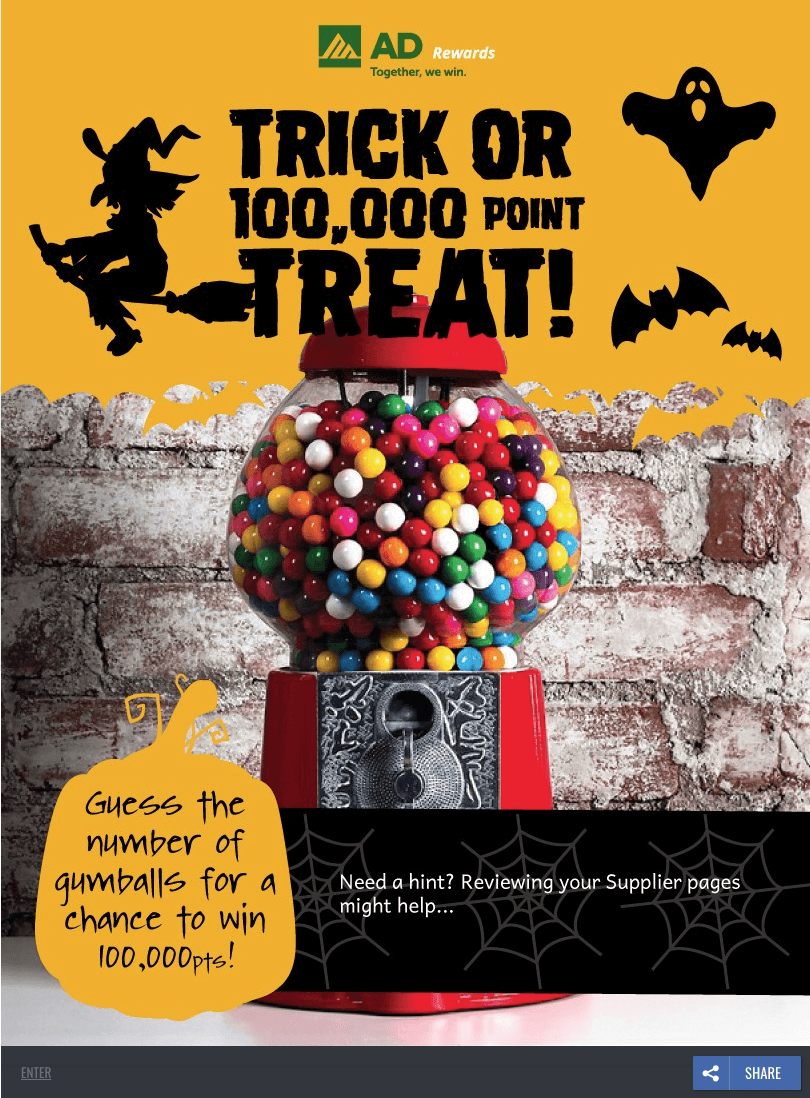 First, let's talk about the prize. The brand in question didn't have an obvious connection to Halloween, and they wanted to offer a prize that highlighted their product. In this case, the prize was 100,000 "points" to use in their online store. But they asked users to guess the number of sweets in a gumball machine. They linked their promotion to Halloween with candy!
The guessing game created a competitive atmosphere, which got followers talking and increased traffic to their Page. And finally, they hid the answer to the contest on their website. Followers had a strong motivation to spend time on the website, and read all the content carefully.
Top tip: Think of creative ways to adapt this strategy. Contests, guessing games, surveys and quizzes are all fantastic ways to educate customers about your brand.
Increase sales and store visits with a Facebook photo contest
This example combines increased engagement from photo contests with increased sales from coupon promotions. It's a powerful mix!
Photo contests are a great way to attract followers and encourage them to post. And they're especially suited to Halloween promotions on Facebook. Who doesn't love dressing up for the holiday and taking some spine-chilling costume photos?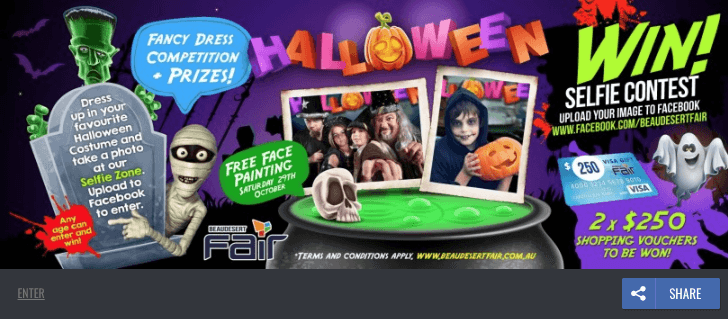 This brand hit the jackpot (or should that be jack-o-lantern?) when they decided to combine a Halloween selfie contest with increased visits to their store. Customers could get free face painting and take a photo in the spooky Selfie Zone at the store. Only photos from the Selfie Zone could be entered into the photo contest – which took place back on the brand's Facebook Page. Then, two lucky winners received $250 vouchers to spend in store!
The promotion was a clever way to bounce customers between the brand's store and social media. They increased digital and physical followers and sales. And they built a reputation for being fun and creative, too. 
Attract more followers with a Recruiters contest
Here's an idea for a contest that doesn't exactly take place on your Facebook Page. However, it can still help you increase Facebook followers and boost engagement. Remember, Facebook doesn't allow contests where users have to follow your page to take part. But you can use Facebook to publish a Recruiters contest.
Each new person that users recruit counts as an extra "vote", giving them another entry in the prize draw. And while participants are on the promotion page, you can encourage them to Like or Follow you on Facebook.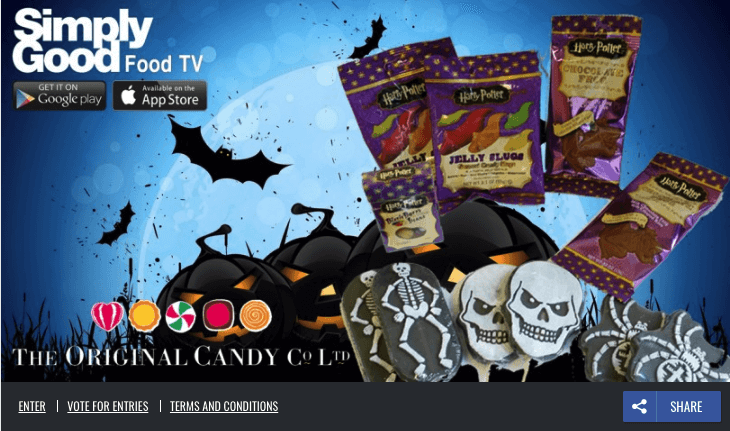 In this example, a foodie TV channel teamed up with a candy company for co-branded Halloween promotions on Facebook. They offered a prize that was relevant to both brands, as well as the holiday season: a bumper pack of Harry Potter-themed treats. To take part, users just had to register their contact details. But for every person they recruited to the competition, they received one extra entry in the prize draw.

Halloween hacks and inspiration
To finish off, here are our top tips for a successful campaign. Add these final tricks to your Halloween promotions on Facebook – and you'll be treated to excellent results.
Use Facebook Ads to publish your promotion. You can link sponsored posts to your original giveaway post with the Easypromos platform. So however followers find your promotion, you can count their votes automatically. And you can use segmentation to make sure your ads target the right audience.
Now that Facebook and Instagram are connected, you can share your posts on both platforms at once. Use this feature to share with a bigger audience and make your contest go viral. This applies to sponsored posts, too.
Always choose a prize that's relevant to your brand or the holiday – ideally, both! If you're struggling to make a connection, consider teaming up for a co-branded promotion.
You can embed promotions as a Tab on your Facebook page. So the contest will be more visible to your followers when they check in on your page, and you'll increase engagement even more.
We've created a Halloween microsite, packed with ideas, examples and resources to make your Halloween promotions the best ever! There's even a handy Halloween checklist so you can keep track of all your preparations.
We know that Halloween can be a very busy time of year. More opportunities mean more hard work! So we've decided to help you out, with this free template for Halloween promotions on Facebook. You can find templates for other types of contest on our Halloween microsite, too.
Now you've got some inspiration, you can get a head start on your Halloween campaign! It's free to create your Easypromos account and start drafting promotions. We can't wait to see what you come up with…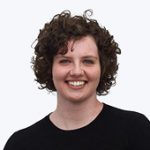 Corinna Keefe
English copywriter at Easypromos marketing team