Posted in: EventsLast update: 17/07/20
Halloween is almost here! And it's scary how much it can help with your marketing strategy. Try these freakily effective ideas for Halloween promotions on Facebook. We've even given you some free templates and social media designs to get started!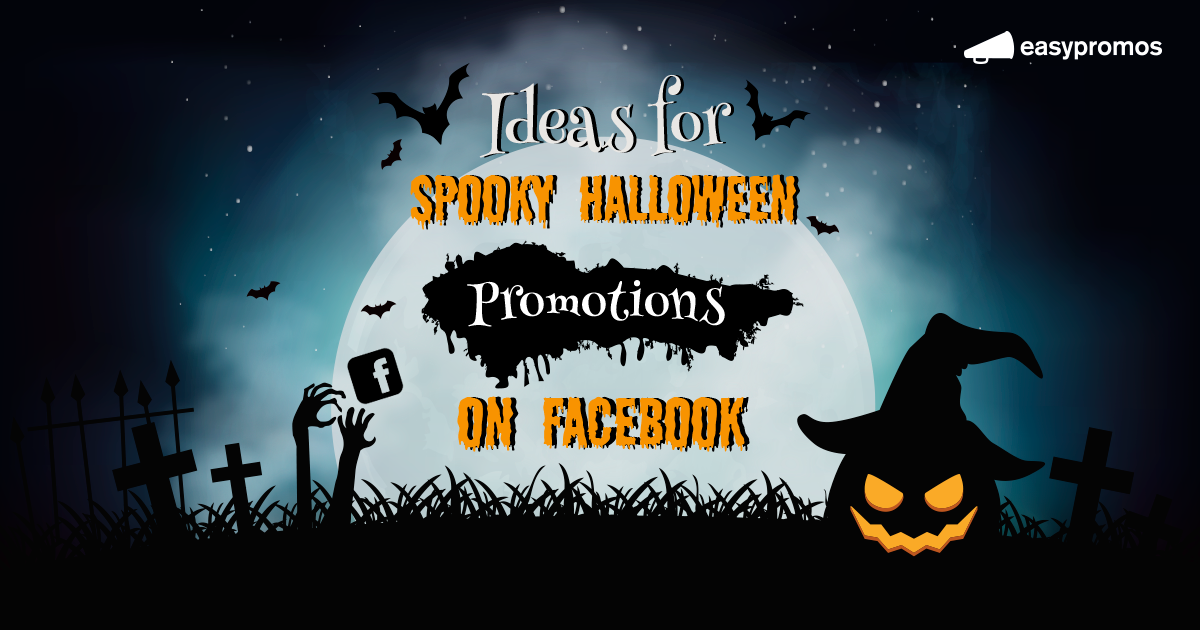 If you want to set up a seasonal promotion, then a Facebook giveaway might just be the simplest, most effective option. You can organize Halloween promotions on Facebook within minutes. And if you've created a smart promotion with an attractive prize, you can expect to increase followers, engagement, and even sales.
In this post, we've shared 5 Halloween promotional ideas to get your campaign started. We'll start with the simplest kind of comment contest, then take a look at Halloween-themed products, prizes, and interactive games.
Find even more Halloween promotion ideas and Halloween giveaway ideas at our campaign hub.
5 Halloween promotion ideas for Facebook
Start a conversation about holiday traditions
Every Facebook giveaway starts the same way: with a question. The goal is to increase engagement – so you have to give people a reason to start chatting!
Halloween offers plenty of opportunities to start a conversation with your Facebook followers. In our first example, the brand simply asked: "What's your favorite thing about Halloween?"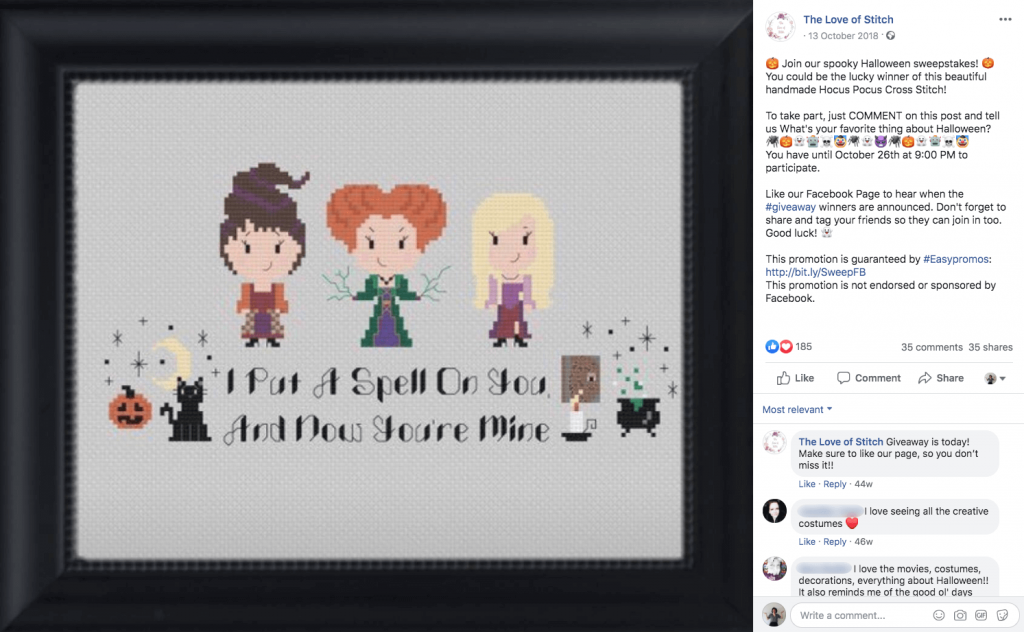 And in return, they received a flood of genuine, heartfelt responses: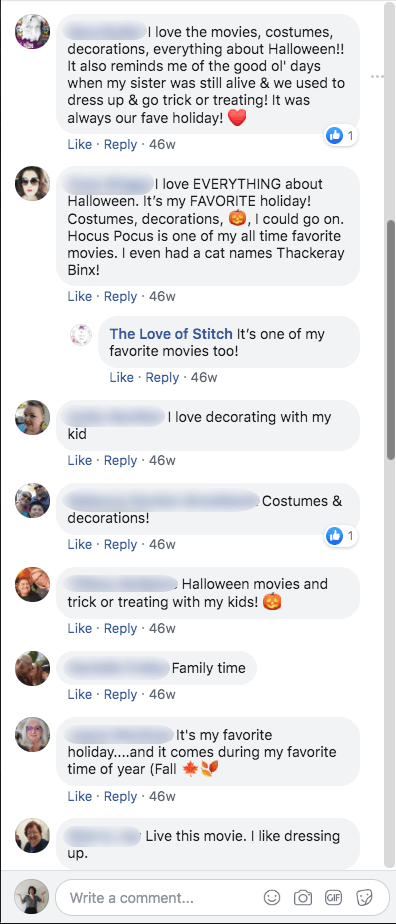 There are endless variations on this theme. You could ask people to pick a favorite candy or describe their costume. In our next example, the promotion organizers asked people to share their sneakiest Halloween tricks – for the chance to win some treats: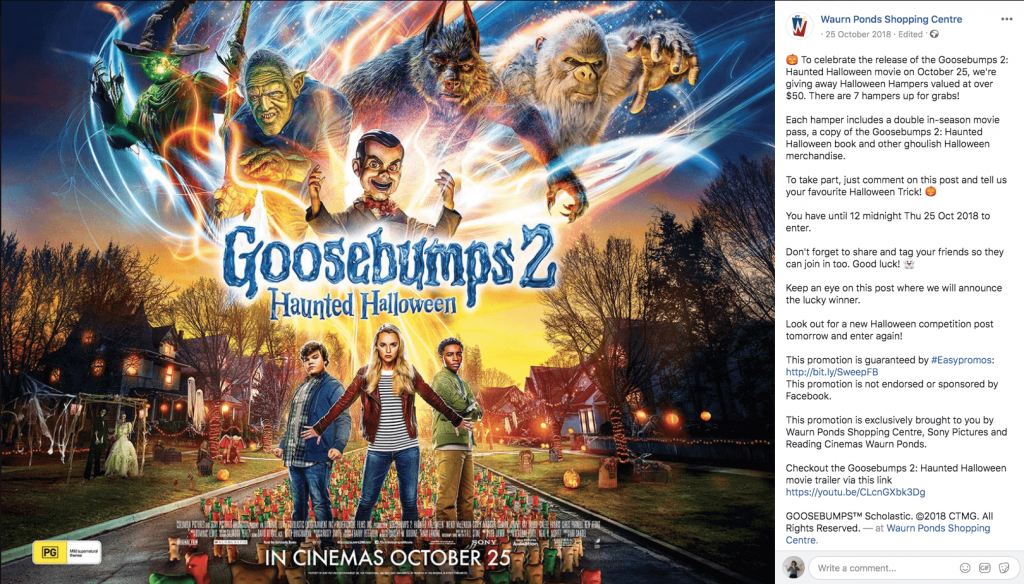 It's a great idea, even if some of the responses were a little disturbing.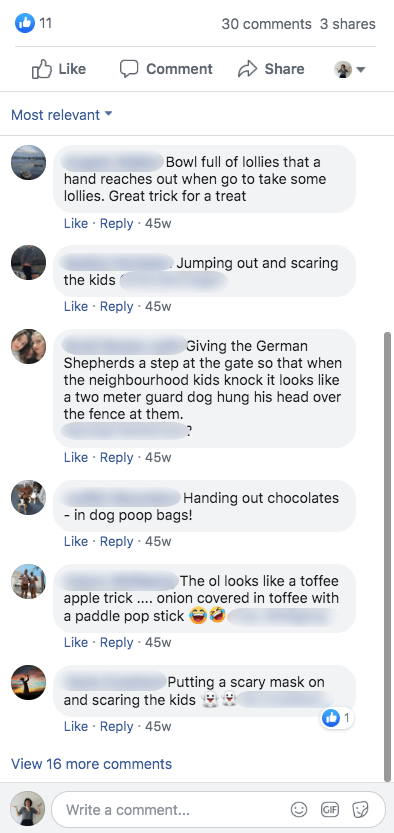 Release seasonal products and treats
Asking a good question is just the start. You also need to provide people with an incentive: some kind of reward, free gift or discount that encourages them to take part.
And of course, for Halloween promotions on Facebook, it's best to go with a Halloween-themed prize. Take this spooky shower gift set from Lush. It's perfectly timed for the Halloween season, and the brand even came up with a matching question: "Which classic horror film features a memorable shower scene?"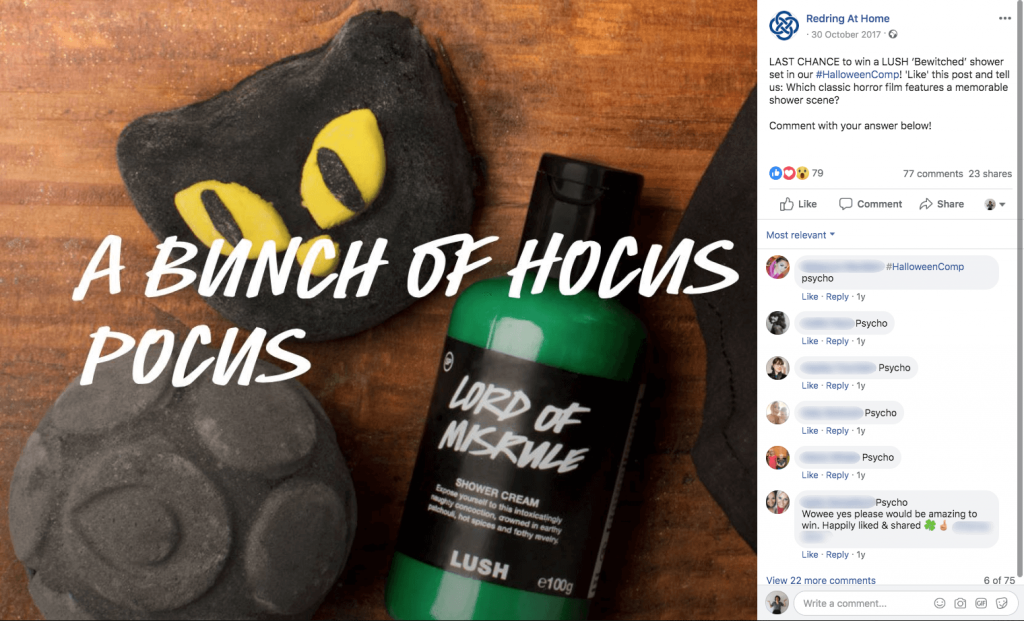 Illustrate your giveaway post with attractive photos, videos or gifs of the prize. The more tempting it looks, the more people will respond to your Halloween promotions on Facebook.
You can also use Halloween giveaways to educate people about your products and services. Everyone who takes part will learn a little bit more about your business – but with the right choice of giveaway question, you can increase that impact.
Take this Día de los Muertos giveaway from a local bakery. They offered some traditional Day of the Dead treats in a simple Facebook giveaway. People had to comment with their favorite Halloween tradition… and their favorite snack from the bakery.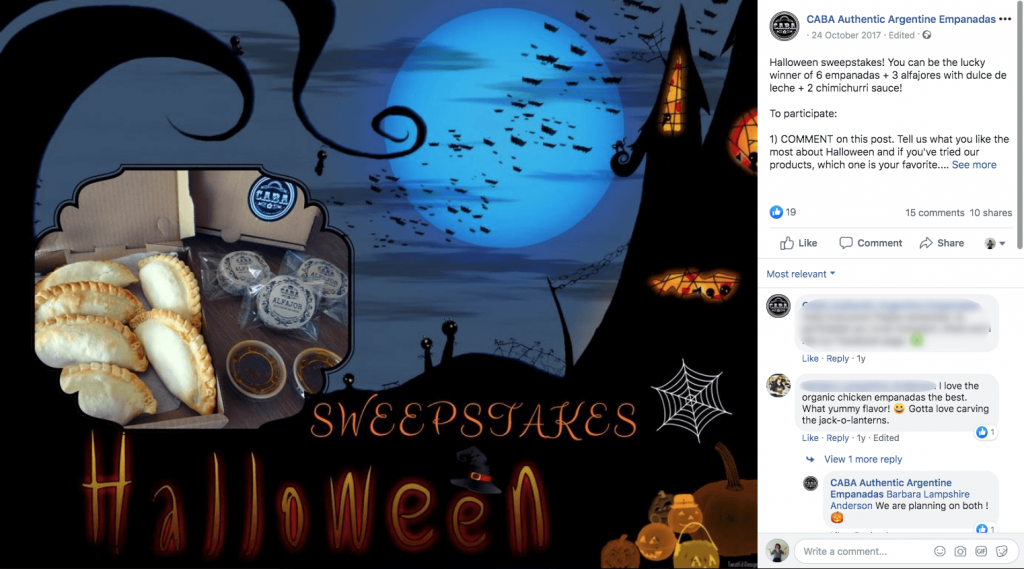 Play spooky Halloween games and puzzles
If your audience is already used to Facebook giveaways – or you just feel like a change – then Halloween is a good time to introduce something more challenging. Consumers are looking for entertainment and great value… and a quick Halloween game offers both.
Take this next example, from snack subscription service Degustabox. They decided to give away a free box to five winners. To be in with a chance, people had to spot five differences between these two fearsome photos, and leave their answer in the comments.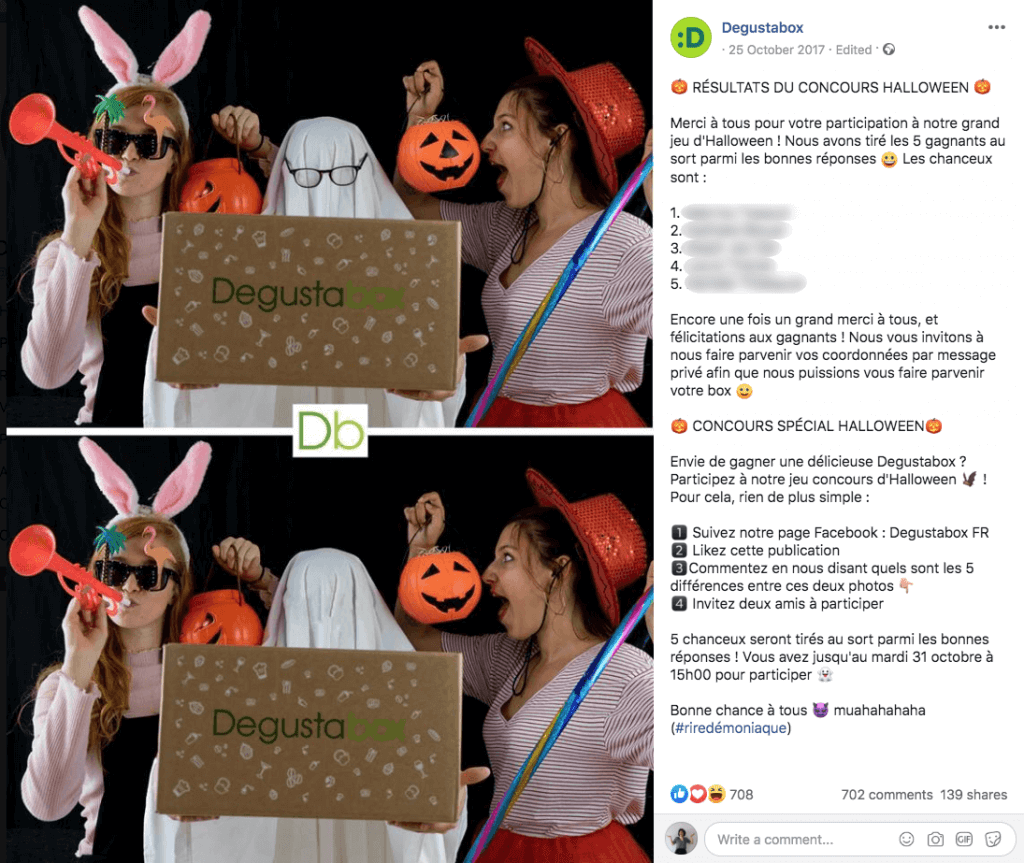 The only limit is your imagination!
Ready to get started? Click here to get free templates for your Halloween promotions on Facebook!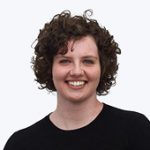 Corinna Keefe
Content marketer at Easypromos
Publication date: 2017-09-21