Posted in: Applications,Ideas for your websiteLast update: 31/08/21
Halloween is almost here! And it's scary how much it can help with your marketing strategy. Try these freakily effective ideas for Halloween promotions on social media and improve brand awareness and boost sales in no time! We've even given you some free templates and social media designs to get started! Read on for Halloween promotion ideas!

Let's start with the most important point: any brand can launch Halloween promotions and benefit from them greatly. You don't have to be directly linked to Halloween, pumpkins, or spooky costumes to run Halloween promotions, contests, and giveaways for your social media followers. Why? Because Halloween is like Christmas! It's a perfect occasion to increase brand engagement and reactivate social media followers. There are many different – and creative – ways to do it and today we talk you through them all. Sit back, relax, and get ready to launch your own Halloween promotions in 2021!
Halloween promotion ideas
Boost engagement with Halloween social media giveaways
If you want to set up a Halloween promotion, then a social media giveaway might just be the simplest, most effective option. You can organize Halloween promotions on Facebook, Instagram, or Twitter within minutes. And if you've created a smart promotion with an attractive prize, expect to increase followers, engagement, and even sales.
Let's take a look at a captivating example of an Instagram giveaway. This Halloween comment-to-win giveaway was organized by an Instagram influencer in collaboration with two other Instagram accounts. Instagram collaborations are fantastic for growing your following and reaching a wider audience, as organizing brands get to grow off of each other's audiences. So if you're not directly linked with Halloween products take a look at the following example.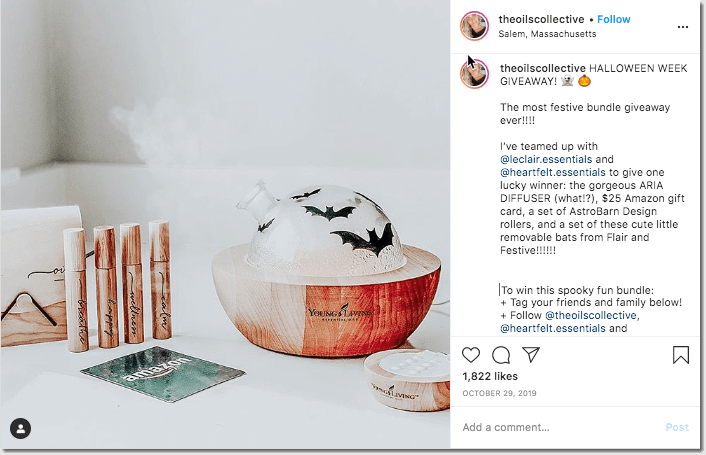 Participants followed the organizing accounts and tagged their family and friends for a chance to win a festive bundle. Notice how perfectly the prizes were presented! It is always an excellent way to attract more participants to your Halloween giveaways.
Would you like to see more examples of comment-based Halloween giveaways on social media? Head to our blog post full of useful tips and real examples of Halloween giveaways.
Find even more Halloween promotion apps, ideas and template in our Halloween hub.
Most popular Halloween promotion apps: Convert followers into leads and foster relationships
Think about all the likes and comments that high-quality content generates on social media. And what if we tell you that you can convert that engagement into new marketing leads with Halloween promotions?
Entry Form Giveaways are the best tool for converting social media followers into leads. Promotions with an integrated registration form are very easy to set up and they tend to be very popular among social media communities as the entry requirements are very simple. So doing it from time to time is a great way to expand your mailing list.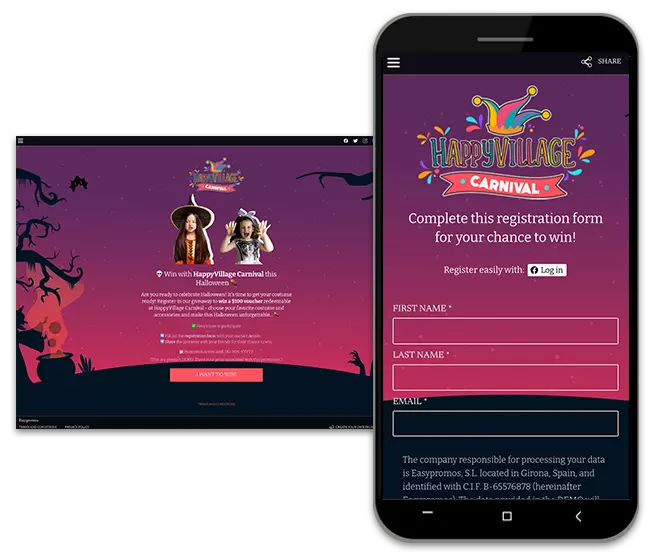 Here's an example of a Halloween promotion app that you can fully customize with your corporate image to further expose your audience to your brand. Launch a Halloween giveaway with a registration form and share the promotion with your followers. Raffle fun prizes, discount codes, vouchers, or even best-selling products that will help you promote your brand even further.
Another example comes from a French furniture manufacturer. To celebrate Halloween, the organizer launched an Entry Form Giveaway, in which participants had a chance to win a new comfy chair.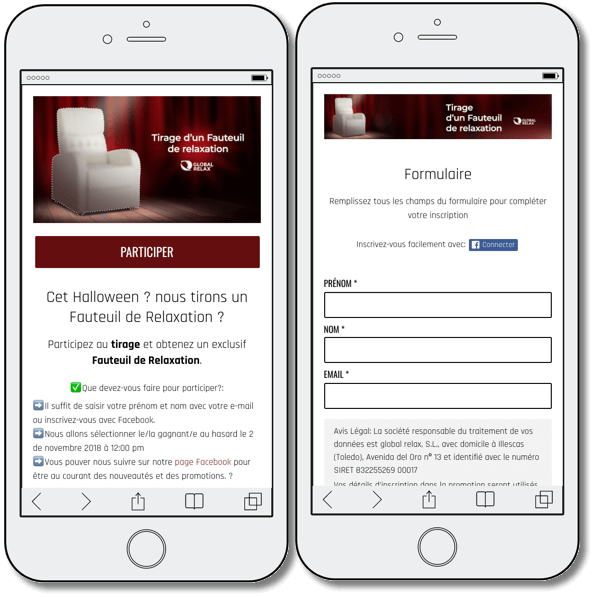 The organizer shared the promotion link across their social media channels right in time for Halloween, in an attempt to collect new contact details and improve brand awareness. And we think that they did a great job!
Entertain and engage with interactive Halloween games
You might know by now that mini-branded games are now the thing! Therefore, it is a fantastic idea to incorporate gamification into your marketing campaign if you haven't done so already. If you want to show off your brand's creative and innovative side, then this section is for you. Branded games are fantastic for increasing brand engagement, entertaining your online community, and overall working on your brand image. And luckily for you, we have ready Halloween promotion apps that can be fully customized with your brand image. Take a look at what Halloween games you can launch with Easypromos:
Halloween promotion ideas: showcase new products and bestsellers with a branded Memory game
Memory games are one of the most popular forms of gamification, and they tend to attract a lot of players. Here's an example of a Halloween promotion that can be launched with Easypromos.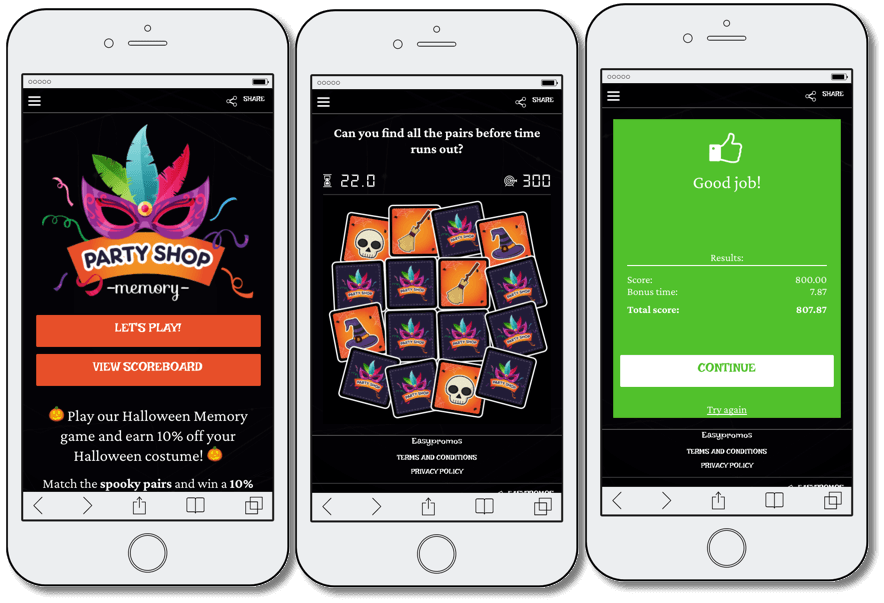 After trying our DEMO, use our customizable Halloween Memory game template so that it includes your logo and branding colors. Update the text, introduce prizes and share the link across social media channels to convert more users.
Do you want a top tip? Incentivize participation to attract more entrants! Halloween promotion apps won't only entertain and engage your audience, but they will also improve brand and product awareness, and that normally leads to increased sales and reinforced customer loyalty.
Idea for Halloween promotions: launch a branded Puzzle game
If you don't want to test your followers memory skills, you can challenge them to an interactive Halloween Puzzle. Choose an image that will be cut into pieces and presented as a branded jigsaw.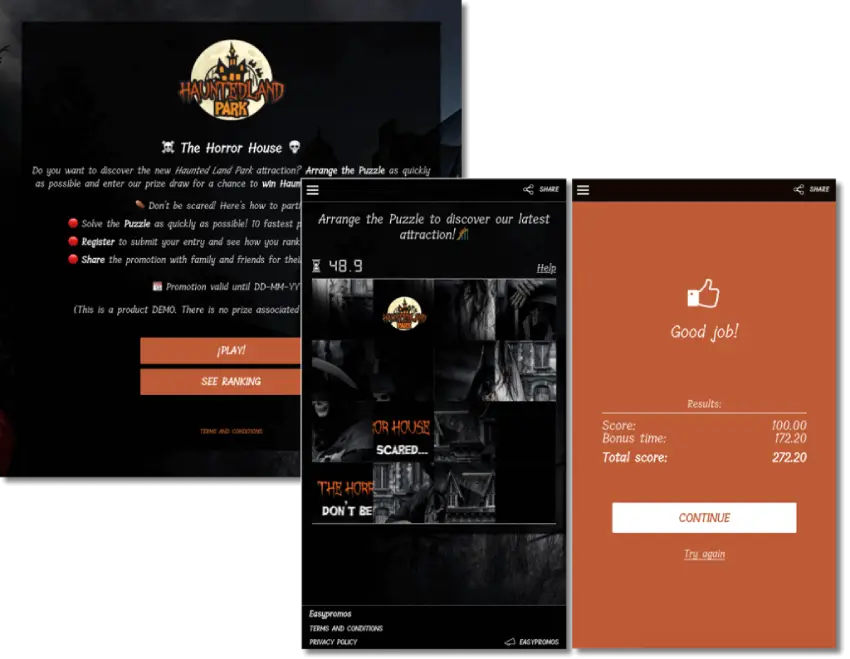 This example shows how to promote a scream park or haunted house, but remember: you don't have to be directly linked to Halloween to launch fantastic and converting Halloween promotions. Simply give your audience a reason to remember your brand next time they need your product or services!
This Halloween promotion idea will do its job if you're looking for an engaging game for your audience. Here are just a few ideas of images that you can use for your Halloween Puzzle:
Scary image
"Happy Halloween" message
Picture of a discount code that users get once they complete the game
Showcase your new collection or bestsellers
Test your audience's visual skills with a Halloween Hidden Objects game
Hidden Objects games are all about creativity and great ideas, and we're about to show you why.
Do you want to promote a certain product? Or maybe you just want to improve brand recall so that your audience can recognize your logo next time they see it? Here's a perfect way to work on achieving those goals with an interactive Halloween promotion app.
Try our Halloween Hidden Objects DEMO and see how it can help you work towards your marketing goals. And if you like it you can then use our customizable ready-made template to launch your own Halloween promotion!
Hidden Objects games are all about visual skills. Upload an image to the Hidden Objects app and then ask your followers to locate hidden bats, pumpkins, ghosts… or just products or logo! Let's take a look at an example of a Halloween promotion that – once again – can be launched by any brand from literally any sector.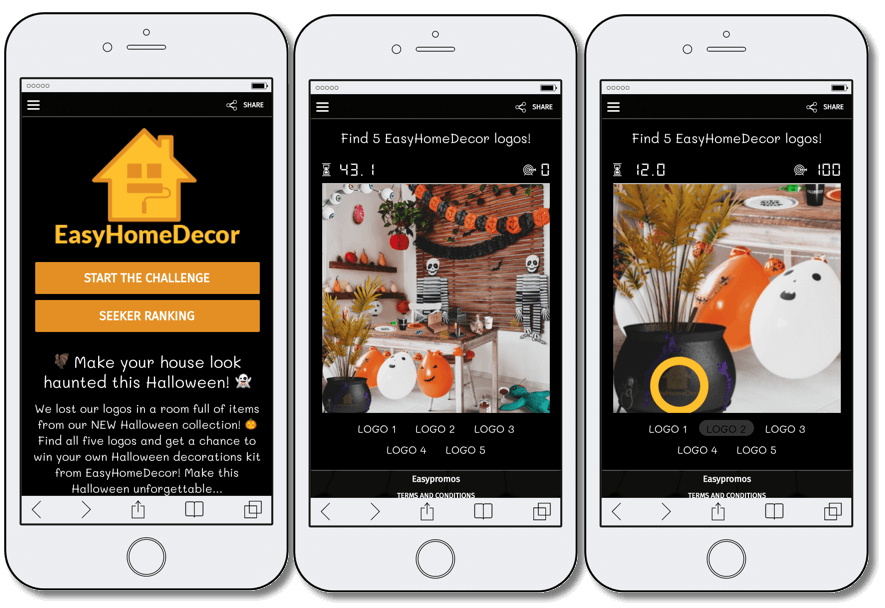 In the above example, you can see how a home decor store can celebrate Halloween with their online community. All you have to do is design a Halloween-themed image and hide logos, products, or some spooky bats. You can then raffle an attractive prize among all participants, or carry out a random prize draw for the 10 fastest participants. Another great idea to boost sales and work on customer relationships is to give discount codes to all registered users.
Boost sales with a Halloween Spin the Wheel promotion
Let's stay with the topic of boosting sales for a moment longer… We just love branded prize wheels!
Do you want to give away discount codes or vouchers? Or maybe you want to award your customers with product samples, Halloween costumes, or your best-selling products? The next example is for you.
Halloween prize wheel promotions can do a lot of good for your marketing strategy and objectives. Did you know that with prize roulettes you can boost sales, grow a mailing list, reinforce customer loyalty, and even drive traffic to your website? That's right!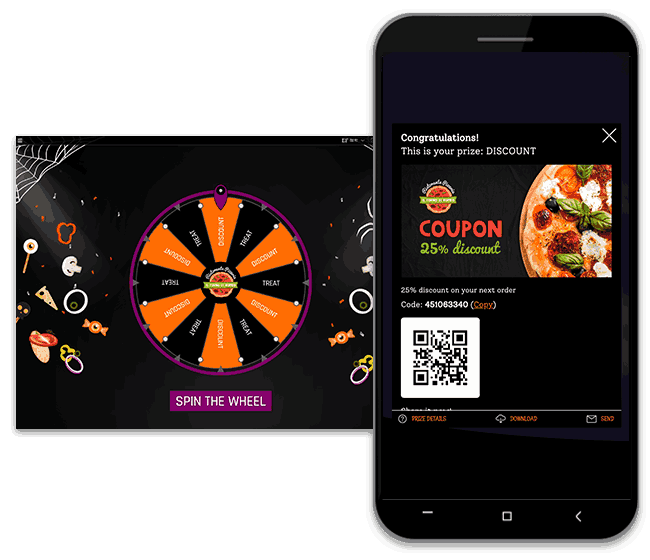 The above example shows you how a supermarket can launch a Halloween promotion to celebrate the spooky season with their customers. How does it work? Participants register to spin the wheel for a chance to win discount codes and prizes.
But how can you encourage customers to enter your Halloween promotion? How do you make it more visible? The truth is that it's easier than it seems. Here are just a few examples of how you can disseminate your prize wheel or any other Halloween promotion:
Social media posts: organic and paid.
Banners, pop-ups and widgets: promote the contest on your website in any form to convert visitors into leads. You can even embed the promotion on your e-commerce side or a new landing page to promote it.
Newsletters: do you have an existing database with contact details of your loyal customers? Send them a direct link to access the promotion for a chance to win.
Leaflets and posters: are there many customers visiting your store daily? Print posters and put them up in your store, or simply hand out leaflets promoting your online promotions.
Learn more about your audience with Halloween quizzes
We all know that lead generation is one of the most desired marketing objectives. But we also know that everybody would like to qualify their newly obtained leads, too. We're about to share with you a great Halloween promotion that not only helps you build your database but also learn some information about your new prospects.
Halloween quizzes can help you do that. Apart from entertaining and engaging your followers, and giving them a chance to win attractive prizes, you can also learn important information about your participants. You can for example launch a Product Recommender campaign, in which you learn the likes and preferences of your audience. At the end of the quiz, you can display products that best match each participant's likes and you can even offer a discount code for that product! Personality Quizzes work exactly the same. So apart from collecting contact details you also increase chances of converting leads into paying customers because your future marketing communications can be more targeted.
So let's take a look at an example of a Halloween Knowledge Quiz. Just ask your audience some Halloween-themed questions (or even some questions about your brand) and collect leads for your future marketing campaigns.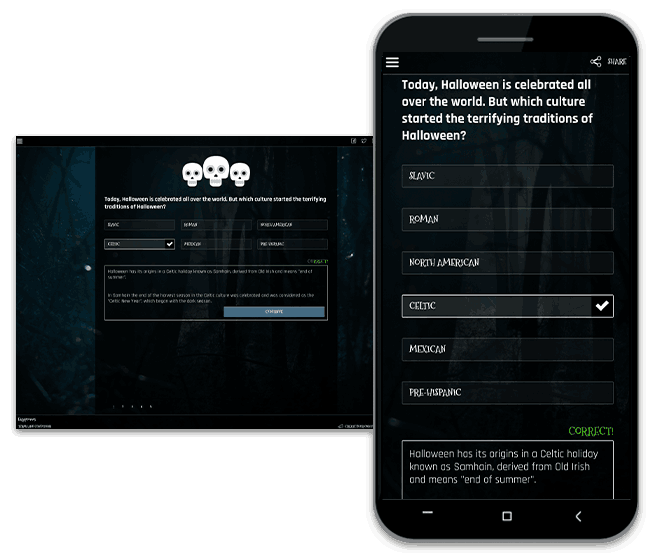 We hope this article and examples have inspired you to use our Halloween promotion apps to launch your campaign! Do you have questions or doubts? Don't hesitate to chat with our Support Team!
Publication date: 2017-09-21