Posted in: ApplicationsLast update: 13/01/22
Think of Christmas, and what comes to mind? Bright Christmas lights, Christmas trees crowded with decorations, Santa Claus in red and white, presents wrapped in gleaming paper and ribbons… It's a photographer's dream, and the perfect time to run a photo contest. But how? And what are the benefits for your marketing strategy?

Why you should run a Christmas photo contest?
Well-designed and promoted Christmas photo contests can help boost your brand right in time of the busiest shopping period of the year. You can work on the following objectives:
User-generated content. Collecting original photos from your users is a great marketing strategy. You get unique content for your own posts and ad campaigns while making your followers feel seen and appreciated.
Increased engagement. Contests and giveaways are hugely popular right now, especially on photo-sharing networks such as Instagram. Double the engagement by opening the contest to a popular vote.
New sales leads. When you run a contest, you have the chance to collect contact details, too. Follow up with an email campaign to maximize holiday sales.
Brand reputation. Show your customers that you are reliable, trustworthy, and fair, by running a great contest. And a generous prize will show that you appreciate their efforts, too.
Christmas is a key time of year in marketing and retail. To make the most of your campaign, it's important to offer something a little bit special – something that makes your brand stand out. In the next few sections, we'll discuss exactly how to run an effective contest, with some real Christmas photo competition examples.
How to run a Christmas photo contest?
There are lots of apps for online contests and giveaways out there. When it comes to a photo contest,  you have three main options:
Stand-alone photo contest. In this version, you create a microsite where people can upload photos and register their contact details. You can share the contest link on your website, via email, social media, and even offline.
Mention + Hashtag contests on Twitter and Instagram. This is the easy-access version. People just share photos on their social media profiles, using your chosen mention and hashtag.
Instagram photo contest. The final option combines the best of both worlds. People share photos on their Instagram account, then register contact details and accept image permissions in order to confirm their entry.
Whichever app you choose, you'll be able to display the competition entries in a public gallery. You can open the contest up to a public vote, and award prizes and participation rewards.
Some people are daunted by the idea of a Christmas photo contest. They think it will be complicated to organize or require a lot of effort. But if you have the right tools, a Christmas photo contest is easy to run!
You might already be bursting with ideas for a fun, creative Christmas photo competition. But if you're looking for ideas, read on! We've collected our top 5, classic Christmas photo competitions to inspire you.
Ugly Christmas jumper competition
When did Christmas jumpers become such a classic? Was it in 2001, when Bridget Jones's Diary hit cinema screens? Or had they always been a part of Christmas? It's hard to say. But in the last few years, Christmas jumpers have become wildly popular. So why not try an ugly Christmas jumper competition for your Christmas photo contest?
This brand invited their followers to join their Christmas photo contest by sharing photos of their most outrageous Christmas outfits. Whoever won the most votes would enjoy a special Christmas case of drinks from a co-sponsoring brand.
Good news! You can now organize your own ugly Christmas jumper competition with our PhotoFun application. Invite your audience to design the ugliest Christmas jumpers they can think of for a chance to win attractive prizes!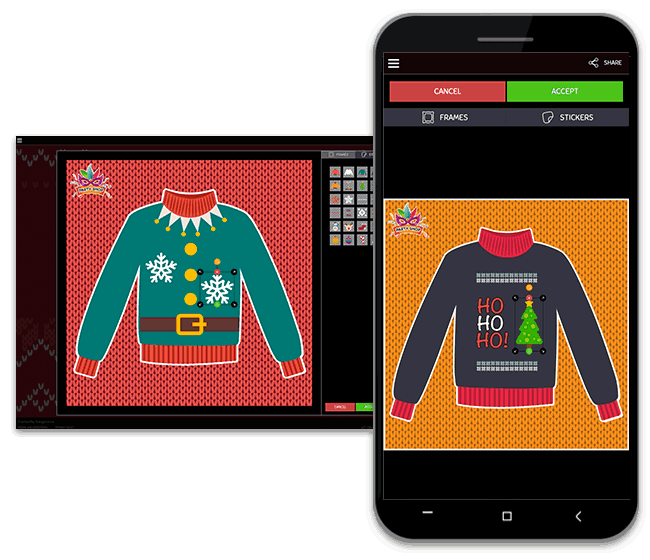 In return, you'll get to collect creative user-generated content and new contact details. Try our DEMO and download the ready-made template to launch your own ugly Christmas jumper contest.
Christmas tree decorating contest
If Christmas jumpers aren't your style, let's try something more tasteful. Almost every home will put up a Christmas tree – the only debate is when to do it. Do you decorate the day after Halloween, or wait until Christmas Eve?
This brand asked their followers to share photos of their Christmas decorations, with generous cash prizes as motivation.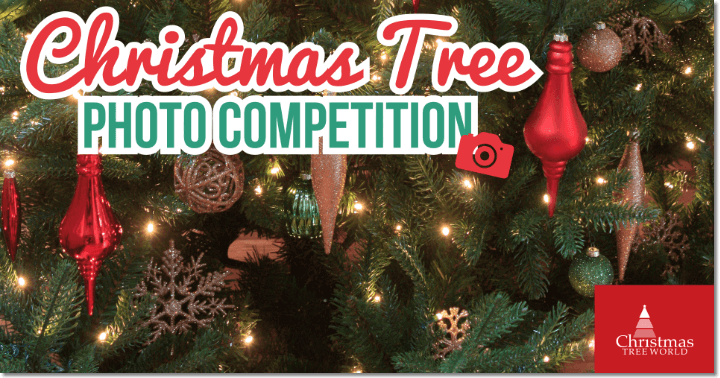 When users uploaded their photos, anyone could vote for their favorite. It was a great tactic to encourage social media sharing, as participants shared their entry link in an attempt to obtain more votes. Then a jury chose three winners from among the most popular entries.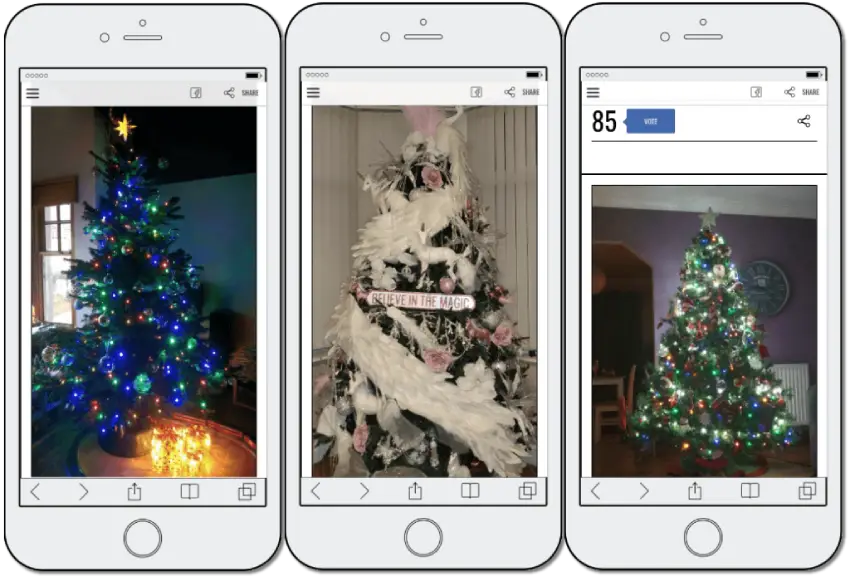 Don't forget to attract your audience with an appealing prize; at the end of the day incentives are always the best motivator!
Adorable animals in Christmas outfits
One big trend we've noticed last year is animal costume competitions. Pet owners just love dressing up their dogs, cats, and even bunnies in cute seasonal outfits. Organizing a Christmas photo competition for pet owners is a great idea even if your brand isn't associated with pet products or services.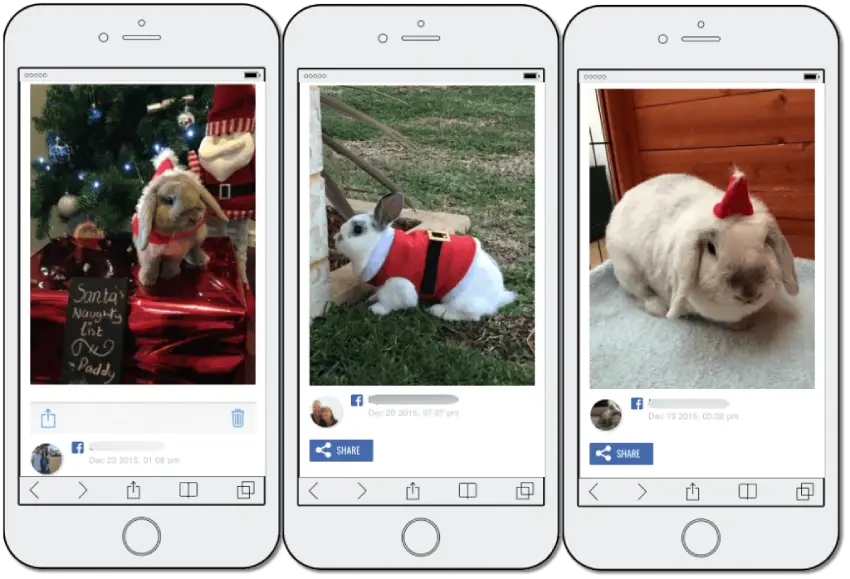 In this edition, a pet supplies company organized a Christmas photo contest and asked for photos of festive rabbits. The most popular photo would win valuable pet care supplies. And to maximize engagement, all participants received a small store discount.
Showcase your Christmas products
If you want to make a more direct connection with your brand, then you can run a Christmas photo contest that highlights your brand's products. Ask your followers to take selfies with your products, or in-store.
Alternatively, here's a novel idea from a computer and electronics retailer: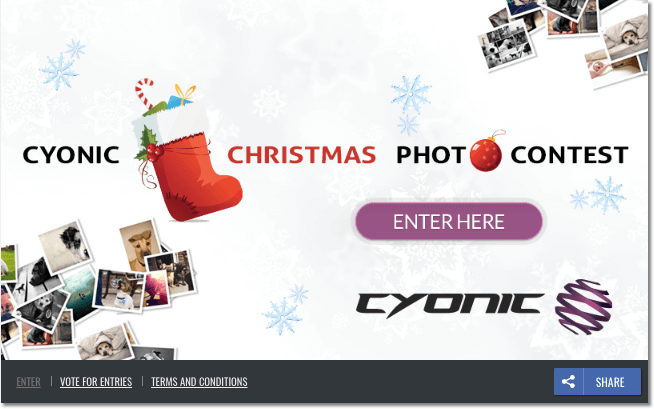 They asked users to visit their online store and screenshot the product they wanted for Christmas. Then users could dress up the image with Christmas emoji, text, and more. There were 10 goody bags (or should that be Christmas stockings?) up for grabs.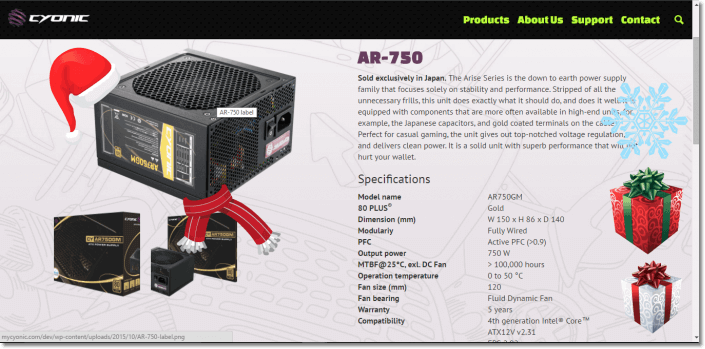 This was a fantastic approach to product promotion. The organizer also got to maximize dwell time, as users spent more time interacting with their website.
Celebrate the season of giving
Finally, let's not forget the meaning of Christmas. It's the season of goodwill, generosity, and kindness to our fellow humans. So it's a wonderful opportunity to show your values with a charity contest or prize donation.
We were touched by this example from Angloinfo, a website that offers information and advice to people who move to a new country. They ran a contest with the hashtag #HomeForTheHolidays, asking people to share images of what Christmas meant to them.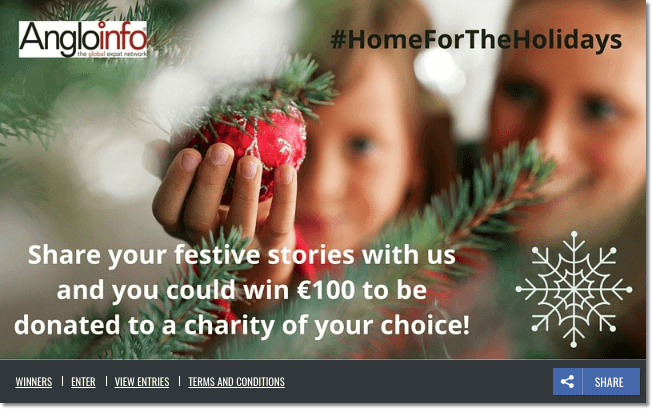 Instead of giving away Christmas prizes, they pledged to make a donation to the winner's chosen charity. And they found the perfect winner. In the entry below, a family posted a photo that summed up their Christmas. And they asked for a donation to help a local refugee family.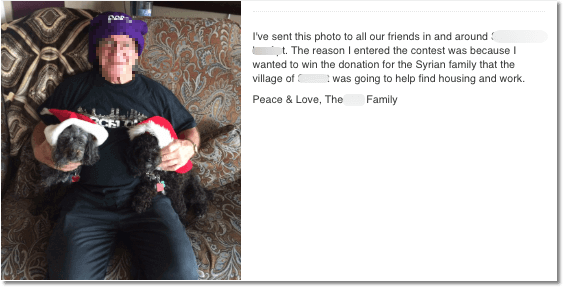 Go beyond photos, organize a Multimedia Contest
If you don't want to be restrained by a single format, a Multimedia Contest might be the way to go. With this app participants can upload photos, videos and pdf documents. Participations are the sorted into individual galleries to be viewed or voted. Winners can be selected by popular vote or by a jury. Why not add Christmas stories or carol singing to your photo contest?
We've got a Christmas gift for you, too! Visit our Christmas hub for more ideas, 2020 Christmas trends, and free resources to create your Christmas marketing campaigns.
Do you have questions about organizing contests for Christmas? Don't worry, our Customer Support Team is ready to answer your questions!
Publication date: 2017-11-16