Posted in: Applications,Applications for TwitterLast update: 27/08/21
Lots of businesses are making the most of the World Cup in their online marketing strategy. What are you waiting for? Let yourself get carried away by World Cup fever and take advantage of the fact that during the tournament, soccer fans are likely to be more active on social media than ever. There'll never be a better time to woo soccer fans, make them fall for your brand and become loyal followers. One of the simplest ways of pulling this off is to launch a World Cup betting pool on Twitter. Twitter is probably the social network most commonly used by soccer fans to share their thoughts on the matches as they take place. So, lay down a challenge to soccer fans on Twitter, offer them a reward and invite them to take part in your betting pool. Read on to find out everything you need to know about World Cup betting pools!

Three reasons to use the World Cup in your online marketing
Look around you. How many people do you see talking about the World Cup? Exactly: the majority! And they don't just talk about it face-to-face. They talk about it on social media too. The World Cup, as well as rousing the passion of soccer lovers everywhere, also provides you with an excellent conversion opportunity for your company's online marketing. Here are the top three reasons why you shouldn't let this opportunity go by:
Increase the activity of users on social media. Soccer fans love to keep up to date with their favorite tournament. They also enjoy chatting about each new development on social media. Make the most of this by offering them a promotion that appeals to them. You'll ensure that your content and actions reach a greater potential audience.
Attracting soccer fans to your promotion couldn't be easier. You already know what they're most passionate about. Use the World Cup as the main theme of your promotion and generating engagement will be a piece of cake.
By using World Cup-related promotions and contests you'll ensure that soccer fans include you in their list of favorite businesses. Consumers are always grateful for promotions and contests, but if it's World Cup related they'll be even happier to take part. They'll come back to you again and again, boosting your loyalty ratio.
How to create your World Cup Twitter post
Hashtags will be your biggest allies when it comes to importing tweets posted by participants in your betting pool. By using hashtags, you make sure that no participant slips through the net. One of the first steps before publishing your betting pool on Twitter is to decide which hashtag to use for your promotion. Think it over carefully because the hashtag will be used throughout your Twitter campaign. It will enable you to carry out a number of actions via the Twitter sweepstakes app, such as: collecting the participants who commented on the betting pool post, filtering the users who used the sweepstakes hashtag, excluding users on your blacklist, and so on.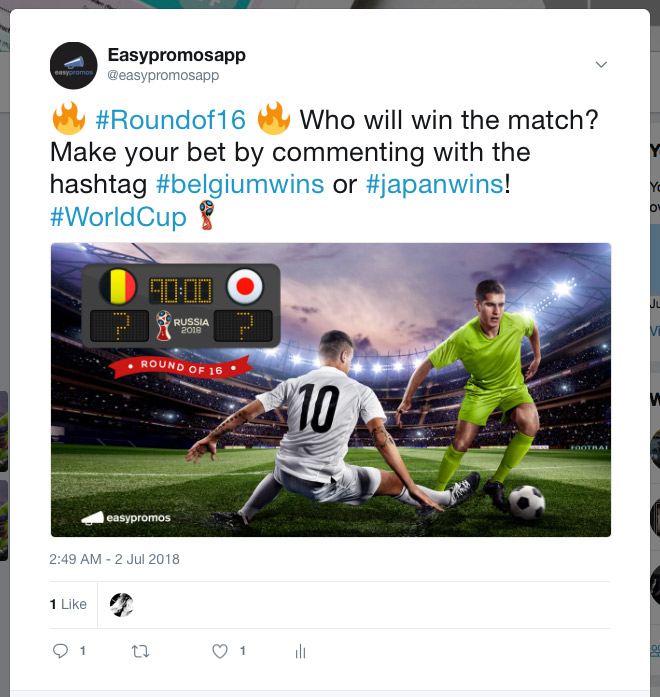 Another action that can enliven your soccer betting pool on Twitter is to combine the sweepstakes hashtag with mention of friends. This will enable you to generate even more online noise and boost the branding of your business. And, best of all, when you run the sweepstakes you'll be able to segment the participants according to your requirements for participation: comment with hashtag only or comment with hashtag + mention of friends.
And don't forget to show off the betting pool prize in the text of the post to encourage users to leave their comment and participate in the betting pool!
How to run a sweepstakes between participants of a Twitter betting pool
Running a sweepstakes on Twitter is a quick and easy process​. Here's a simple, step-by-step guide to running a reply-with-hashtag sweepstakes:
Select the sweepstakes option on Twitter and choose the type of sweepstakes you want to run – in this case, one based on replies.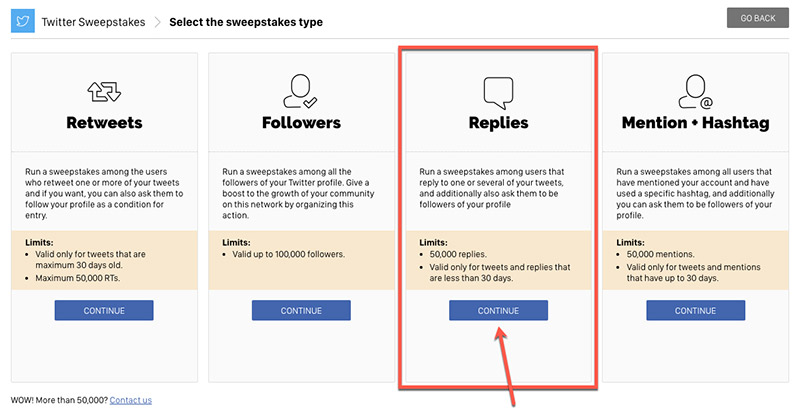 Connect your Twitter account with Easypromos.
Choose the betting pool post that will be used to import participants. You can select up to 10 different posts. You can run the sweepstakes between those who have commented on any one of the posts.
Select the sweepstakes hashtag and mark it green.
Use the exclusion filters if there are any participants who don't meet the requirements or are on your blacklist.
Use the 'mentions' section when one of your requirements for entering the sweepstakes is to mention one or more friends.
Select the number of winners and alternates for your sweepstakes.
Finally, carry out the sweepstakes. You'll obtain the names of the winners and alternates, together with a certificate of validity.
See how easy it is? Don't wait a minute longer! You still have time to launch your own World Cup betting pool on Twitter! Post your tweet with the betting pool and register in Easypromos to obtain your winners.
Publication date: 2018-07-02