Posted in: Digital marketing,Ideas for your websiteLast update: 01/08/22
Do you – like us – believe that brands shouldn't stop their social media activity during the lockdown? Fantastic, you're already one step ahead of some companies! Let's remember that currently social media users are connected more than ever, therefore, high-quality engaging content is what they need right now. In this article, we share tips and advice on how to approach social media right now and we also show great examples of how some brands redirected their social media strategy to continue reinforcing their brand awareness, increasing brand engagement, and establishing stronger relationships with their customers. Read on!

Word of advice for your social media strategy during the quarantine
Before we proceed to examples of successful social media promotion during lockdown we want to share with you the most important pieces of advice. Let's start with how essential it is to stay active on social media. Why? Because currently, digital channels are the only way for you to connect with your online community. There's no more billboards, posters, or in-store discounts. Your target audience is now spending more time than ever scrolling through their social media feeds, and engaging with brands that haven't paused their social media marketing. And your brand should long to that group.
Social media channels allow you to stay connected with your customers, work on maintaining brand awareness, increasing brand engagement, strengthening already existing customer relationships, and concurrently attracting new potential customers. But most importantly, social media channels give you the chance to be there for your audience, connected and real, also struggling with imposed restrictions but supporting everyone at the same time.
Social media gives you the chance to be there for your audience, connected and real.
Click To Tweet
Do you have certain marketing objectives but you're unsure of how to achieve them? Have a look at marketing solutions and learn how to tick off your goals. 
Another important thing to have in mind when turning to social media during lockdown (and not only) is the diversify of content. It's no longer enough to post pictures with some text. Repetitive posts get lost in between thousands of other content pieces (did you know that an average American consumer sees up to 5,000 adverts per day?). This is where video marketing and Instagram carousel come in handy.
But let's not forget about interactive contests, entertaining games increasing the audience's engagement, and comment-based social media giveaways that allow brands to start real conversations with their followers.
Last but not least, is remembering that social media is not only about sharing content but also about being responsive! Don't forget to reply to private messages and comments, inquiries along with possible complaints. Brands show a great approach to social responsibility whenever they share information about protective measures or whenever they support fundraisers and helpful initiatives.
Stay on top of these three aspects and you will grow your brand, increase awareness, and reinforce customer loyalty and trust.
Examples of how brands use social media during the ongoing lockdown
Well aware of the current difficulties and situation many brands adequately adapted their communication strategies but also made changes to their operations.
So let's take a look at real examples of how some brands successfully communicated with their social media communities.
1. Promote products and share engaging content for your target audience
It doesn't matter what sector your brand belongs to. Whether it's an essential or non-essential business you still have to promote your products. But these days traditional marketing won't do its magic. According to Orlando Wood, hard-sell ads focused on pricing and products are performing worse than normal, therefore it's time to take a different approach to product promotion. 
Here's an example of a fantastic collaboration of three brands: a travel agency centered around wine, food, and spirits, a jigsaw puzzle producer, and a champagne producer. The three companies put their efforts together and organized an Instagram giveaway aimed at wine lovers. The participants had to follow the organizing accounts and mention someone they'd want to share a bottle of champagne and do the puzzle with.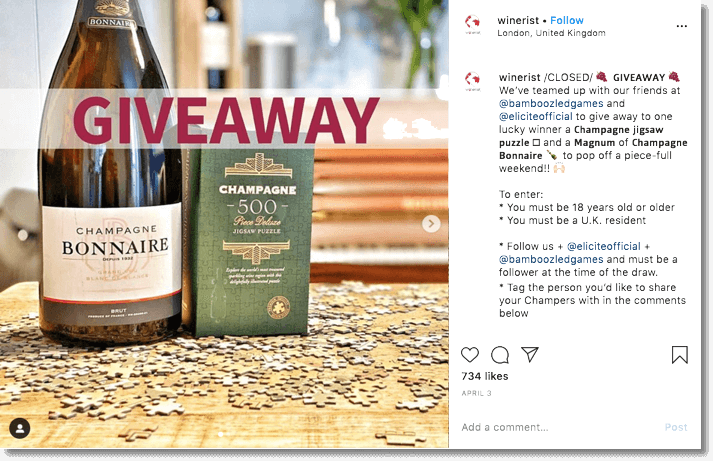 This collaboration promoted all three businesses and delivered interesting content for the followers of all three brands. The organizing companies also grew off of each other's online communities.
Small businesses should also benefit from the reach offered by social media. Brick&mortar shops and small brands are the ones experiencing big difficulties during the ongoing crisis, with no customers walking through their doors. This is why it's so important for small business owners to find their community online, connect with them, and continue promoting the products and services.
Here's an example of how a one-person business can take advantage of social media. This Instagrammer customizes leather pouches among other things. In order to attract more potential customers and maintain cashflow she organized an Instagram Giveaway, in which one lucky winner walked away with a customized leather pouch.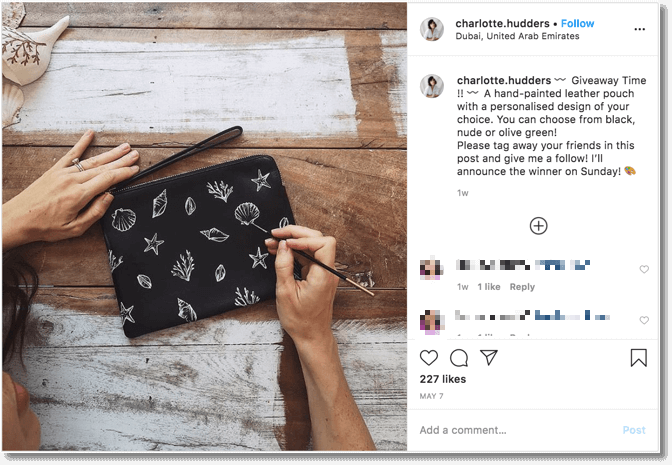 2. Show the humane side of your brand and accompany your customers in this difficult situation
Brands now face an important challenge; apart from sharing interesting and engaging content, communicating with their customers, and still promoting their products and services, they should also show the humane side of their business. To put it simply, your online community wants to see support. They want to see that you're all in it. Canva has been doing a fantastic job over the last week accompanying their followers in this new reality. Short encouraging messages strengthen already existing relationships and grow the community.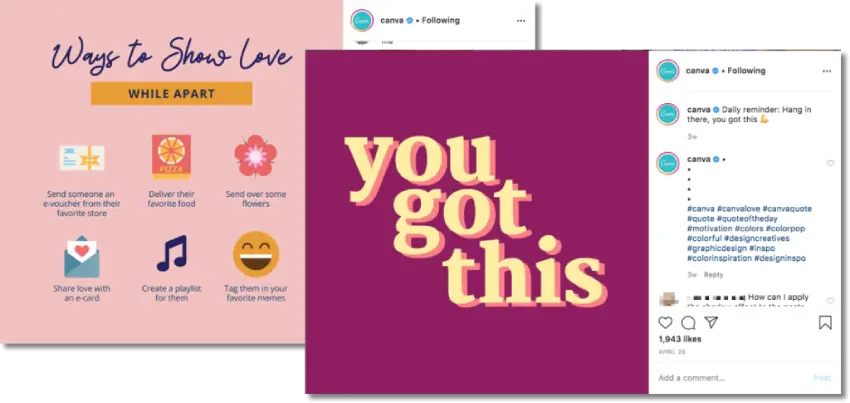 Another brand that is doing a fantastic job is KitchenAid. The brand created a new hashtag #MakeItTogether. They share recipes on their social media channels and invite followers to share pictures of their homemade dishes and cakes. They also teamed up with a few food bloggers to promote their kitchen robots through social media giveaways.
3. Use social media to promote your services
If your company's providing a service then don't worry even if your business has slowed down or maybe even stopped temporarily. Now is the time to think about your strategy and readjust things that you wouldn't have done otherwise. Make changes, update your website, invest in new ways of communication, and work on brand awareness… But most importantly stay active on social media!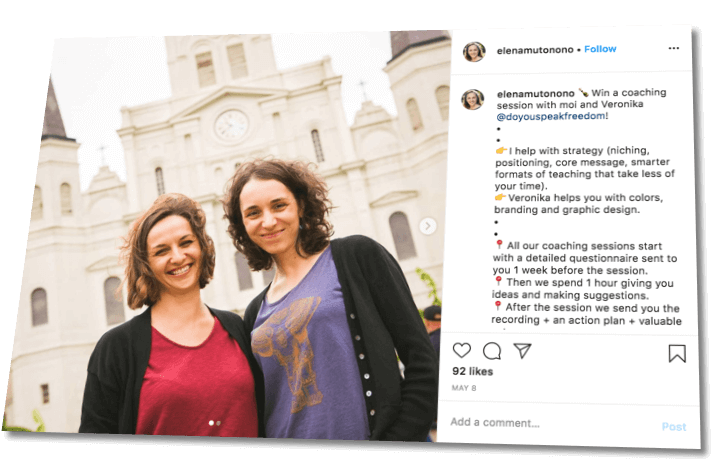 The above example shows how an online language teacher and designer joined their forces to promote the services they offer. One participant won a one-hour coaching session with the organizers. This was a fantastic way to promote the services provided by both entrepreneurs. Promote your business with an Instagram Giveaway like in the example above, or use a comment-based Facebook Giveaway.
4. Entertain your audience with interactive campaigns
Gamification is the best way to entertain your audience during quarantine. Use branded games to expose your corporate image and reinforce brand and product awareness while users are engaged with an interactive online game. With playable promotions, you offer your online community a challenge and a sense of rivalry. 
Let's take a look at the example from Dingonatura, a Spanish natural pet food producer. The brand launched an online Puzzle where apart from showcasing their products, they're engaging and entertaining their audience, collecting new leads, and giving the participants a chance to win a three-month food supply for their pet.
5. Educate and inform your audience
The education system has completely changed over the last weeks. From spending hours in schools, kids and teenagers are being educated fully online. Many businesses also came to realize that educational content has been recently very popular with online communities, simply because people seek resources to keep them busy but also to develop professionally and personally.
Even petroleum companies – that have been highly affected by the crisis – realized that it's time to engage online users with educational content.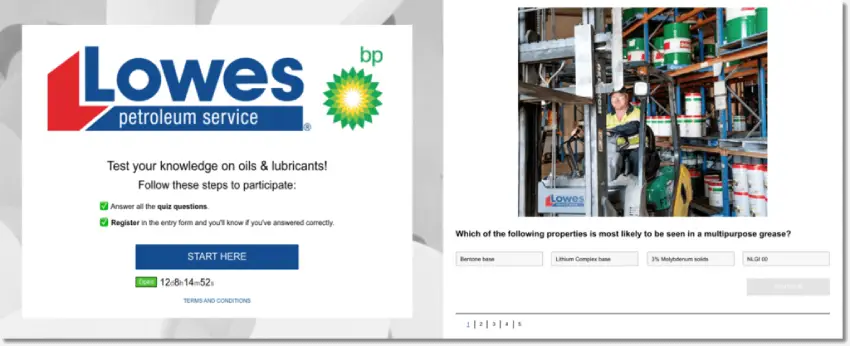 Another great approach to educational resources has been taken by Barclays UK that is now promoting their Barclays Digital Eagles project, which "provides education and open-source content that empowers communities to become digitally savvy whilst staying safe online". The entity shares coding lessons for kids, video, and editing tutorials and resources keeping the public up to date with the ever-changing digital world.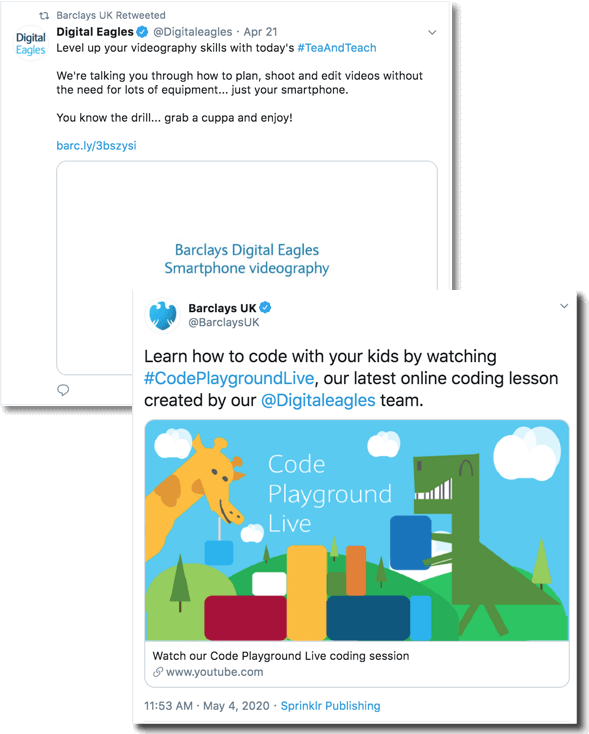 Many brands have also turned to webinars and free online classes. There are countless platforms that allow you to do live videos, including social media channels like Instagram and Facebook. If you have knowledge about a specific topic (or maybe you want to give free tutorials or share tips on using your products) prepare a script and spread information about your live event on all social media platforms. You will not only engage and educate the users but also tap into their loyalty as people will appreciate your time and commitment.
Here's our own example; our CEO Carles Bonfill participated in many different webinars sharing his knowledge about digital marketing, gamification, and brand engagement.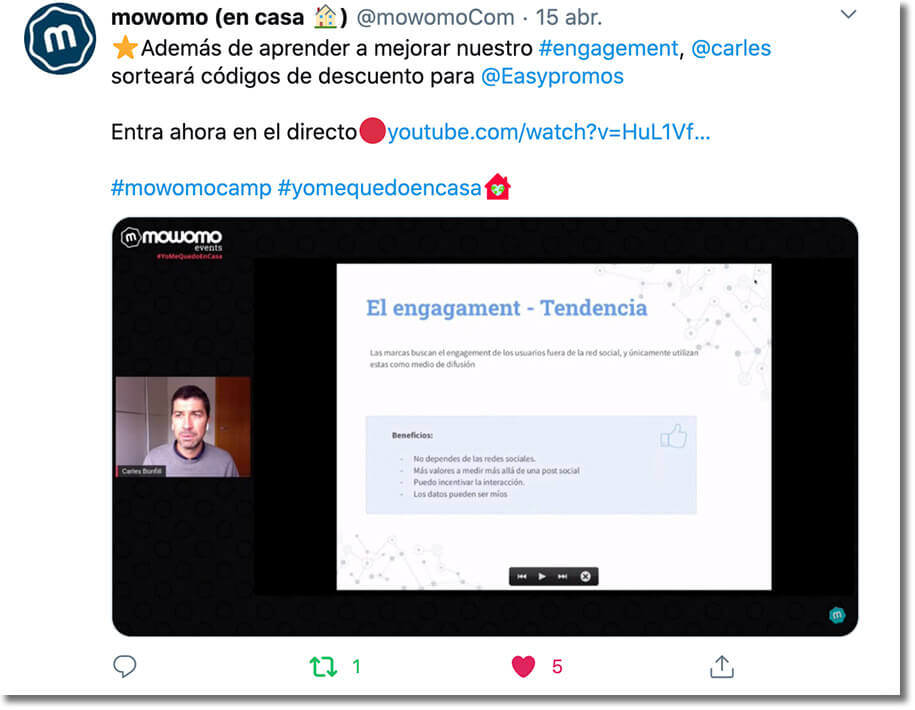 If you're looking to wow your audience during a webinar you can always organize a Live Giveaway. All your viewers need to participate is a mobile phone. Contact our Support Team if you're interested to launch a Live Giveaway. 
6. Increase social media engagement
It is very important to stay in touch with your online community and obtain their feedback during the lockdown. Promotional actions on social media will drive engagement which is essential for strengthening customer relationships full of trust.
Social media raffles are known as the best tool for increasing social media engagement. They attract new followers and take comments, reactions, and shares through the roof! Entering a social media giveaway is super easy and that's the reason why it always brings brands new community members and boosts engagement. Here's an example of a Twitter Giveaway recently launched by Mammoth Mattress to celebrate Mental Health Awareness Week. The brand asked the interested participants to comment on how they've been relieving stress during the lockdown. One random winner won two high-quality pillows from Mammoth Mattress.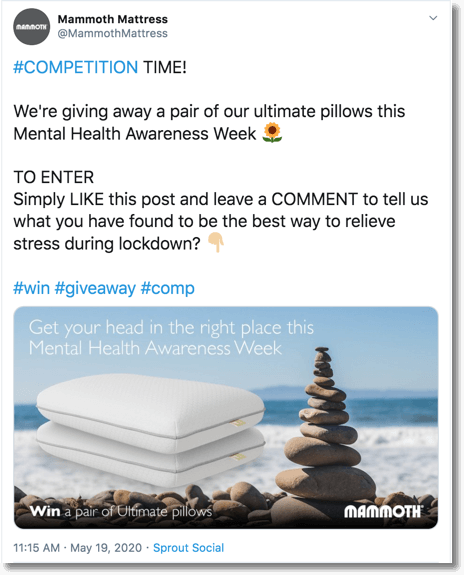 7. Promote brand values
Sharing brand values with a wider audience is a great way to attract like-minded people. Because what's not to love about a brand that shares your views? The ongoing crisis and life in quarantine have shown the good and bad sides of many companies. Many stopped and realized it's time to change their approach (and they're the ones that reinforced their customer relationships), while others continued with their hard-sell promotions (they're the ones that have probably lost some of their community members).
It's important to once in a while remind yourself (your team and audience, too) your brand's core values. The current pandemic is one of these moments. So if is solidarity is one of your brand's values now is the right moment to let your audience know about it.
Here's an example from Vida Golosinas, a Spanish manufacturer of sweets. The brand launched an Instagram promotion and invited their audience to participate by commenting on the promotion post. They then chose two winners every day for a week. In addition, they also donated 30kg of sweets to a charity and health center.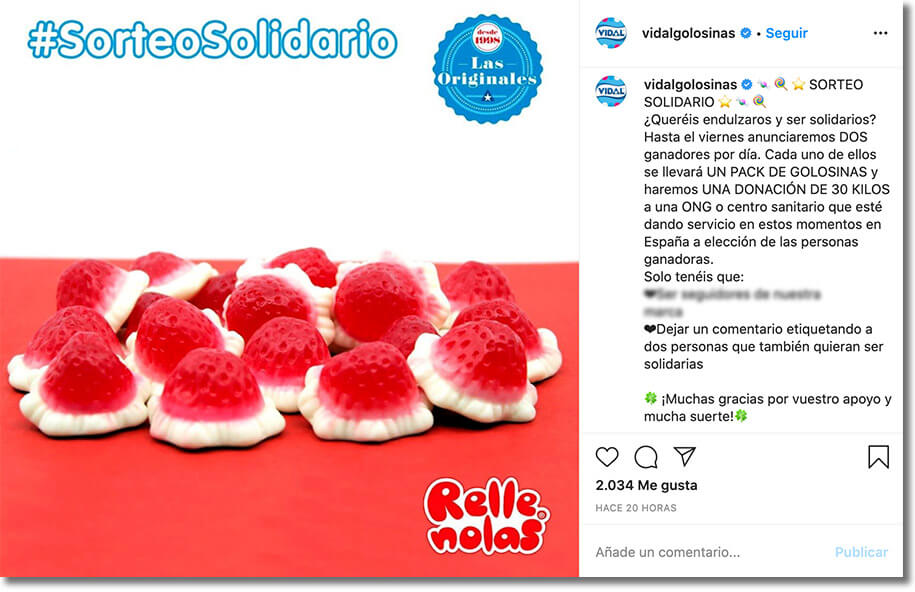 Many brands around the world have also pledged to donate some of their profits to coronavirus relief charities and campaigns. Some of these brands decided to donate all of their profits from the sales from certain products. Everlane, a sustainable clothing company is donating 100% of profits from their 100% Human collection to Feeding America.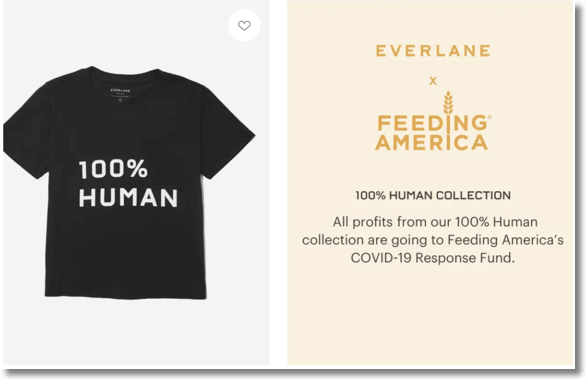 8. Enhance brand awareness focusing on the future
And last but not least, it's vital to focus on the future. To talk about the positive sides of lockdown and think about going back to our normal lives. Everyone is stuck and everyone is struggling, so accompanying your audience in looking forward to normality is the right step.
The tourism and travel industry are still on pause. But it hasn't stopped Zafiro Hotels from organizing a social media giveaway for their followers. Unsure on when tourists will come back to their facilities, the hotel group decided to give away a 5-night all-inclusive stay for two in 2021.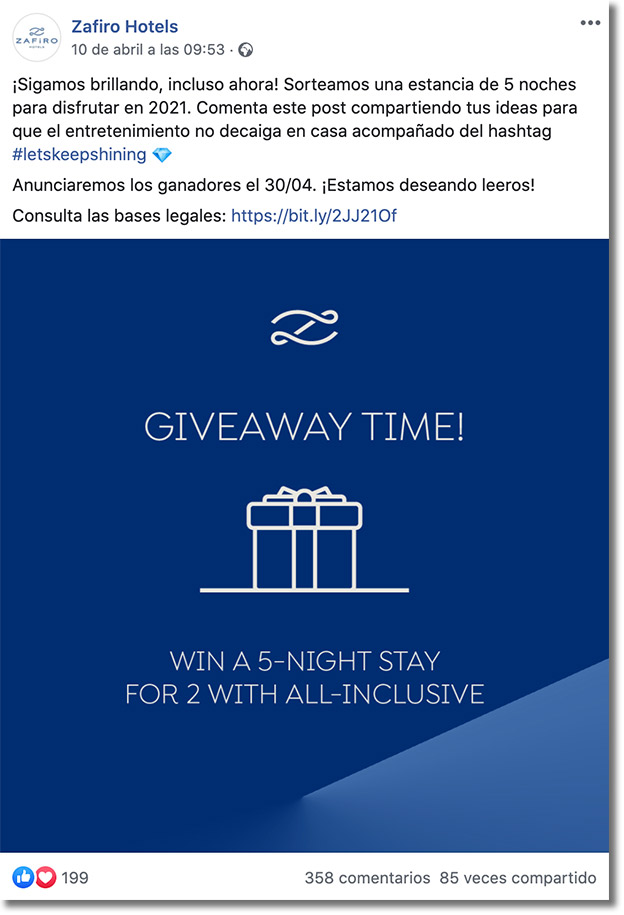 Interested participants commented on the post, sharing their ideas for entertainment at home. This fantastic social media promotion increased engagement, reconnected the brand with their audience, and also tapped into the followers' trust and loyalty.
We hope you found this post helpful! In case of any questions or doubts, don't hesitate to contact us.
Publication date: 2020-05-22