Posted in: Applications,Digital marketing,Ideas for your websiteLast update: 04/08/22
Gamification has become an inseparable part of content marketing and it's a fact that gamified promotions help brands achieve resounding results. Branded Word Search games are being more recognized by brands looking to promote their brand and product, generate leads, boost sales and strengthen customer relationships. Today we share 7 ideas for branded Word Search games that can be organized by any brand. Read on!

Content is a vital part of digital marketing simply because it connects brands with their audience, and allows them to deliver entertaining, engaging, and often educational information in a unique way. Gamification happens to be an inseparable part of content marketing as it has proven to deliver resounding results; online communities respond positively to mini-branded games because they provide a unique experience. Playable promotions organized with Easypromos can also involve attractive incentives that attract a wider audience and encourage them to share their contact details in order to enter random prize draws.
The Word Search app is a perfect tool for brand and product promotion; if you're looking to promote your brand values you can organize a Word Search game with your core values hidden in between random letters; if you want to promote your bestselling products you can ask your audience to look for them in the Word Search; it's also a perfect tool to launch new products.
A branded Word Search app can be created and launched in no-time as it's easier than you think! Many customers turn to us for inspiration or examples of successful mini-branded Word Search promotions. And that's the reason for this post!
Today we share 7 ideas for a branded Word Search game. Let's take a look!
Branded Word Search game to entertain and engage online communities
We're all fans of classic or blockbuster movies or we're currently binge-watching the newest series. Let's be honest… We love movies. Eden Cinemas identified a perfect way to connect with their audience during the recent lockdown. Cinemas were closed while people were stuck at home with loads of time on their hands; this led Eden Cinemas to launch a gamified promotion for their online community. The organizers shared an online Word Search game with 13 classic movie titles hidden in the grid.
The above example was a hard challenge for the confined audience but the players responded very positively as it was great entertainment in tough times!
Tip for your promotion: if your cinema is looking to promote a new movie release why don't you organize a Word Search with the names of main actors? Or you could promote a new release from a popular director by creating a Word Search with their most popular movies. The options are endless!
How to collect leads with a branded Word Search
A lot of brands are starting to positively embrace interactive content. Some of them have already made gamification an inseparable part of their marketing strategy because of the results gamification delivers.
One of the main objectives of many businesses is lead generation. However, some customers are reluctant to share their contact details because of their previous negative experiences with a bad approach to data marketing. So how can you convert your social media followers into high-quality leads? The answer is simple: with gamification.
Here's an example from Lovemore Music, a South African music store that has turned to gamified promotions more than once. In this case, Lovemore Music looked to promote their best-selling products and also bring more attention to their Octopus Mahogany Ukulele. They invited their online community to participate in the promotion for a chance to win the promoted ukulele. Participants looked for 12 products hidden in between random letters. Upon completing the challenge the participants filled in a registration form to submit their entry, appear in the final ranking, and enter the prize draw.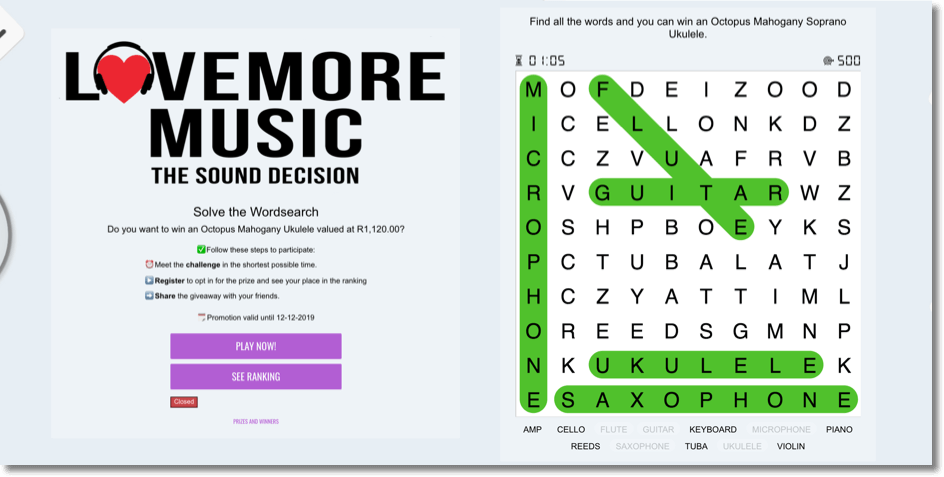 Remember, that participants are more likely to share their contact information if the promotion is incentivized and even more if the prize is attractive. Free products, product samples, and discount codes and vouchers tend to be most popular with customers.
Launch a branded Word Search to reinforce brand awareness for your flower shop
You won't succeed if the public doesn't know about you, that's crystal clear. That's the reason why brand awareness – and product awareness – is so important for any business. Quite often the main problem is the number of similar businesses in one place, for example on a high street you can find a different bakery every 10 meters. So how do you ensure the customers come to you?
Flower shops can sometimes face the same problem as bakeries, and that's the reason why working on brand awareness and recall is so important. And branded mini-games can definitely help. Here's a Word Search game organized by Adelaide Florist. The participants simply looked for the names of popular flowers.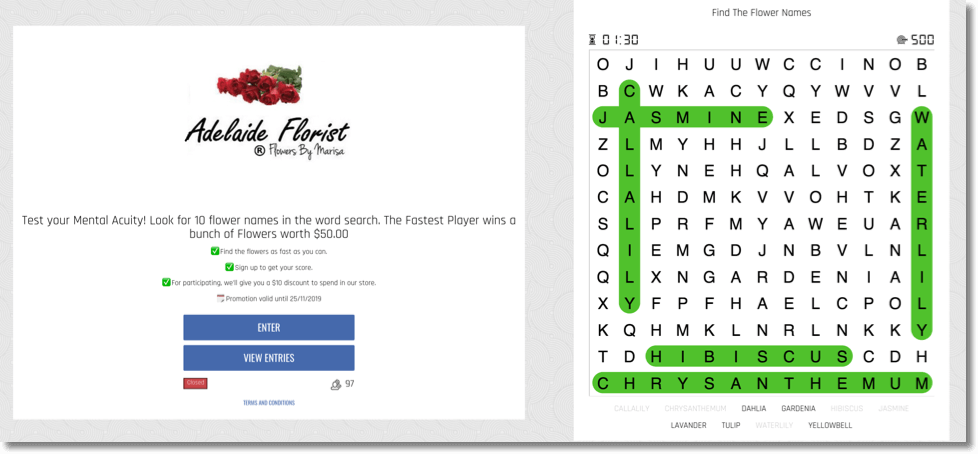 Once the players completed the challenge they filled in the entry form submitting their participation and entering the prize draw. One random winner walked away with a bunch of flowers worth $50, while Adelaide Florist's mailing list expanded and brand awareness was reinforced. Next time the participants want to buy some fresh flowers they will definitely think of Adelaide Florist.
Use a branded Word Search to strengthen customer relationships
Strong customer relationships are essential for any brand, simply because customer loyalty and trust result in repeated purchases and positive word-of-mouth.
Pet-themed promotions always tend to be very popular with online communities, so you can imagine how positively the audience responds to pet-themed games! MyPetBuddy is a membership-based community connecting pet owners with local varified pet walkers.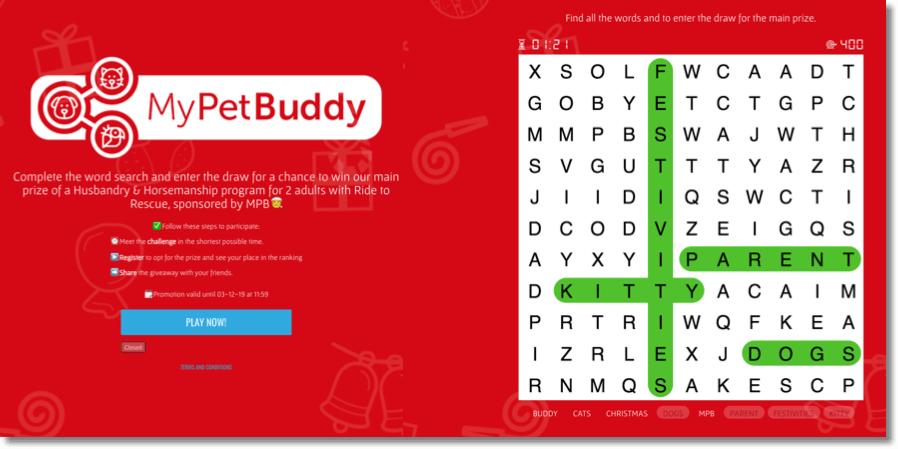 MyPetBuddy launched a branded Word Search as part of their Christmas campaign. Participants looked for hidden words as quickly as possible as they had a chance to win a husbandry and horsemanship program for two. Once again, a prize that attracts your audience's attention is one of the most important aspects of any online promotion!
Retain customers with an interactive Word Search
Retaining customers is often a hard task. A client made a purchase and they walked away. So how do you get them to come back? Gamification can definitely help.
Imagine opening your email inbox and seeing a new message from a brand you purchased from before. Imagine the message saying "play and win". You'd click through, wouldn't you?
Liam&Lilly is a British online baby store often launching playable promotions. In this case, the brand created a Word Search looking to promote their most popular essentials groups. The organizers introduced the names of the essentials groups into the app and create this interactive Word Search: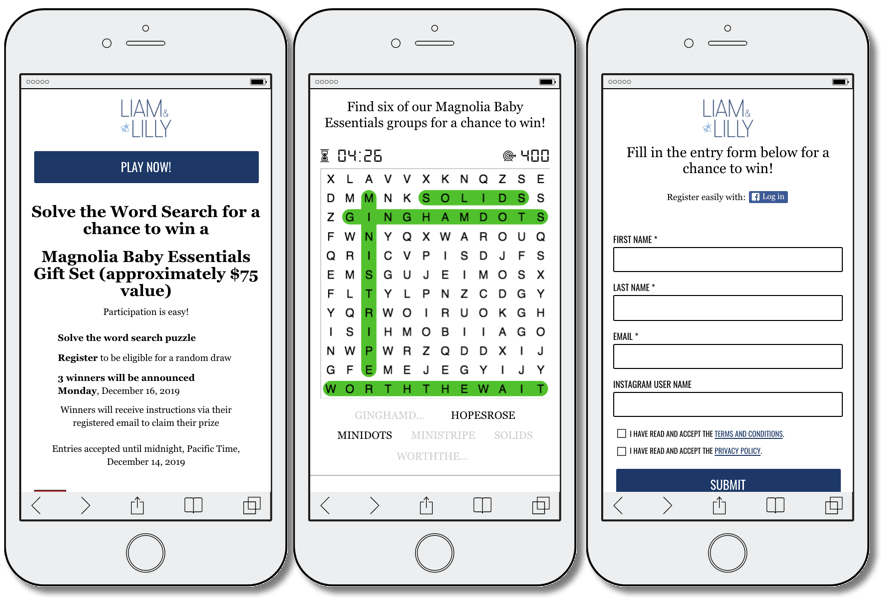 The brand then raffled three gift sets valued at $75 each among all registered participants. This was a fantastic action to improve customer loyalty and trust and strengthen the already existing customer relationships.
Playable promotions are also fantastic to attract new potential customers, as online users enjoy interacting with high-quality content. So if you're looking to retain customers make sure you share the promotion link with your database, and if you're focused on grabbing the attention of new customers share the link on your social media and invite your followers and social media users to participate in your Word Search or any other game.
Promote your online store by distributing discount codes with a Word Search
You might be wondering how to convert the engagement generated with a game into sales. And here's some great news: it's easier than you think!
Discount codes and vouchers convert many leads into paying customers. It is because discounts and vouchers create urgency and quickly drive customers into your store. The clients also get excited about the possibility of saving extra money and they're more likely to commit to a purchase.
Here's an example of a Word Search promotion that could be organized by any clothing store and for any occasion. In this case, the Word Search was created as part of a Father's Day campaign.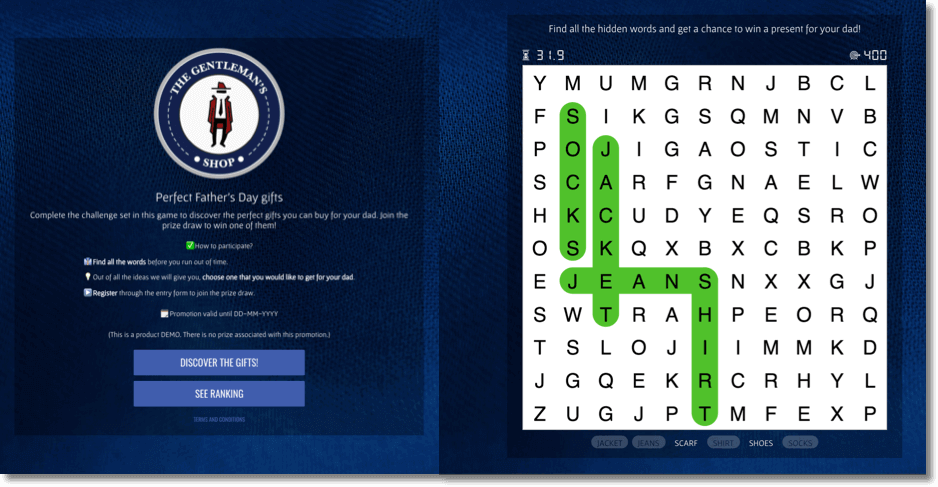 Customers looked for names of perfect Father's Day gifts that they could get from the organizing store, and in return, they got a chance to win a present for their dad.
Wondering how you could boost sales even further? Throw in some discount codes! Imagine giving a 10% discount to all registered participants. They would be over the moon and their trust and loyalty would be strongly reinforced.
Boost customer brand engagement with an interactive Word Search game
Customer engagement leads to many other goals that brands set in their marketing plans. One of these is the fact that it forms a strong relationship between the brand and its customers that encourages long-term loyalty and trust. And here's a great example of how to boost customer brand engagement and achieve a variety of other marketing goals.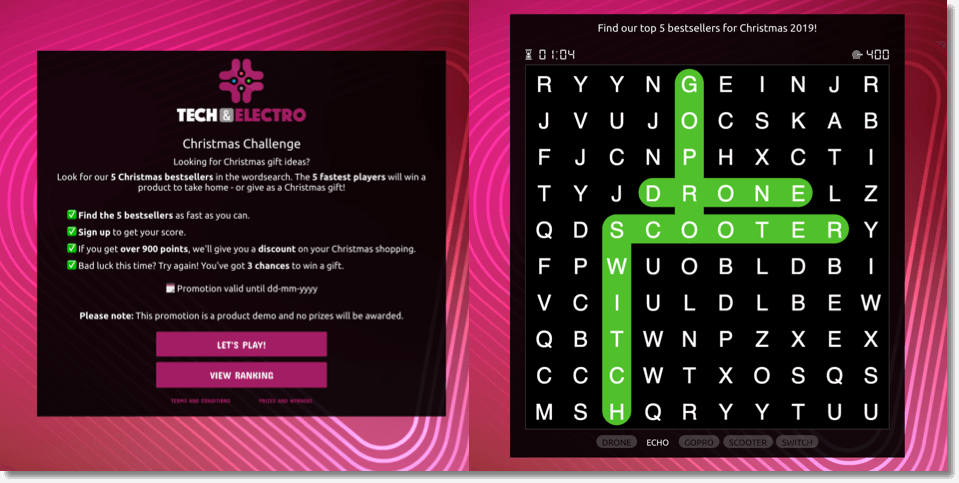 If you're looking to boost engagement and provide a positive experience for your customers then the above example is for you. If you follow the same steps you will be able to firstly, connect and engage your customers by entertaining them with high-quality content, secondly promote your products and reinforce customer loyalty and trust by offering an attractive prize, and thirdly boost sales and driving customers to your store by distributing discount codes.
It's your turn
Are you ready to launch your own branded Word Search? Or maybe you still need to ideas, inspiration, or clarification? That's not a problem! Contact our Support Team via our Online Chat and let them help you!
Publication date: 2020-06-10