What is content marketing?
You've probably heard of content marketing campaigns before. But it's not just another buzzword: content marketing has been around for at least a century. Marketing strategies only stick around that long if they really work.
The idea of content marketing is that you skip the hard sell. Instead of focusing on your side of the story – products, branding, features and benefits – you concentrate on the customer. What do they want to learn about and what makes them laugh? What information would make their lives better, brighter or easier?
If you've ever used a free recipe from a packet of flour, that was content marketing.
If you've ever downloaded a how-to guide, that was content marketing.
If you've ever watched a fascinating video about the history of a product, that was probably content marketing too.
Holiday gift guides, B2B case studies, social media challenges, and podcasts can all be examples of content marketing too. In this article, we're going to focus on the latest generation of content marketing campaigns: interactive content.
How content marketing helps with product promotion
Content marketing offers a lot of added value to customers. But it takes time and effort to produce. So you may be wondering: If content marketing doesn't directly sell to customers, is it really worth it?
The answer is yes. Although you might not see an instant bump in sales, content marketing pays off over time. It helps to:
educate your target audience towards your brand
increase your products' perceived value
develop your brand's reputation
Content marketing can also help you to generate leads, qualify them and follow up. This is where interactive content has a role to play.
Whenever someone interacts with your content – a post on social media, a free download, a product recommender quiz – they are providing you with data. You can use that information to target them with the right marketing messages and provide amazing customer service.
In the next section, we'll look at how 4 brands made interactive content marketing work for their product promotion campaigns. It's the little details that make all the difference.
4 successful content marketing campaigns… and why they worked so well
Before we dive into the specifics, let's take a look at some general characteristics. There are a few things that all of these successful content marketing campaigns have in common.
They're mobile-friendly. Most people use their mobile phones to access the internet, more so than laptops or desktops. So a mobile-friendly content campaign will reach more people.
They show strong branding. Branding doesn't have to be intrusive – but it should be there. These successful content marketing campaigns use logos, color palettes and tone of voice to subtly represent their brand throughout the content.
They're highly targeted. Content marketing only makes sense if you have a clear audience in mind. These brands chose highly specific content, forms of interaction and rewards to reach exactly the right people.
Now, let's take a look at 4 examples of content marketing campaigns for product promotion.
Would you like to collect user-generated content to promote your products or services? Social proof is a great way to generate trust and attract new customers! Take a look at this photo contest DEMO for product promotion.
Spotting a space with Gateway Parking
Ever spent hours driving around a crowded car park, looking for a space? Ever thought that it felt a bit like… a game?
Gateway Parking came up with this interactive content campaign aimed at drivers. They added their brand colors to a classic Minesweeper game, where you have to gradually clear spaces from a grid without triggering a "mined" square.
The game is designed to be played on a mobile as a quick bit of entertainment – perhaps while you're waiting for an airport pick-up or taking a break on the road.
This promotion worked really well because it was designed to entertain and reward players for their attention. The reward for the game was carefully chosen: a $100 voucher to use at Gateway Parking sites. Anyone could play the game for fun, but if players wanted to join the prize draw as well, they had to share a name and email address – so Gateway could follow up with them later on.
Building community with Yoga With Jennison
Did you know that you can do content marketing on social media? It's not all about website blogs and whitepapers. If you're producing fun and informative content to build your brand, that's content marketing.
Here's one brand which turned to content marketing as a way through the challenges of 2020. When the coronavirus pandemic closed down her regular yoga classes and retreats, the founder of Yoga With Jennison moved online.
Jennison had already been on social media, but she stepped up her content production with a new video series for YouTube, focused on timely topics such as anxiety relief. She also started to run Zoom classes and Instagram videos where students could follow the yoga practice, chat, and share tips. From the beginning, her content marketing strategy was built around interaction with her brand community.
In this example, Jennison ran a giveaway to reach new customers on the social network. Once again, the prize was highly targeted: a private online yoga class for three friends. And to take part, followers had to share their own stories of how yoga had helped them during the lockdown.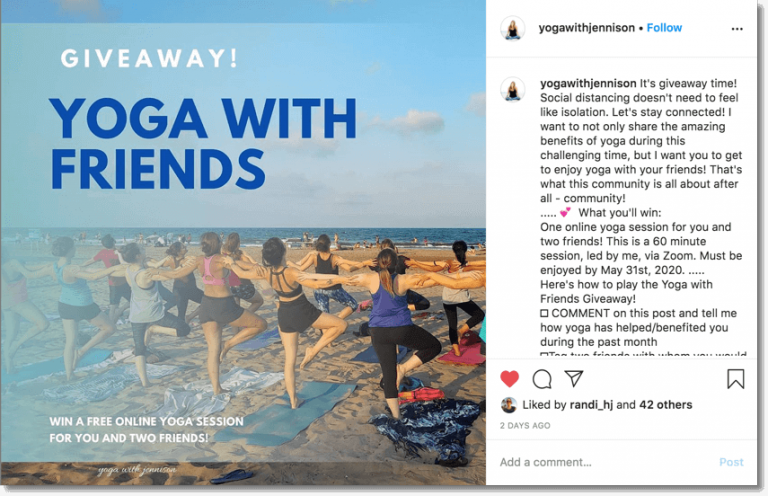 This comment giveaway was a canny way for Jennison to create a high volume of content as an entrepreneur. It's tough for one person to churn out a lot of content; but by drawing on her community, Jennison was able to share a lot of high-quality comments and insights.
Read the full case study of how Yoga With Jennison made the switch to social media!
Watching the winners with Time Attack NU.Se
This next case study is a change of pace. Time Attack NU.Se is a popular motorsports organization based in Sweden. They decided to start their engines with an interacting content marketing campaign aimed at fans.
Like all content marketing campaigns, the goal was to share information about the new racing season, as well as encourage people to watch each race. The perfect solution? A Predictions quiz.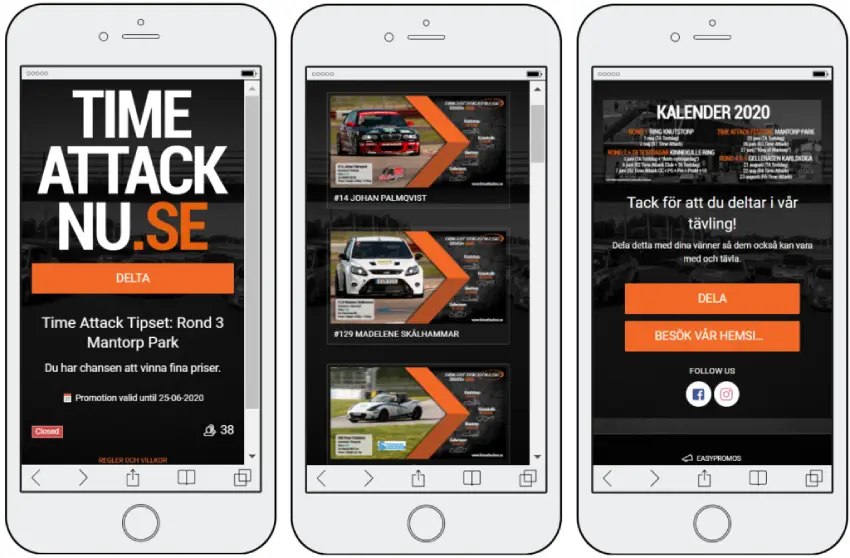 In this game, players had to pick a winner for each race on the calendar. As you can see from the screenshots, all the possible winners were illustrated in the app with photos, technical specs, and information about the drivers.
Once players had made their predictions, the last screen of the app showed them the full calendar of games for the year. It also offered a button with a link to the main NU.Se website, with even more info about where and when to watch. Finally, because there were several prizes on offer in the quiz, players were strongly motivated to watch all the races to find out if their predictions were accurate.
This is a great strategy for any brand with a competitive element, such as sports teams. But you could also use it to make predictions about new TV series, product releases, and more.
Getting to know the Dallas Mavericks
Our final example of content marketing campaigns comes from the Dallas Mavericks basketball team.
Fans of basketball love to follow players' progress over the years, collect trivia and discuss the history of different teams. This interactive content campaign was designed to tap into that – educating and entertaining fans at the same time.
The basic idea was very simple: match each player or coach to the card which describes their greatest achievement.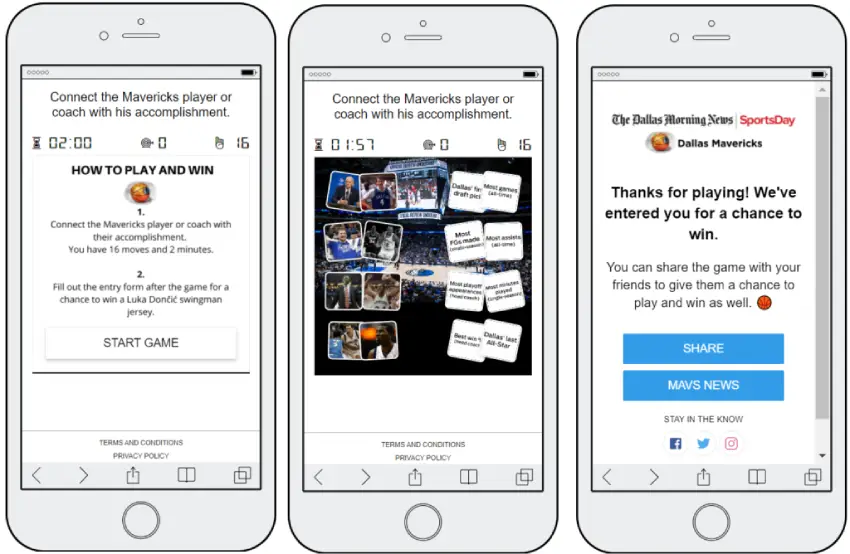 However, to make it more challenging, the game had a countdown and a limited number of moves. Players had to successfully beat the game before they could access the registration form and join a prize draw to win a Luka Dončić jersey.
Even the final screen of the game was designed to maximize impact. Players were offered two options: sharing the game with friends and challenging them to a contest, or clicking through to read more of the latest news from the Mavs. Just like all our other examples, this brand saw the value of combining great content with community interaction.
Ready to create your own interactive content marketing campaign? Chat live with our support team for ideas, help, and advice.