Social media networks are still a growing phenomenon. They give you the chance to reach large audiences and accomplish many marketing objectives, especially when you implement giveaways and promotions into your strategy. Contests on social media networks help you retain and reengage existing followers, as well as attract the attention of new audiences because users are drawn in by the chance of winning a prize without putting much effort into the participation process. This is why giveaways and contests are highly recommended when it comes to product promotion campaigns. Raffling your newly launched product among users that interact with your promotional post is a way to not only boost social media engagement but also create awareness and visibility for your brand and product.
The key is to always showcase the main prize in a fun and eye-catching way so that it sparks your followers' interest. And the more attractive the prize the better, as you will attract more participants. But don't limit yourself when it comes to prizes; we're thinking product bundles, samples, and gift sets!
Now, let's skip the small talk and have a look at successful examples of product promotion campaigns on social media.
Product promotion example: Instagram giveaways
All social media networks are fantastic channels for connecting with your audience and potential customers. It's also the perfect medium when it comes to product promotion campaigns. However, the ideal network for you and your brand will depend on your target audience. Hootsuite reports that 25-34 year-olds are the largest advertising audience on Instagram, closely followed by 18-24 year-olds. So if you're looking to impact these age groups then Instagram is your go-to network.
25-34 year-olds are the largest advertising audience on Instagram.
Click To Tweet
Let's take a look at the first example of product promotion campaigns on social media. Gruum, a skin, hair, and shave products brand, regularly turns to `Instagram for engagement and visibility. The British company opts for comment-to-win Instagram giveaways, in which they raffle attractive product bundles and sets. Instagram users enter Gruum's competitions by commenting on the promotional posts.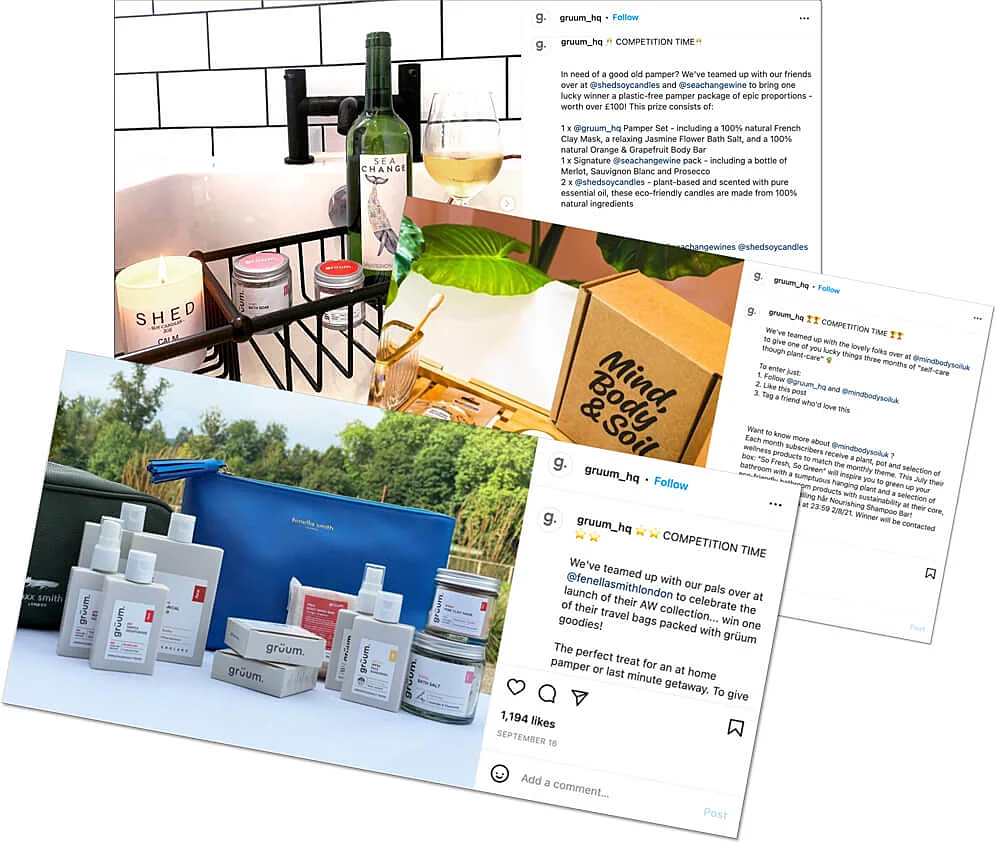 The great thing about Gruum's giveaways is that they launch them regularly, often teaming up with other like-minded brands to together grow off of each other's following.
Take engagement to another level by asking open-ended questions in your giveaways. They will encourage real conversations, which are great engagement boosters!
Facebook giveaways to showcase your products and services
Facebook continues to be the social media network with the highest number of active users. Its users tend to be older, making them more mature than the audience reachable on Instagram. But it doesn't mean that you can't organize social media giveaways on Facebook. On the contrary, it might turn out to be a great promotional tactic that will help you reach new audiences and generate profits.
Just like on Instagram, comment-based giveaways happen to be very effective on Facebook. Open questions encourage people to share their views, opinions, and stories, which leads to an increase in brand engagement.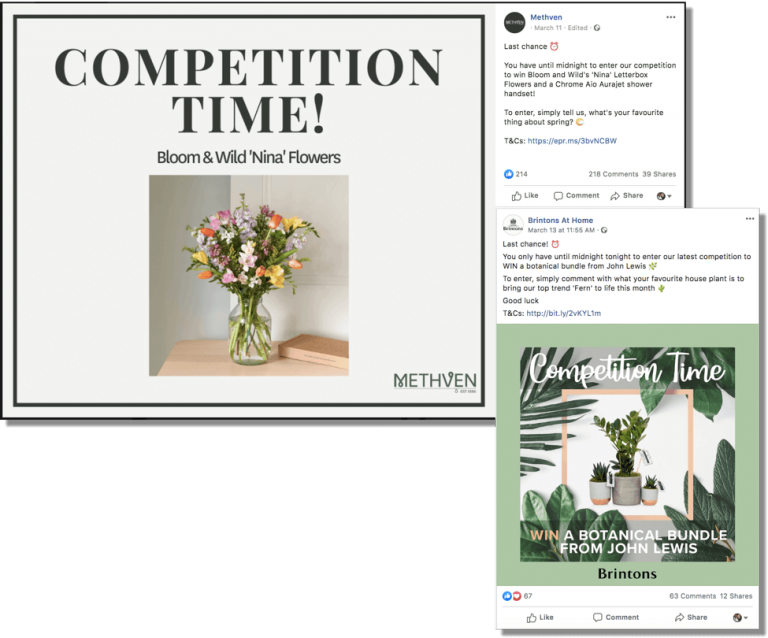 These two product promotion examples come from home decor brands that looked to increase social media engagement and give visibility to their popular products. Both images attract user attention as the phrase "competition time" is eye-catching. In order to generate further engagement and excitement both brands also clearly showed the prize that was up for grabs. So just like in the case of Instagram giveaways, ensure that your promotional Facebook post stands out and clearly shows the prize.
Would you like to attract more participants to your product promotion giveaway on Facebook? Make sure you cross-promote your campaign! Share the exciting news with your followers on other social media channels or add a colorful banner to your website. The more you promote your giveaway, the more participants you will attract!
Concert tickets giveaway: example of product promotion on Twitter
Twitter giveaways are probably the easiest to participate in. You can ask Twitter users for as little as a simple retweet, or as much as a retweet, comment and friend mentions. The simplicity of Twitter sweepstakes is what makes it so easy for them to go viral and attract tons of attention. So if your target audience gathers on Twitter and you're looking to promote a product, Twitter giveaways should be your go-to solution.
The following two examples of Twitter contests show how easy it is to create a successful product promotion on this social network.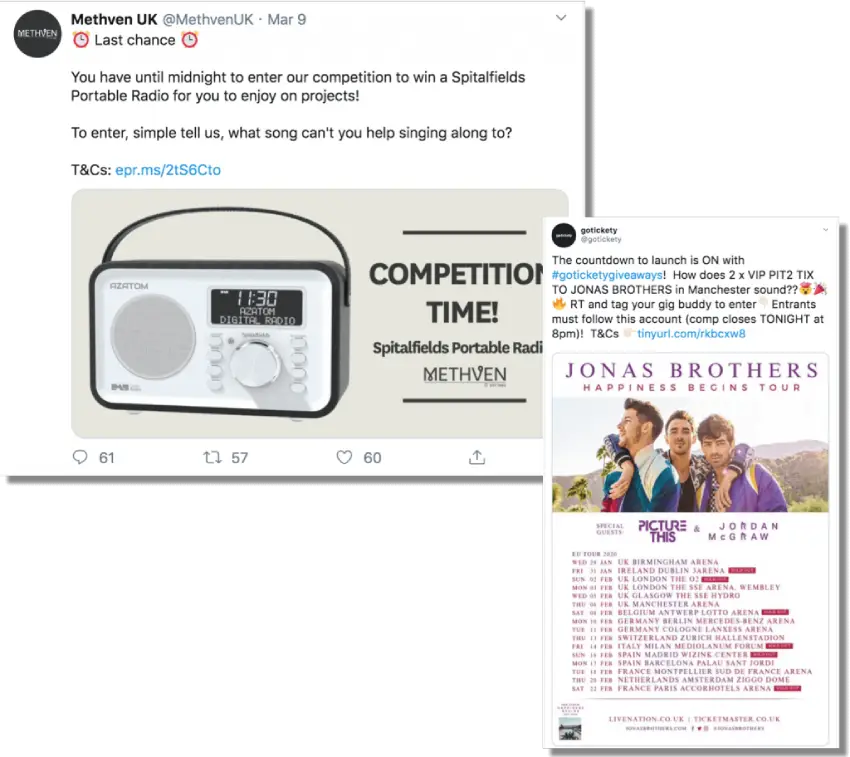 All you need to generate visibility and awareness is an eye-catching image and creative text. Make sure you also share terms and conditions for more clarity and transparency.
Product promotion example: YouTube giveaways
Did you know that YouTube giveaways can increase views and expand your database?
Choose a suitable product for your target audience and launch an engaging product promotion campaign. Share a link to your Entry Form Giveaway with your YouTube viewers and encourage them to register their contact details for a chance to win attractive prizes.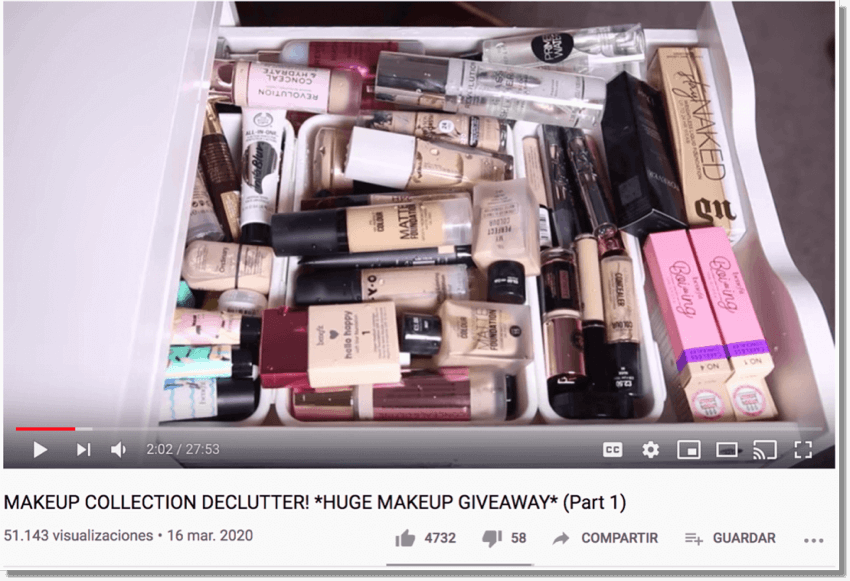 Let's remind ourselves again of the two main factors of successful social media giveaways: image and text. And the same goes for YouTube giveaways! As you can see in the above example, a YouTube blogger held a "huge makeup giveaway". The word "giveaway" attracts a lot of attention from potential participants, and also the showcased products catch the eye of anyone looking for some free makeup products.


Multi-Network Giveaway for product promotion
Are you active on several social media channels and can't decide which network is most beneficial for you? Or maybe you simply want to engage your audience across all social media channels? There's a simple solution! Pick a prize and launch one giveaway on multiple social media networks! You can then automatically draw a random winner from among participants from all networks. How? With our Multi-Network Giveaway app!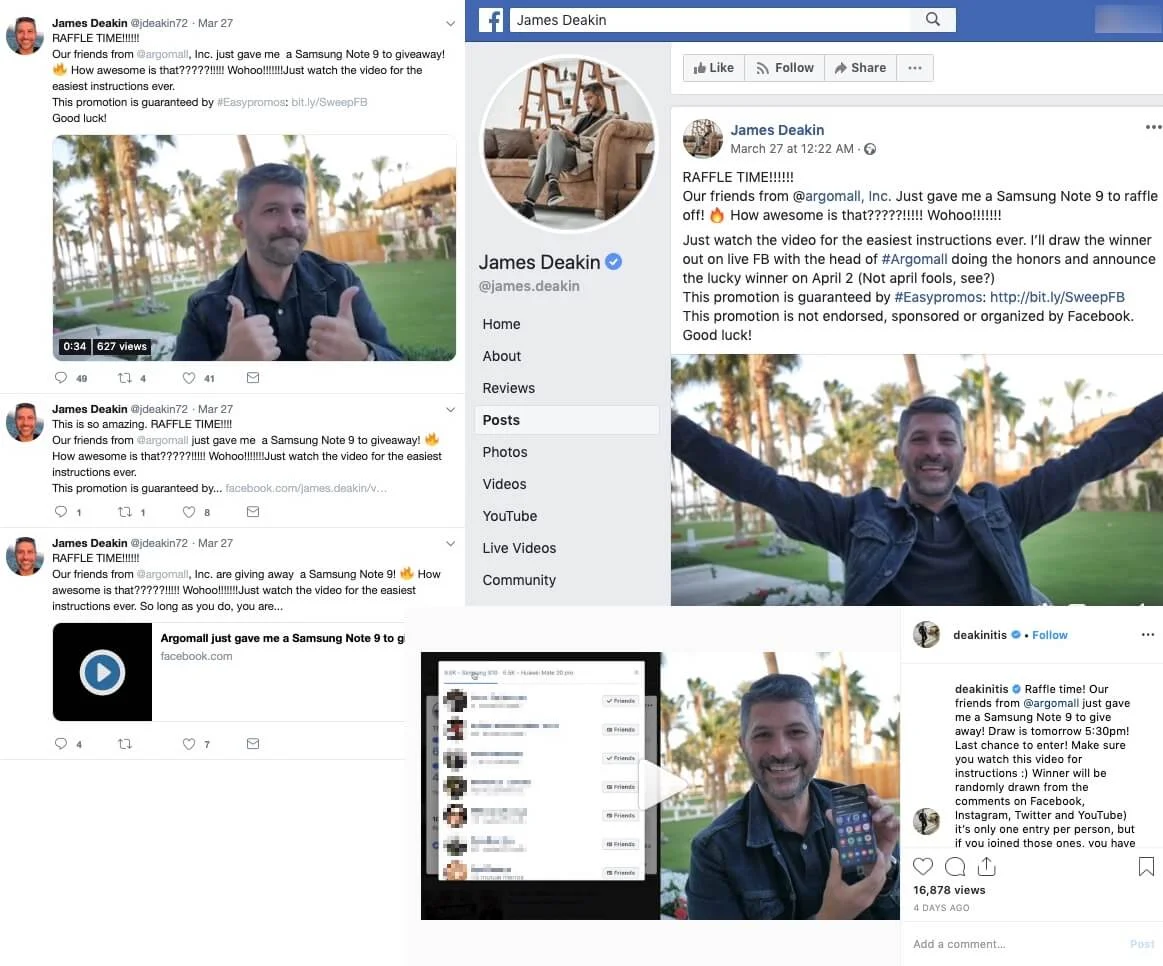 James Deakin wanted to give away a Samsung Note 9 to one of his followers, however, instead of giving a winning chance to his audience just from one social media network, he decided to involve his followers from all social media platforms. He shared the same explanatory video on Facebook, YouTube and Twitter. Comments came in, and James' social media engagement and presence increased dramatically.
So if you're looking to increase your social media engagement, and brand and product awareness, then Multi-Network giveaway might be the one for you. Your brand visibility and online presence will also benefit from it.
So here are five different ways in which you can promote your product with social media giveaways! Do you need some extra explanation? Don't hesitate to contact us through our Online Chat!