How to collect leads from tourists and visitors.
Easypromos offers lead collection methods that can be adapted to any situation, necessity, or audience. Our apps have registration forms to collect data with the users' explicit consent. They include interactive games, online surveys, and entry form giveaways that can be adapted to local tourist attractions and your website. These dynamics are a perfect way of capturing users' attention, collecting their data, and turning them into leads.
The objective of capturing leads in the touristic sector is to establish direct communication with the audience and inform, promote, and advertise your tourist products and services in the long run.
Click To Tweet
You might wonder, what is the importance of capturing leads for a tourism strategy? Once you have gathered the contact information, the objective is to establish direct communication with the audience to inform, promote, and advertise your touristic services throughout the year. With this communication you will achieve several objectives:
Some of these tourists will come back either because they are nearby or because they loved the experience and want to repeat it. Proximity tourism has become a cornerstone to attract visitors year-round. Furthermore, it helps deseasonalize or extend the tourist season.
Some of the tourists will become promoters of the destination if you motivate them throughout the year. For instance, you can send an invitation to participate in a photo contest.
They can provide feedback on their stay through a survey or a contest.
This can be achieved, mainly through good engagement and lead generation tools, just like the ones Easypromos provides. The objective is not only to ask for their data but to offer an incentive or motivation in return. It is fundamental to offer an optimal experience throughout the visit. Hence, we recommend you include gamified experiences to achieve that. Let's take a look at an example.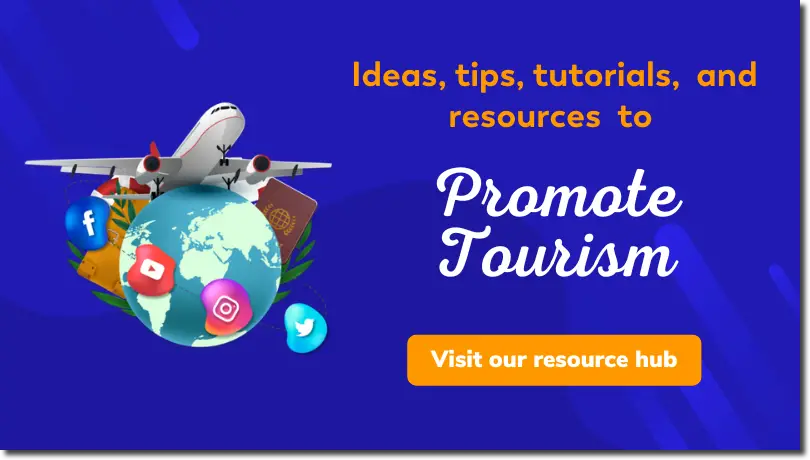 Interactive games for lead generation as part of a tourist visit
Situation
Hostalric is a small town in Catalonia with a great tourism offer. Say a group of people is visiting the town's old quarters. The local tourism office has given them a map of the town, they have highlighted the main sights, and most importantly, they have provided them with a key to access some specific landmarks. It all looks very nice and promising, right? Well, it does! But let's not forget that the tourism office can also benefit from this.
Considerations
There are 4 fundamental aspects to capture leads from this kind of tourism:
We know the itinerary that they will follow and the landmarks they will visit.
Visitors have a smartphone with them.
They are very receptive and open to the inputs connected to their visit.
They may be from different countries, so we need a multi-language action.
Considering these four premises we can conclude that our action has to:
be digital
be available in several languages
take place along the visit
provide added value
The solution
In order to cover these needs, at Easypromos we suggest creating a multi-game app with players' ranking, available in several languages. Every game in the app has to be connected to a landmark in the visit. Additionally, it can provide additional information through images, Q&A's, games, challenges, etc. Take a look at this image from the promotion created for Hostalric.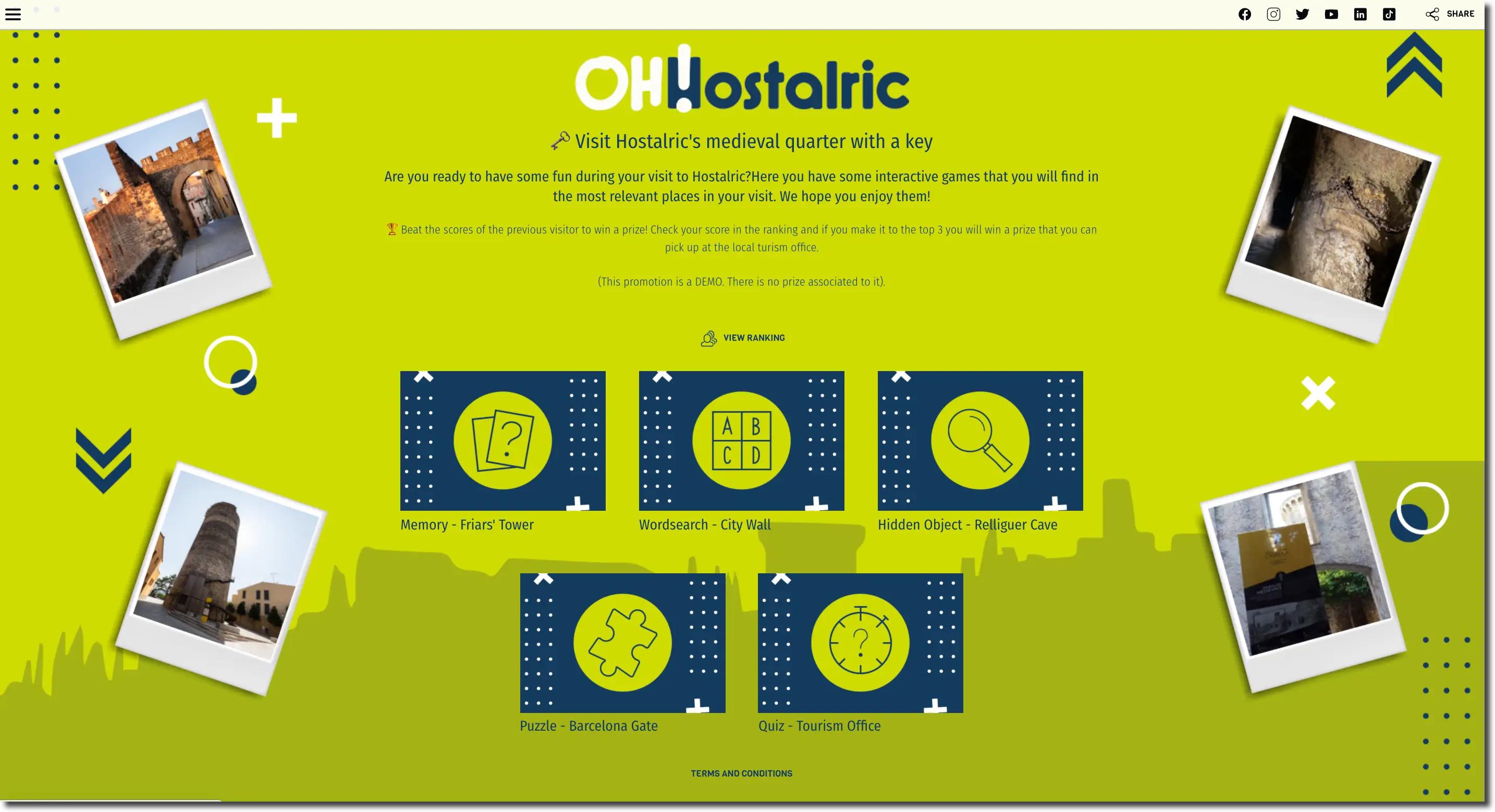 Interactive visits involve the visitor further and reinforce the message. For instance, in the case of Hostalric, QR codes are visible on the main landmarks. Tourists can scan them with their phones to access the interactive games and earn a reward. To be able to play and claim the reward, users have to fill out a registration form with their personal information. Thus providing the tourism office with the leads for their database.
To promote participation in the games, you can raffle a prize among participants or give prizes to the top-ranked players. This allows you to include different people at different times and fosters competitiveness among visitors.
Hostalric's touristic games
There are 5 games related to 5 different landmarks to complement the visit:
Friars' tower memory game. A very visual game that depicts what can be seen in the tower.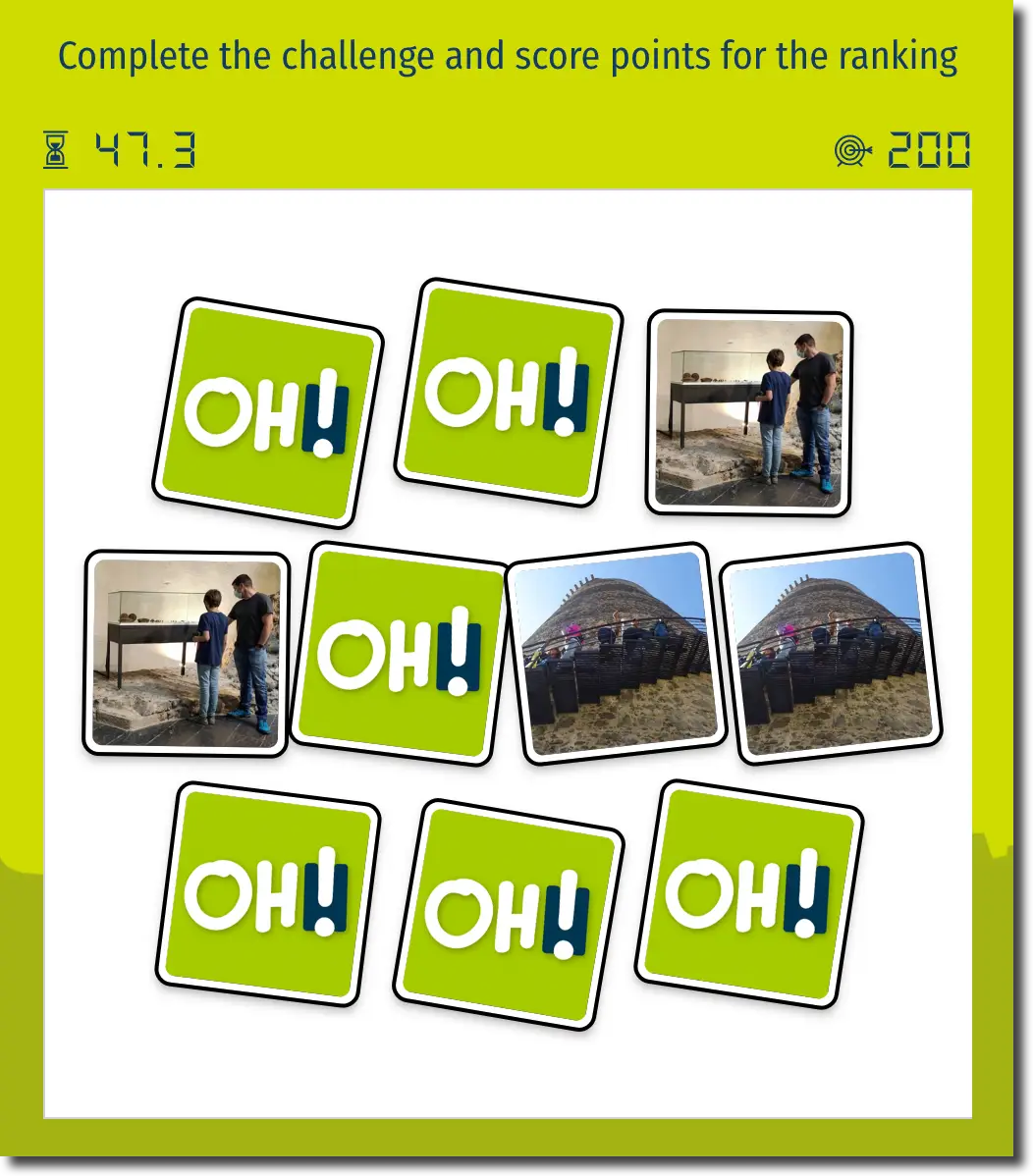 City Wall word search. Learn words related to this structure with this word search.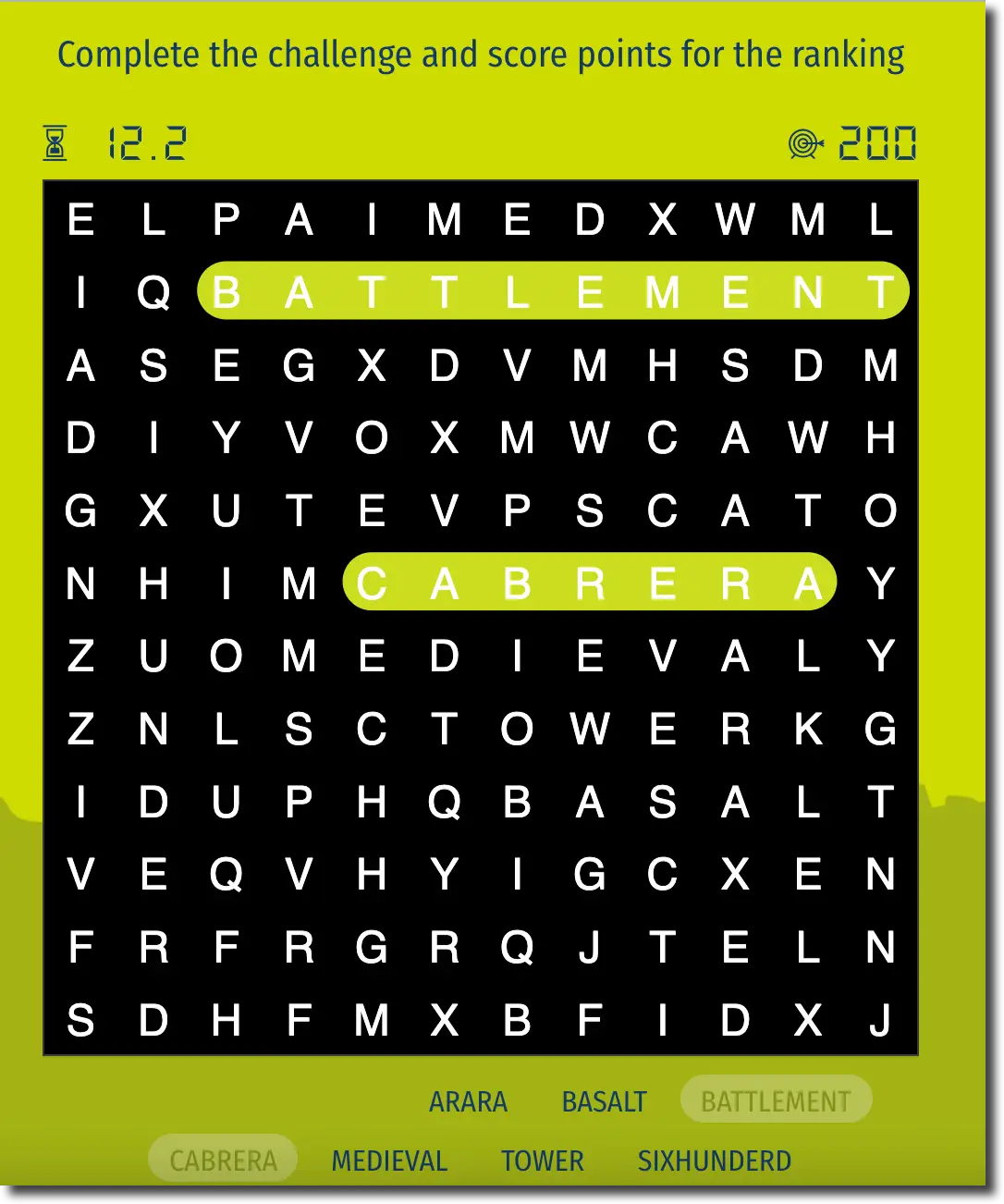 Hidden objects in the Relliguer cave. Find the tourism office hidden logo. The aim is to emphasize that we are in a cave and also to reinforce the tourism brand of the town.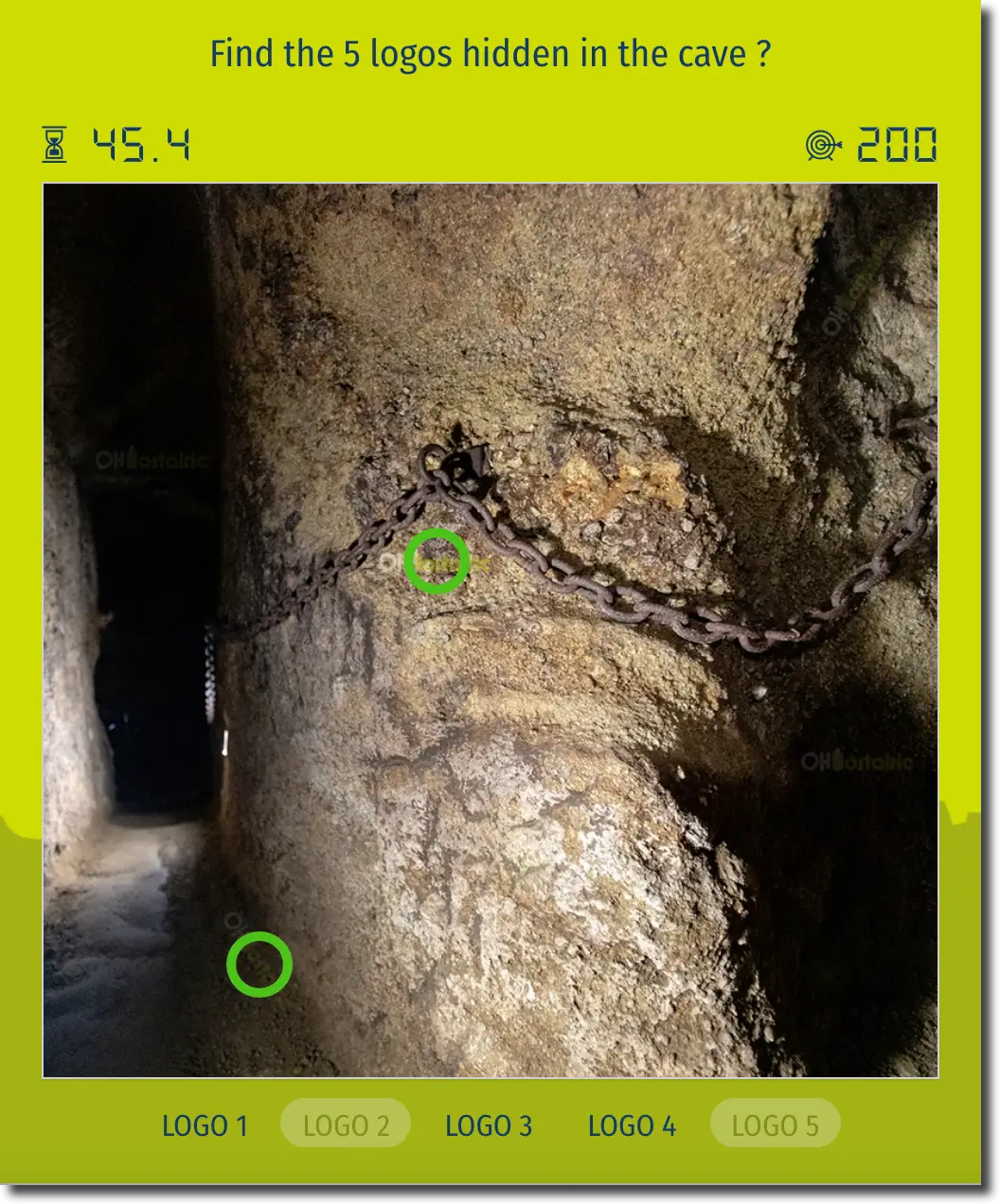 Barcelona gate puzzle. This location has some benches to take a rest. What a better way to do it, than solving a puzzle of the landmark in front of you.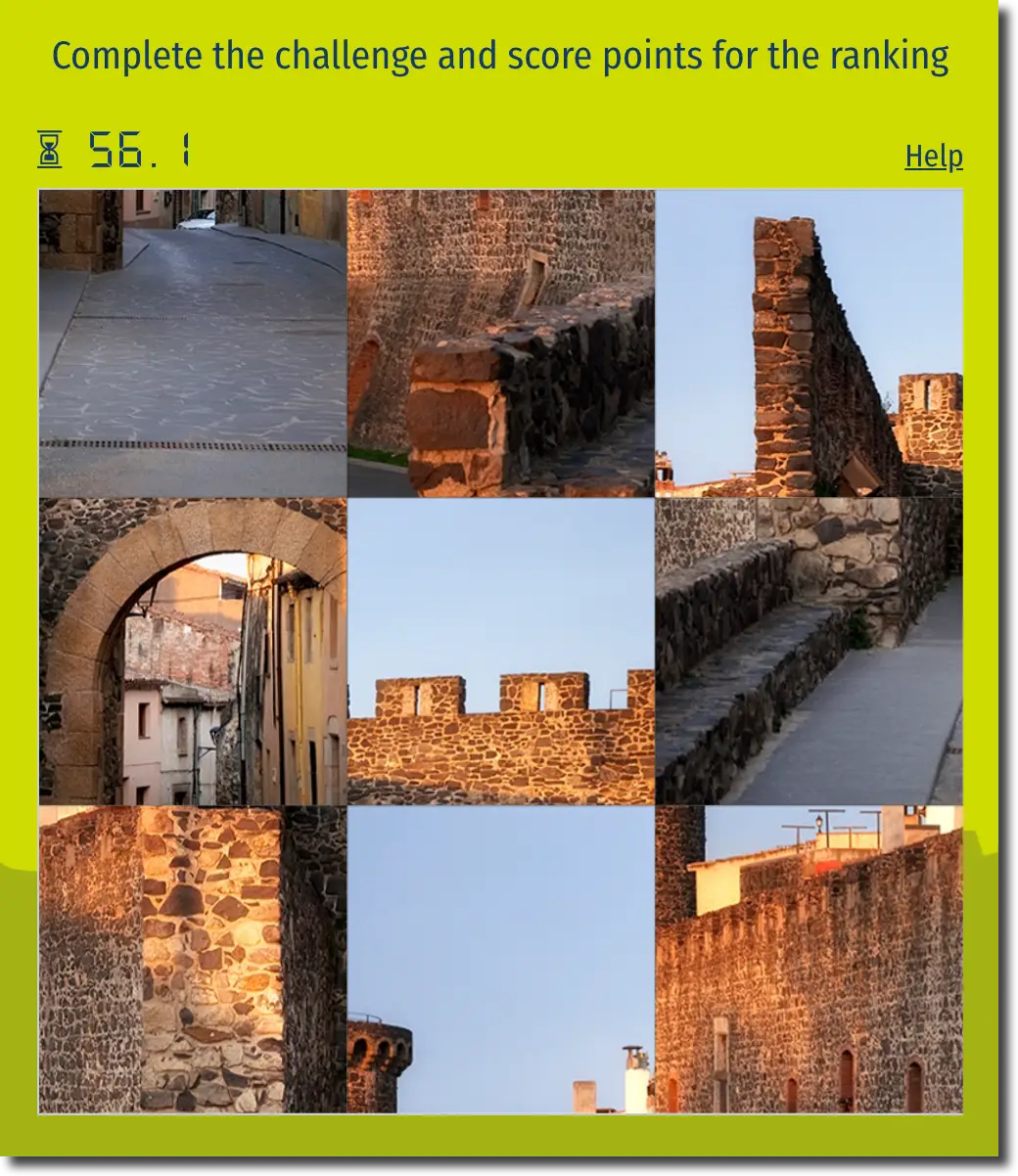 Summary Quiz. Once the visit has concluded and it 's time to give the key back, visitors face a final challenge. Complete a timed quiz on their visit.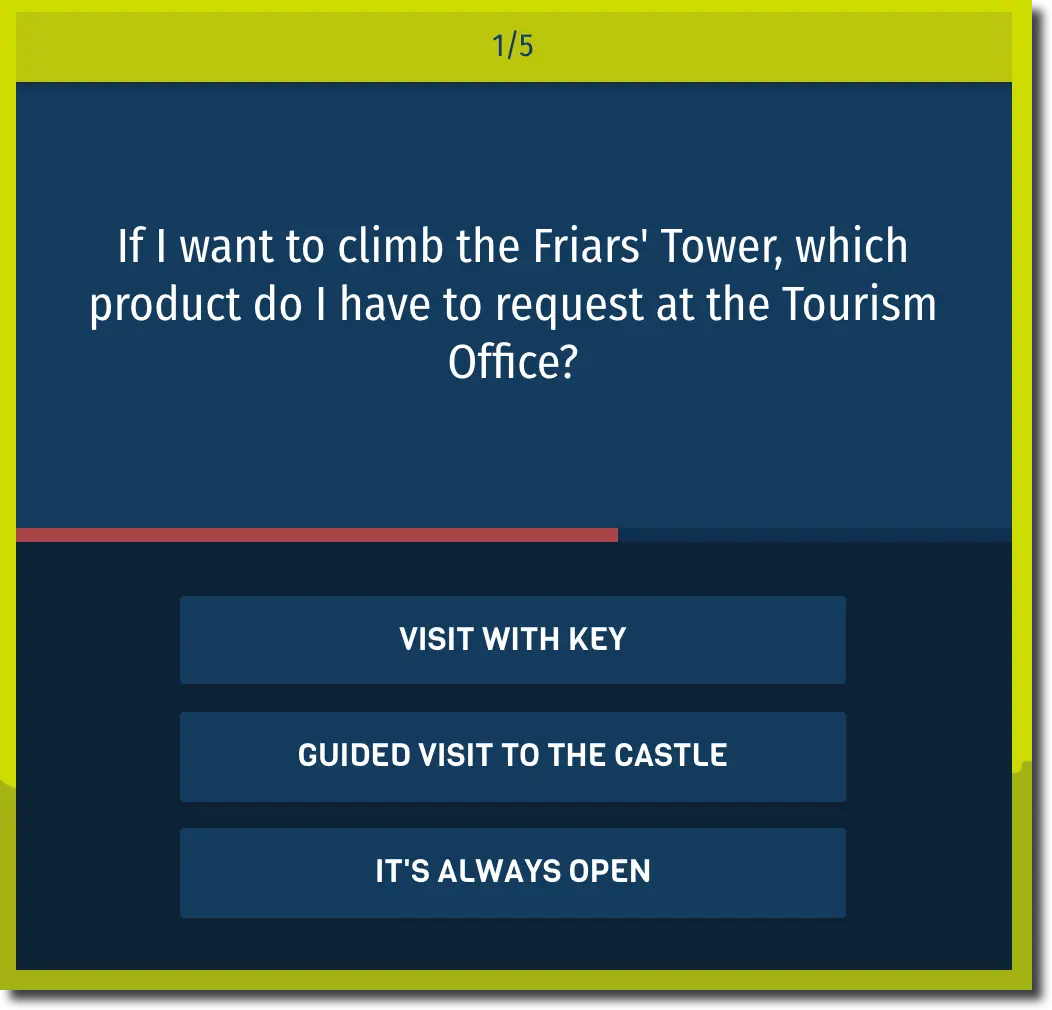 Want to see and play Hostalric's games? Click here to try them!
How to create a Multi-Game for tourists in 4 steps
Create an Easypromos account. Create your account for free and with no need of registering any payment option. Once you have created your account, you can access the Easypromos control panel.
Once you are at the Easypromos control panel, click on the "New Promotion" button and select "Multi-Game". This is the app that allows you to create several games within a single interface.
Next, choose a plan to configure the promotion. These interactive multi-stage experiences are included in the Easypromos White Label Plan. Signing up is completely "self-service" but our live chat team is available to help. We also have tutorials and ready-made templates to make it easier for you.
When configuring the Multi-Game, you can add as many dynamics as you want. The available ones are:

Spin the Wheel Ruleta de la suerte.
Games: Memory, Hidden Objects, Match-It, Puzzle, Minesweeper, Slide & Match, Timed Quiz, Word Search
Quizzes: test, survey, quiz.
Multimedia Contest, photo, video, text.

The last step is to make the itinerary accessible to visitors. Ideally by displaying QR codes linked to the actions.
Need more ideas connected to tourism? Have a look at how to create an interactive experience in a museum.