It might come as a surprise but Facebook continues to be the most popular social media network worldwide, with 2.89 billion monthly active users. If this fact doesn't convince you to invest more into your Facebook marketing, we don't know what will… But we'll take our chances! In this blog post, we take a look at various ideas for Facebook competitions, giveaways, and contests that have proven more than once to attract and retain online audiences. These five ideas are fantastic engagement, sales, and visibility boosters. Some of them can help you maximize lead generation, while others might create new life-long brand advocates. Are you ready? Let's take a look!
Facebook giveaway ideas: boost engagement, visibility, and awareness with comment-based sweepstakes
One of the main objectives that brands set for Facebook is to generate as much engagement as possible – as engagement means visibility, and visibility means more potential sales. However, before going for a boost in engagement, some companies might first want to get more likes on Facebook – so that their promotional action can target an already established audience. But let's keep in mind that you can also use Facebook Ads and segmentation to reach new prospects.
Facebook giveaways are the easiest way to engage your audience; they're not only simple to take part in, but they're also easy to launch, manage and finalize. All you need is a little bit of creativity and a prize that you want to raffle among your fans.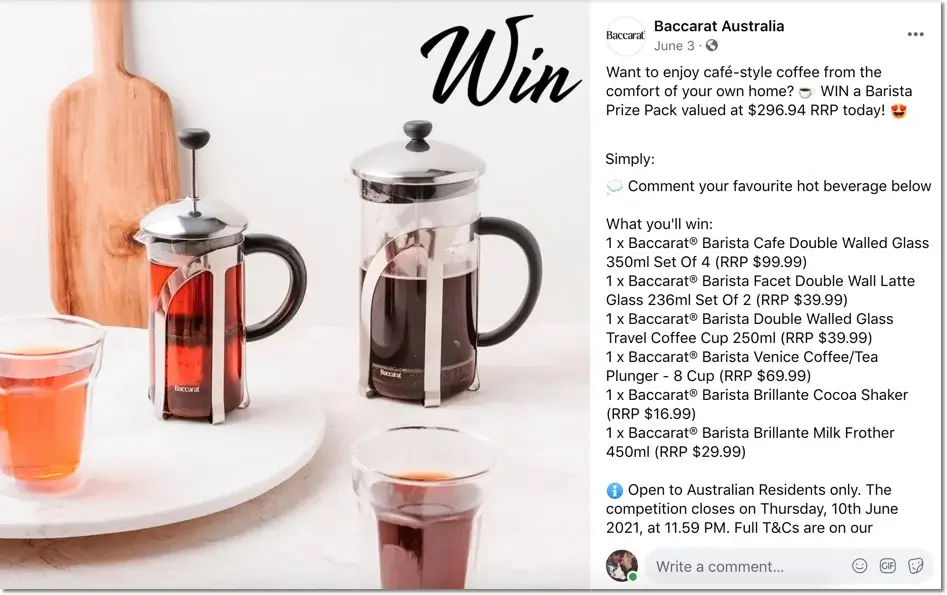 Take a look at one of Baccarat's Australia Facebook giveaway ideas. The Aussie cookware brand looked to promote their barista pack and to do so, they decided to organize a comment-based Facebook giveaway. Interested participants were only asked to comment on the promotional post and explain what their favorite hot beverage is. As you can imagine, this Facebook competition idea was positively received by the audience – the comments kept on rolling in, boosting Baccarat Australia's visibility and reaching new potential customers.
Looking for Facebook contest ideas for small businesses? Running a Facebook giveaway is surely a great way to start engaging your audience. And don't worry if you don't know where to start – we have more than 50 pre-configured Facebook giveaway templates that you can download and edit! They will also help you come up with great Facebook giveaway ideas!
Facebook contest ideas: how prizes can convert Facebook fans into leads
As we've already mentioned, Facebook comment giveaways are the simplest way to engage your audience. However, there is only one downside to such promotions – you don't get to collect any information about the participants. Put simply, a Facebook giveaway won't let you expand your database. To do so, you need to launch a different promotional dynamic. One of the best Facebook competition ideas is to launch a simple Entry Form Giveaway in which users register their personal data for a chance to win attractive prizes. All you have to remember is that you're asking users for their contact details – the prize must be worth sharing personal information.
Here's one of our favorite Facebook contest ideas. Ballina Central, a shopping center from Australia, looked to celebrate Father's Day with their Facebook community. However, they wanted to make sure that only paying customers get a chance to win. To do so, they launched a Facebook giveaway with a registration form, in which participants had a chance to win a set of power tools and a $200 gift card for their dad. Participants registered their contact details, along with a receipt proving that they recently made a purchase at Ballina Central.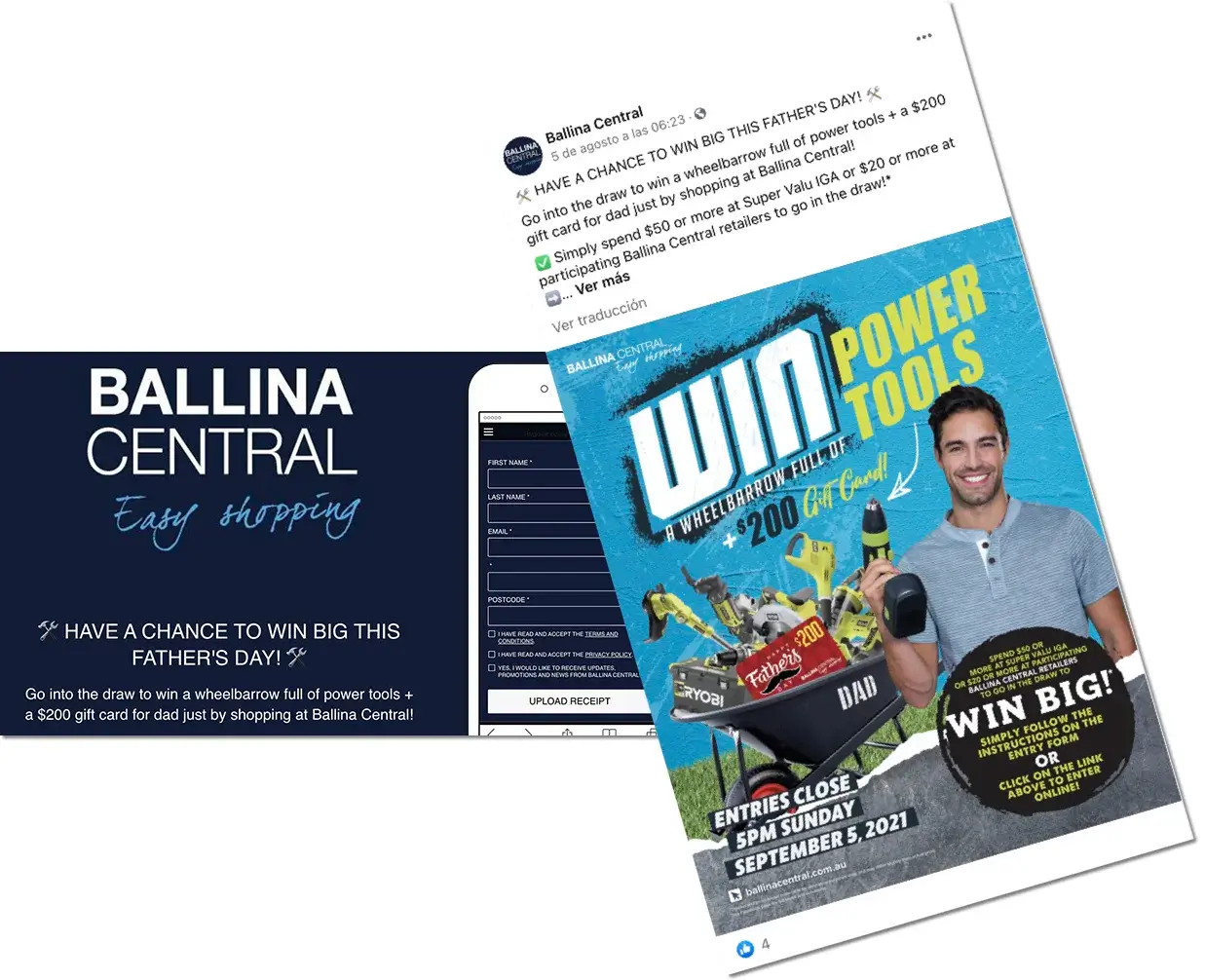 They then took it to Facebook to communicate and disseminate their special promotion. By sharing an attractive image with words like win written in capitals, they attracted more attention, customers, and sales! It was a great way to convert Facebook followers into qualified leads.
Use one of our Entry Form Giveaway templates to launch your promotion on Facebook. Remember to offer an attractive prize, discount or voucher to encourage more users to share their contact details with your brand!
Facebook giveaways: Facebook games that foster customer interaction and loyalty
So far, we've covered boosting social media engagement and collecting new leads. But how about ideas for Facebook competitions that can also entertain your audience? Branded mini-games are great marketing tools that help brands in achieving a variety of different goals. That's why launching a game for your Facebook audience or group is a great way to foster customer engagement and loyalty.
Online audiences love surprises and free gifts. Crooked House Productions also know that interactivity is what users respond well to. Take a look at this online prize wheel that the event company recently launched for their Facebook audience.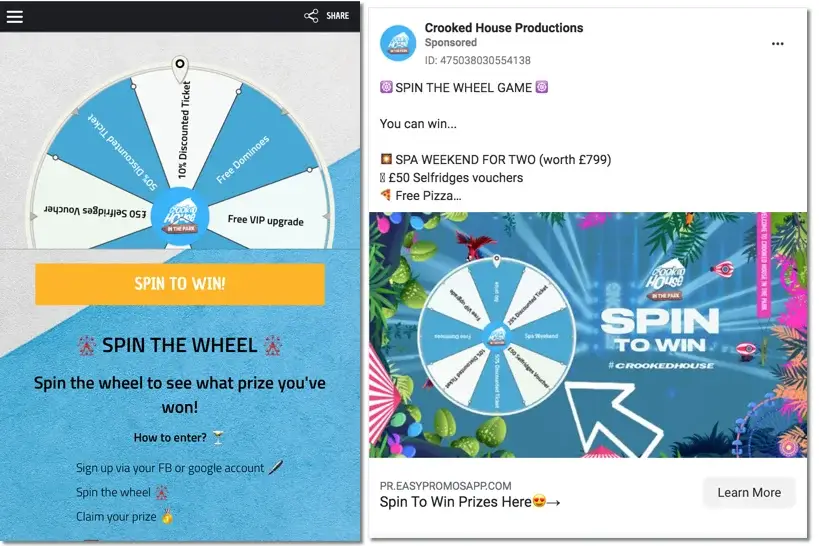 In this particular example, the brand's audience was invited to spin the prize roulette for a chance to win discounted tickets to a music festival, free pizza, or even a spa weekend for two! Apart from creating organic posts to promote their campaign, the brand also used promoted posts to reach as many users as possible.
Do you have a closed Facebook group for your loyal customers? Launching a branded prize wheel is a great Facebook group contest idea! By sharing the link with your closed group, you foster customer loyalty and trust.
Photo contest ideas for Facebook: boost your brand and collect UGC
Did you know that user-generated content is the best way to reinforce brand authenticity? This is because online users trust UGC much more than any content generated by brands. And photo competitions are a great way to collect this high-quality content from your customers and audience.
There are two ways to launch a photo contest on Facebook and the right option for you will depend on your final objective:
Increase visibility: if all you want to do is work on customer loyalty and brand authenticity you can run a Facebook giveaway with photos. Users participate in your giveaway by sharing photos in the comment section and you can choose a random winner with our Facebook giveaway app. Please note, that you can't reshare any of the pictures shared by participants as you don't own any rights to that content. 
Collect and reshare UGC: if you're looking to collect user-generated content and then reshare it for your marketing purposes, opt for a Photo Contest app. Use it to collect not only UGC but also leads and participants' consent to reshare their pictures on your Facebook page, website, etc.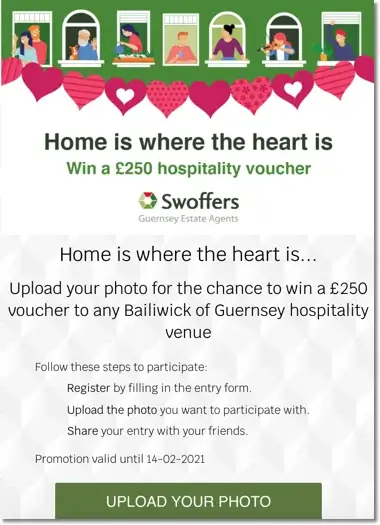 Here's a photo contest example from Guernsey estate agents. The company was looking to collect unique shots from the island that they could then use on their social media channels to promote Guernsey as the place to live. The organizers shared their contest with their Facebook community to reach more participants, as well as convert fans into leads.
Facebook contest idea that will convert audience into leads and boost sales
Last but not least are discount codes that tend to be very popular with Facebook audiences. And we particularly like this Facebook giveaway idea from Annagora Aquapark. The water park was looking to promote their establishment, as part of their season-opening campaign. To do so the company launched a coupon campaign, in which each participant could receive a 20% discount code for their visit, as well as enter a random prize draw for a free family pass.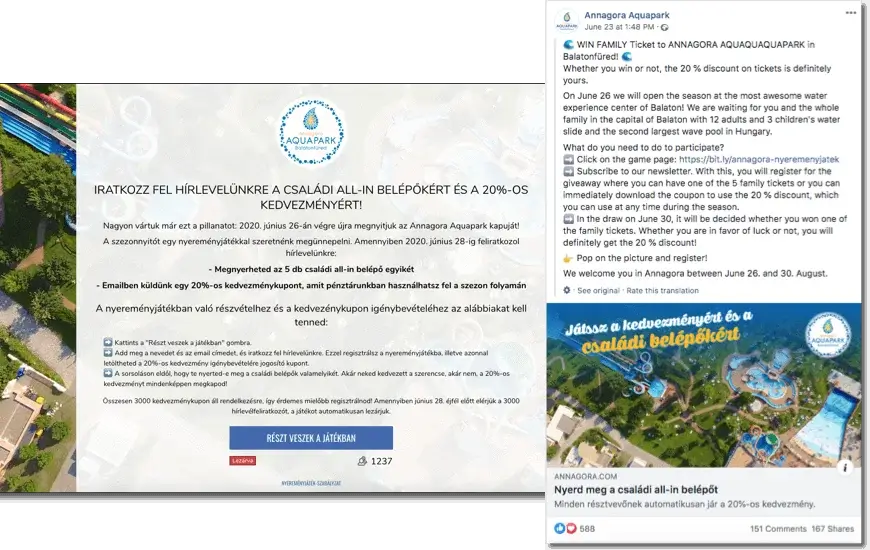 As the organizers looked to grow their mailing list, they shared the campaign on social media, including Facebook. It worked so well that they launched exactly the same promotion a year after!
Interested in finding out more about sharing coupons on Facebook? Read more in our Annagora Aquapark success case.
We hope you enjoyed these Facebook giveaway ideas! You can now go ahead and launch your own campaign – or contact us in case of questions and doubts.