What is an integrated marketing campaign?
Let's start by making sure we are all on the same page. The ultimate goal of integrated marketing campaigns is to maximize viewership and brand visibility by connecting with target audiences and getting their messages across via a variety of channels.
So what digital channels do companies have at their disposal?
Blog posts
Social media platforms
Paid ads and sponsored posts
Email marketing
Mobile applications and private customer areas
Website banners, widgets, and pop-ups
Visual and audiovisual content
Offline marketing: in-store, packagings, invoices, posters, leaflets, etc.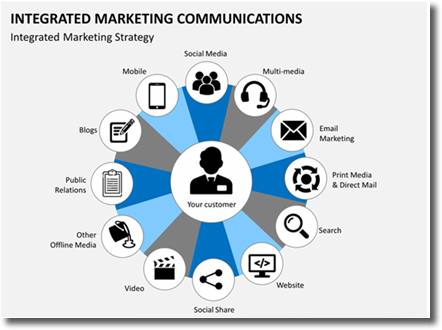 Therefore, marketing campaigns are integrated when organizing brands use several channels to disseminate their promotion.
Now we will take a look at examples of integrated marketing campaigns launched with Easypromos. Let's go!
Integrated marketing campaign launched with Easypromos: gamified promotion that boosted sales and grew mailing list
Interactivity is one of our favorite things, therefore, we start with an example of a playable promotion launched by Brightsun Travel, a British travel agency. The company wanted to boost everything about their brand; awareness, engagement, mailing list, visibility, and sales. And we're about to show you how they managed to tick off all of these objectives with a fully integrated marketing campaign. Brightsun Travel created an interactive Spin the Wheel promotion.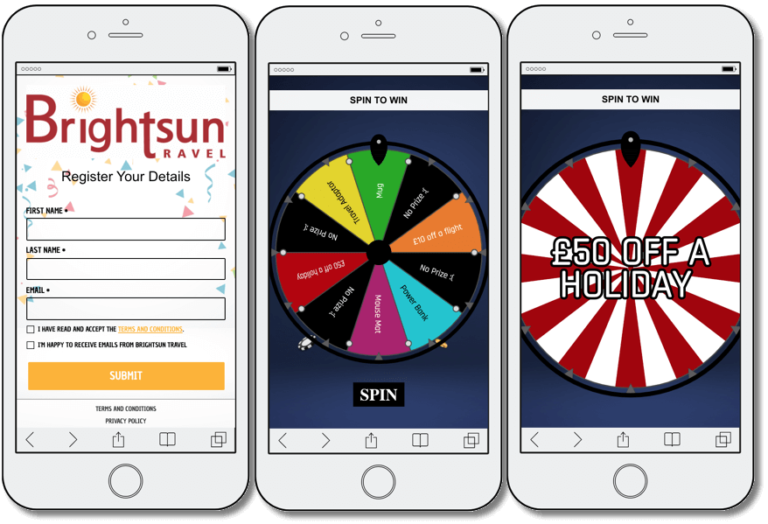 Let us quickly explain the dynamics of this awesome prize roulette! Interested users filled in a registration form in order to access the prize wheel. They left their full name along with their email address so that they could spin the wheel. Apart from holiday and flight vouchers, participants also won Brightsun merchandise and travel gadgets, such as powers banks and travel adapters.
But what makes this campaign integrated is how it has been communicated and disseminated.
IMC: take it to social media
We've said it before: social media is where your target audience is. Therefore, taking your campaign to social media platforms is a no brainer, you just have to do it! It's the best way to convert social media followers into qualified leads who eventually might become paying customers. So once you activate your Easypromos promotion, copy the link and share it across social media the way Brightsun Travel did.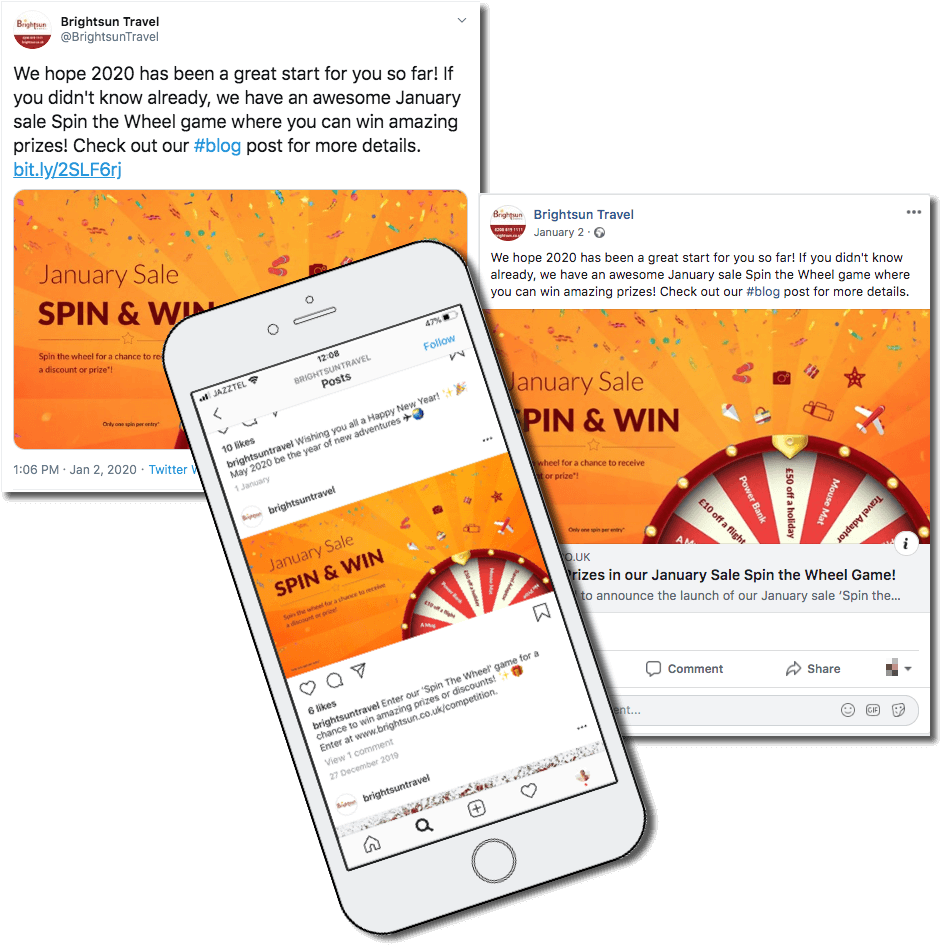 The travel agency shared their January Sale promotion with their Facebook, Instagram, and Twitter followers. According to Statista, almost 80% of Facebook users accessed Facebook only via mobile phones in July 2020. For that reason, all Easypromos applications are mobile-responsive, making participation easier and more accessible for social media users.
If you're planning to share your promotion on social media make sure you launch your fully integrated marketing campaign with Easypromos to facilitate the participation process. All Easypromos applications – including games and quizzes – are mobile-responsive and can be viewed and accessed from any mobile device!
One more thing to have in mind is promotion incentives. If you're looking to attract as many potential participants as possible, ensure that the prize involved in your promotion is appealing to your target audience. Online users are more likely to join promotions if there's an attractive prize up for grabs!
Use banners, widgets, and pop-ups to promote your integrated marketing campaign
Let's go back to the main purpose of fully integrated marketing campaigns. It is to maximize viewership and convert visitors into leads and paying customers. And what's a better way to do it than target your website visitors?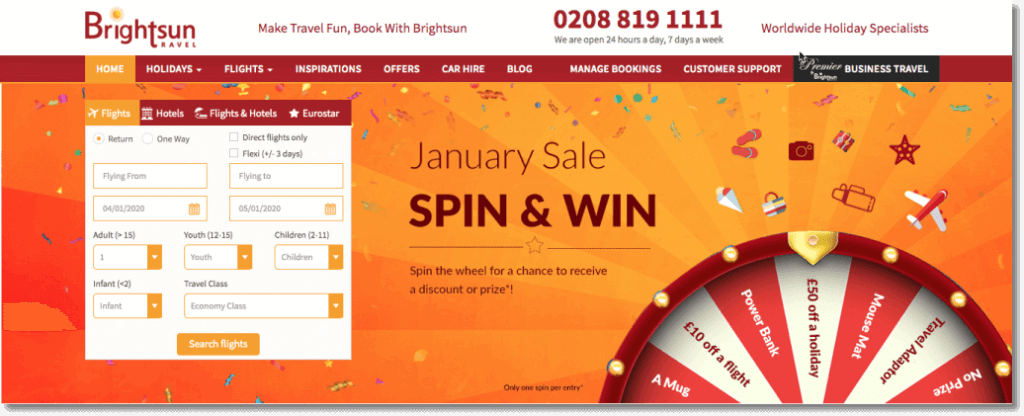 Here you can see how Brightsun Travel captured visitors to their website. Right by the search widget on the home page, the travel agency placed a big attention-grabbing banner promoting their Spin the Wheel promotion.
Did you know that you can connect your Easypromos promotions with external tools like HubSpot, Mailchimp, Salesforce, etc? Find out more about Easypromos Integrations.
Create additional content for your IMC
The travel agency looked for as many ways to promote their January prize wheel as possible. As part of their integrated marketing strategy, they also created additional content to promote their campaign. They published a new blog post explaining the promotion, prizes and participation requirements. The blog post was then promoted via a newsletter sent to the whole database of Brightsun Travel.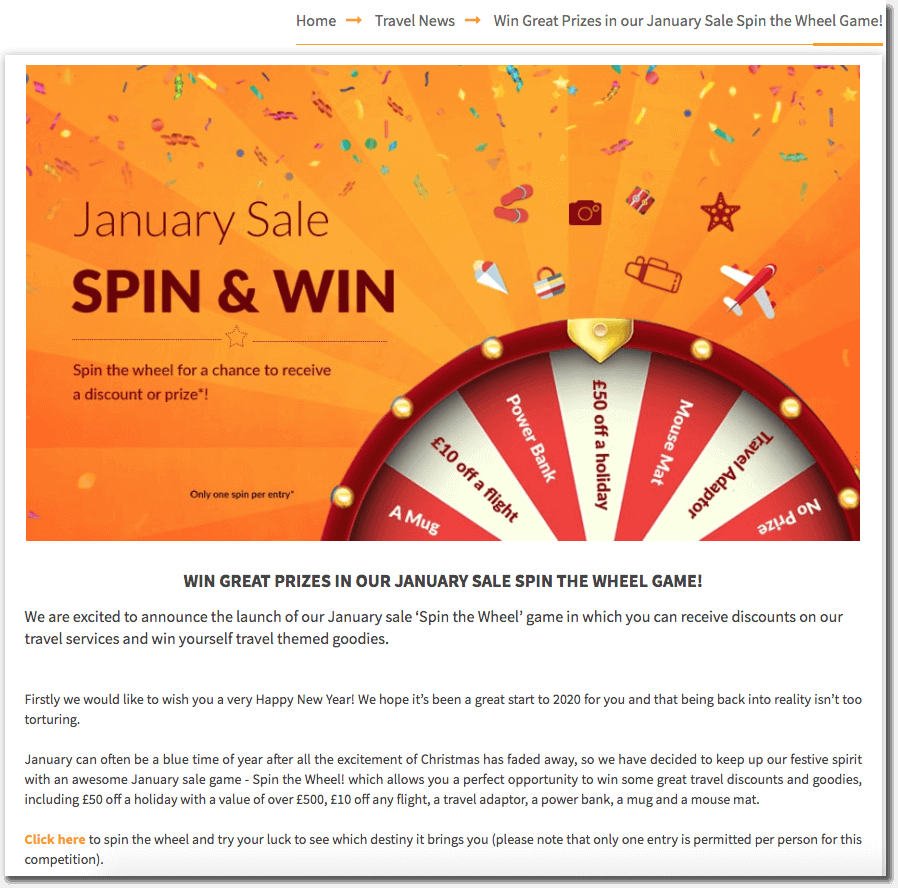 Goals the brand achieved with the Spin the Wheel promotion
As you can see, clear and consistent content made it extremely easy to recognize the campaign across different communication channels.
But can you see all the objectives that Brightsun Travel achieved with just one integrated marketing campaign? Apart from re-engaging existing customers and subscribers the brand also managed to grow their mailing list by converting website visitors and social media followers into leads. The vouchers and prizes distributed via the prize wheel tapped into customer loyalty and trust and strengthened the brand's customer relationships. Isn't that just great?
How to launch an integrated marketing campaign with an Entry Form Giveaway by Easypromos?
But mini-games are not the only promotions that can be fully integrated. Let's take a look at a promotion launched with our Entry Form Giveaway app by an Australian shopping mall as part of their Father's Day campaign.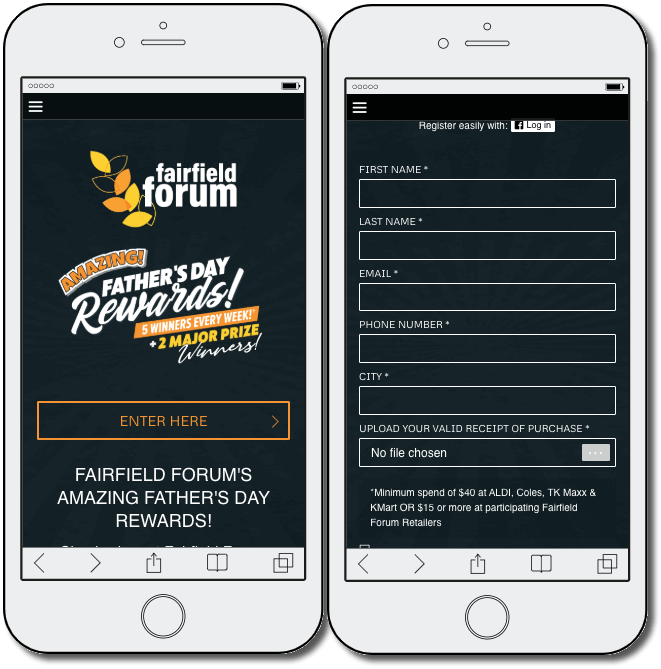 The promotion was launched for paying customers of Fairfield Forum. Customers of participating retailers simply had to fill in an entry form and attach a receipt proving their recent purchase. It was a great way to promote the shopping center and attract new customers. Apart from boosting sales and reinforcing brand awareness, Fairfield Forum also expanded their mailing list for future marketing campaigns. Let's take a look at this integrated campaign in more detail.
Promote the promotion on your website to directly convert visitors into leads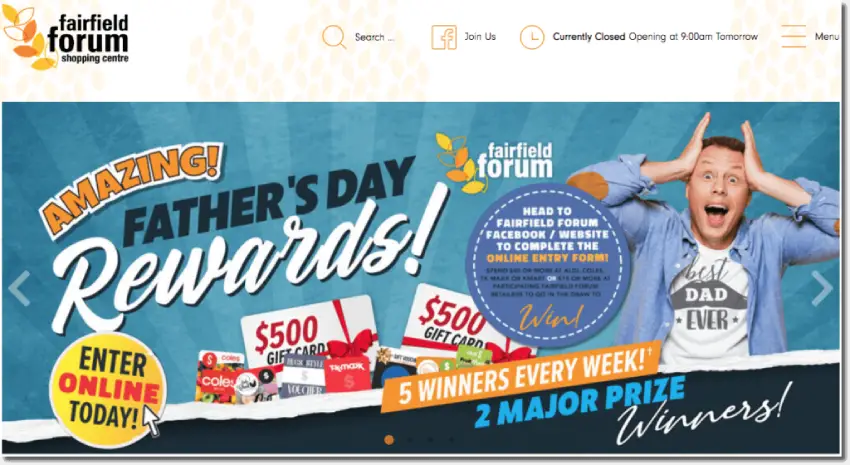 We've already mentioned this one before. Banners do their job! Apart from improving awareness of your campaign, they're also a great retargeting tool. If someone hasn't participated in your promotion or didn't subscribe to your newsletter, you can retarget them with banners. By the way, can you already spot that the visual identity is consistent? Simply put, the banner matches the typography and colors of the promotion's welcome page.
To be sure, to be sure… See how Fairfield Forum added another banner to their website! So if the visitor didn't click-through before, here comes another opportunity to convert them into leads!

Of course, apart from using banners Fairfield Forum's integrated marketing campaign also used social media and email marketing.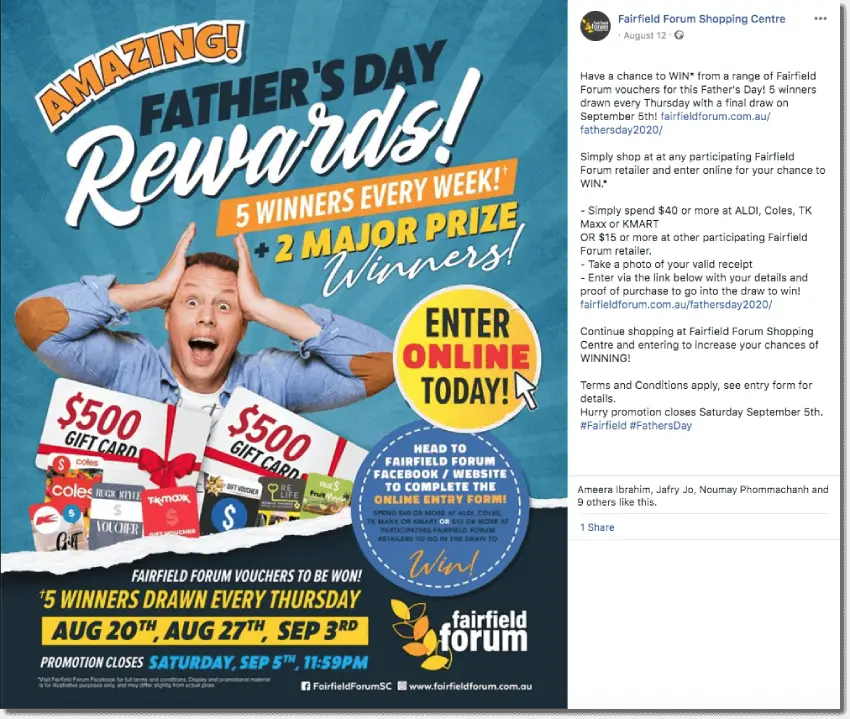 Andrew's Airport Parking gamified their strategy and ran an integrated marketing campaign with Easypromos. They connected with the members of their online community through branded mini-games. Check out the Andrew's Airport Parking case study to find out more about their successful campaign.
Embed the promotion on your website or e-commerce site to facilitate participation and convert visitors into leads
You might be wondering why we still haven't mentioned widgets! Well, here it comes…!
Did you know that you can embed any Easypromos promotion directly on your website, e-commerce site, mobile app, or even customer area?
Here's an example of a Predictions promotion launched by Time Attack Nu. The brand asked their online community to predict winners of the upcoming races.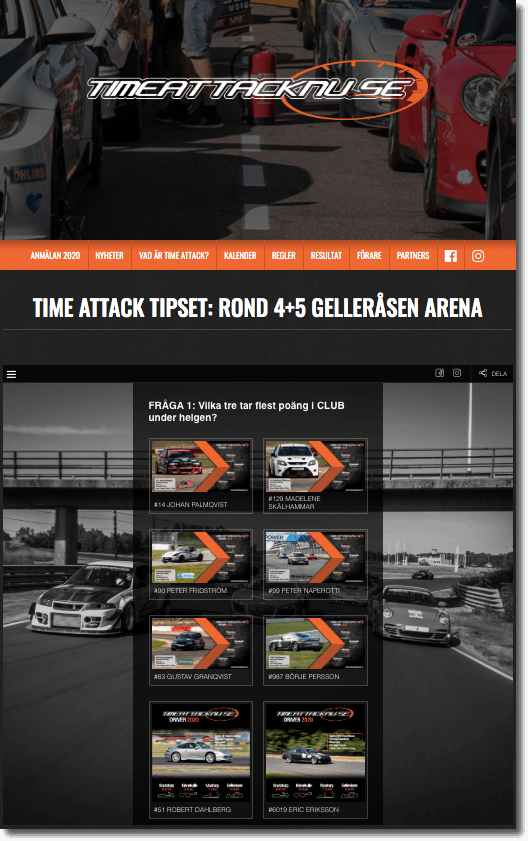 So why embed promotions? It is a great way to drive traffic, promote a certain landing page, and facilitate the participation process, as interested participants can enter the promotion directly from the website, without having to visit another page. In this case, it meant only one thing: more participants!
More examples of integrated marketing campaigns
Email marketing as part of integrated marketing campaigns
Would you like to reconnect with existing subscribers or customers? Or maybe you're launching a campaign only for the members of your database? Then turn to email marketing! Let's take for example the following promotional campaign by Unii. They launched a survey and looked to collect as many responses as possible. In order to do so, they sent out a newsletter inviting their subscribers to participate in the survey. In return, they could win $25 Sainsbury's vouchers!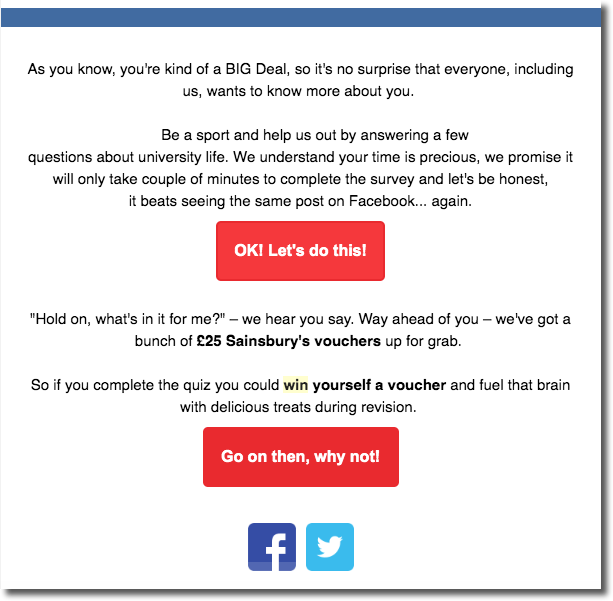 Offline marketing for integrated marketing campaigns
Yes, we said it! Offline marketing still works very well. Do you have hundreds of people walking in through your door daily? Are you new to social media?
You can use in-store marketing to grow your social media channels or database. Encourage people to sign up to your newsletter at the checkout (we've all filled in a registration form in a beauty or clothing stores), decorate the stores with posters promoting your online promotion, spread the word about your contest by adding a short message on paper bags or receipts, or simply hand out leaflets promoting your social media giveaway, the way Novavenda did.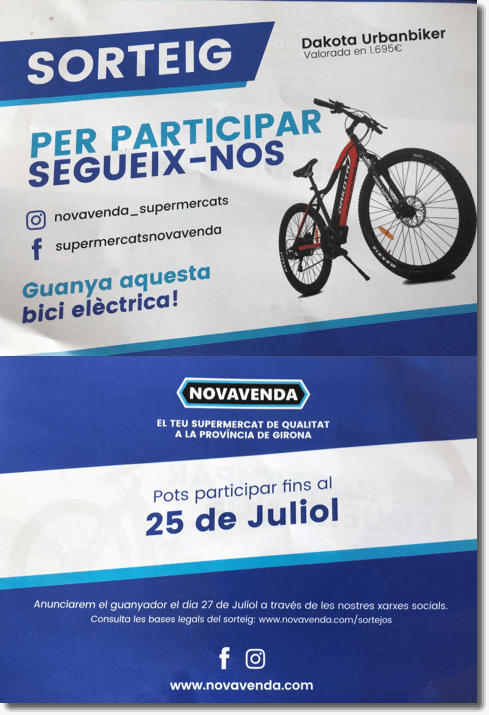 Novavenda is a Spanish supermarket retailer. The brand wanted to grow their social media networks, therefore they decided to launch a Multi-Network Giveaway. In order to attract their customers, each customer received a leaflet promoting the sweepstakes, along with their receipt. This action grew Novavenda's social media networks tremendously!
It's your turn to launch an integrated marketing campaign with Easypromos!
Can you now see how easy it is to launch an integrated marketing campaign with Easypromos? Simply combine the above examples with email and offline marketing and create a fully integrated campaign!
Do you have doubts or questions about IMC? Don't worry! Online chat with our support team, they're always ready to inspire and assist!