What is interactive marketing ?
Interactive marketing is a set of practices that aim to foster interaction between users and brands or companies. It is made up of several marketing techniques such as games, surveys, and personality tests. It strives to increase user engagement and create a dialogue to gather high-quality information (contact details, tastes and preferences, interests, expectations…). The brand provides the user a unique, entertaining, and added value experience while achieving trust and brand awareness.
We can also define it as the brands' capability to approach their clients and fans in the digital world to obtain their feedback to undertake future actions. Hence, bringing brands and users closer together to better the purchasing experience and increase turnaround.
Let's see now how we can apply interactive marketing to the Christmas campaign using Easypromos' applications.
How to use interactive marketing for Christmas?
In this day and age, there are plenty of techniques that encourage users to interact with brands and companies. However, the most effective ones are games and hobbies, or quiz apps: trivia quizzes, personality tests, surveys, etc.
Creating interactive Christmas campaigns can be an easy task if you know how to do it. You just have to keep in mind a couple of issues before configuring the campaign:
Who is the campaign aimed at?
To configure your Christmas marketing campaign, it is fundamental to define the buyer persona and adapt its elements to that audience. For instance, if your target audience is young females, create a fresh and original campaign to catch their attention.
What objectives do you want to achieve with your interactive marketing campaign?
Interactive Christmas content allows you to attain several marketing objectives. In the following list you can see the attainable objective paired with a proposed Easypromos' tool that can be used:
Get to know your customers → satisfaction survey.
Interact with customers through multiple distribution channels → puzzle.
Boost brand awareness → memory game.
Segment and group users → personality test.
Diversify your brand's contents → multimedia contest.
Attract new clients. → spin the wheel.
Increase customer loyalty → validate purchase receipts.
Gather social networks followers' contact details → entry form giveaway.
Increase sales figures → distribute coupons.
What kind of interactive content can you create for Christmas? Which one will be more attractive?
Generally speaking, interactive Christmas games may be the tool you are looking for. Firstly, people like challenges and competition. Moreover, if you add a prize or discount, participation is granted.
Some of the most attractive dynamics for these season can be Digital Advent Calendars, Spin the wheel, or Trivia Quizzes
How can you incentivize participation and reward users?º
Every promotion has to have an incentive, albeit not necessarily a prize or discount. A prize that is in line with your customers' preferences is the secret to a successful Christmas promotion. For instance, an incentive could be to solve a puzzle and get a Happy Holidays message, the possibility of downloading a Christmas card or completing a challenging game like a wordfinder. However, if you wish to highlight your new season product, you can organize a giveaway; if the aim is to increase sales, you can distribute coupons or discounts.
Through which digital channels can you disseminate your interactive Christmas campaign?
The main digital channels to disseminate your Christmas interactive marketing campaign are:
Web page
Online shop or e-commerce
Email
SMS
Social Networks
Blog
Mobile app
Once you have decided which channels to use, personalize the content and message to each channel's format for optimal reception. Keep in mind each social network's image format to create an optimal experience. Or create a clear and attractive email where users can participate in a single click.
What to do with the information you collect?
With Easypromos' applications you can gather the information of registered users. Simply, go to the users or statistics section of your promotion and retrieve the information of the leads in an excel or csv format. Furthermore, you can connect your Christmas promotion with other marketing tools like Mailchimp or a CRM. Click here and discover all the integration tools that Easypromos offers.
Examples and resources of Christmas interactive marketing
The digital world has grown so rapidly and globally that most businesses now have an online presence. This has favored digital marketing and influenced the way companies interact with their audiences on specific dates like Christmas. Here are some examples of interactive Christmas promotions.
Advent calendar
The idea behind a digital Advent Calendar is to recreate the excitement of a traditional countdown. In this case, the interactivity relies on users having to access every day to open a window and discover what's inside; a message, a prize, a discount… This makes user engagement very high. Furthermore, in order to participate users only have to register once, thus facilitating further visits.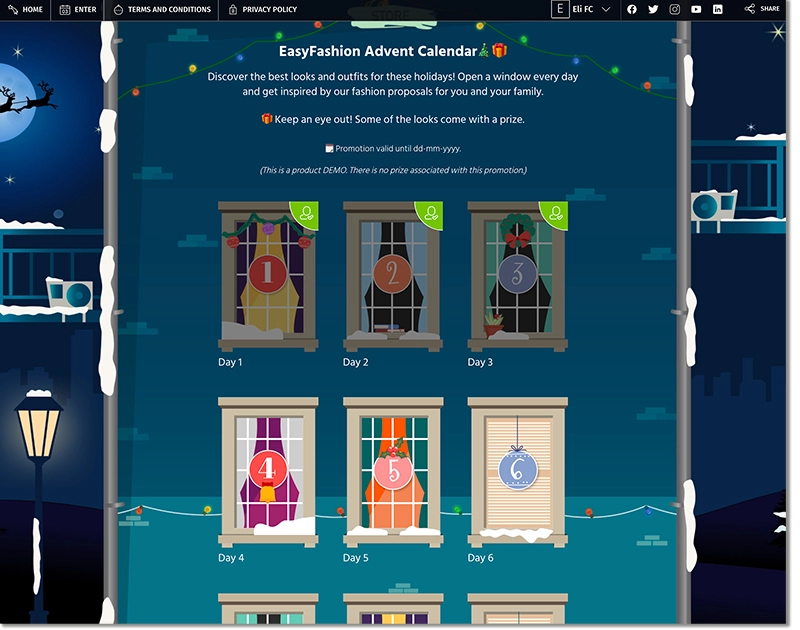 Do you want to see how a digital Advent Calendar works? Try out this Christmas Advent calendar DEMO and , if you like it, download the template to create your own.
Entry Form Giveaway
Capturing new leads is a commonly sought objective by most brands since nurturing their database with new contacts is essential to a company's marketing. In periods of such high consumption as Christmas, when consumers are highly motivated to shop, entry form giveaways are ideal to interact with them. Offer a prize that appeals to your target audience and get lots of registrations!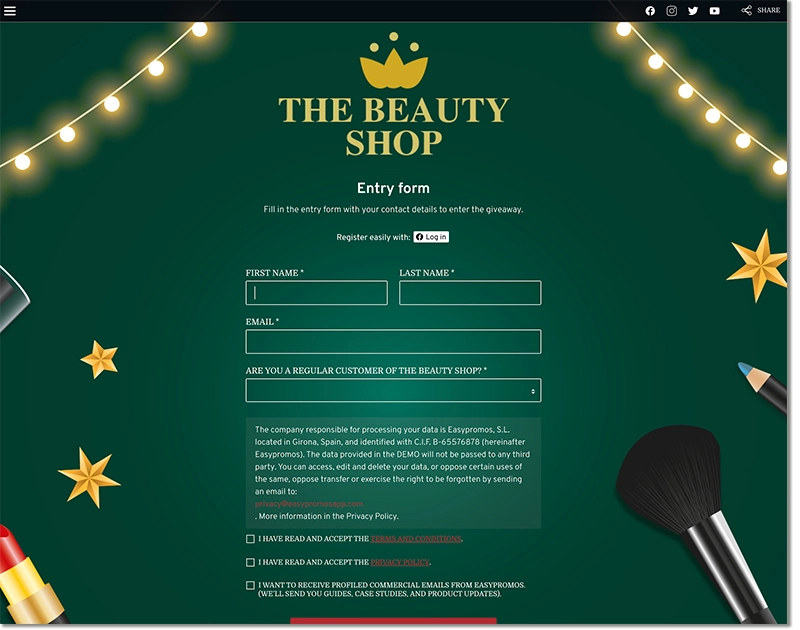 Do you like the idea of a giveaway to celebrate Christmas? Then try our Entry Form Giveaway DEMO and download the template to create your own.
Multimedia contest
Interact with your followers and collect user generated content with a multimedia contest. Participants can upload either photos, videos or PDF documents. Consequently, a multimedia contest will help you increase brand awareness and cover the needs of the most demanding contests: multiple categories, album creation, jury stages, etc.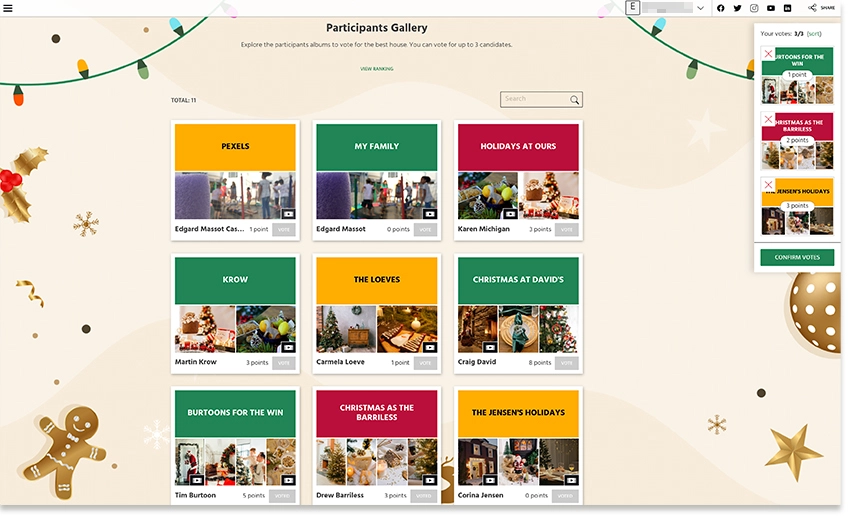 Check out how a multimedia contest works using this Christmas decoration DEMO and if you like it, download the template to create your own.
Branded games
Online games are 100% interactive as they always promote user interaction. Hence, using online games is ideal for a company's interactive marketing.
Since there are many kinds of games, it is fundamental to lay out the objectives and choose the game that better fits them. For instance, combination games are ideal to potentiate branding and brand awareness on top of generating leads and capturing your target audience.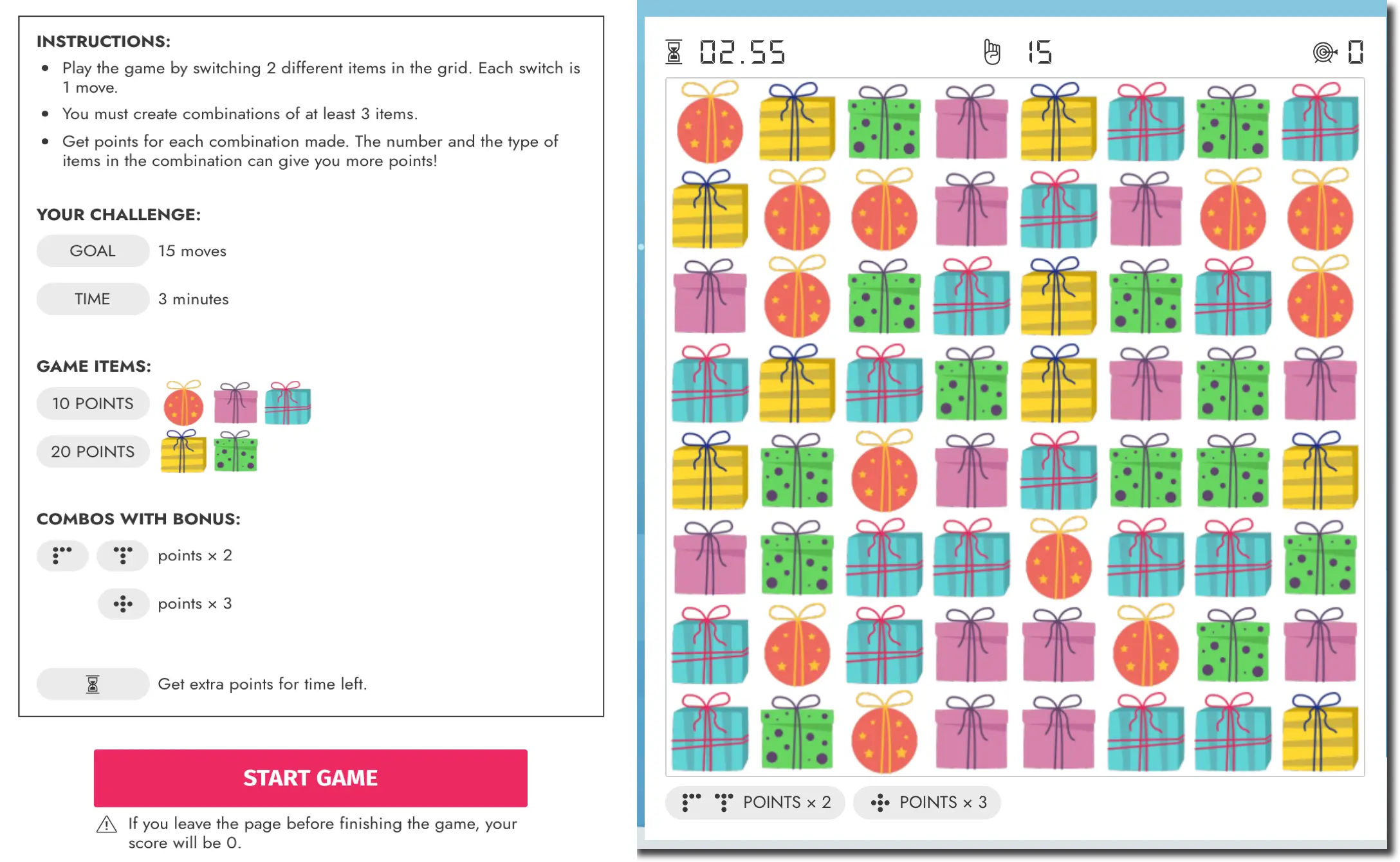 Play Christmas Slide&Match and discover its engagement potential. Download the template to create your own game.
A branded Memory Game is another excellent alternative. Customize it with your brand and products to create brand awareness and generate new leads.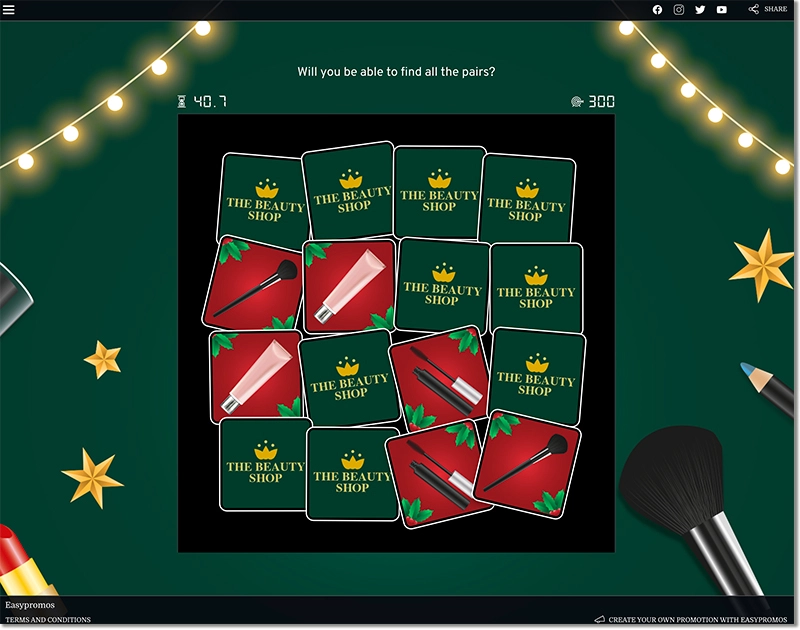 Try our Christmas memory game and download the template to create your own.
Spin the wheel
Want to give away several prizes among your customers to celebrate Christmas? We suggest you use a Spin the wheel game. This will allow you to give away prizes fairly and effortlessly. What's more, you will provide an interactive and unique experience that will make your customers feel rewarded and increase their loyalty.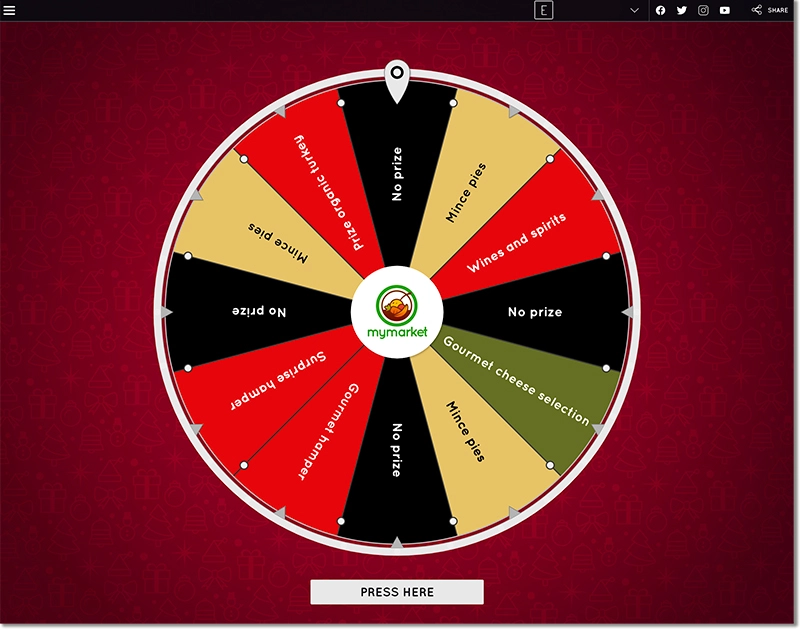 Do you have any questions on how the spin the wheel game works? Try the DEMO and download the template to create one for your brand.
Knowledge quiz
Use Christmas interactive marketing to educate and test your customers. For example, how much do they know about your products? Also, so they have a general knowledge of your field? Set up a Knowledge quiz to evaluate them and gather data on the users that interact the most with your brand.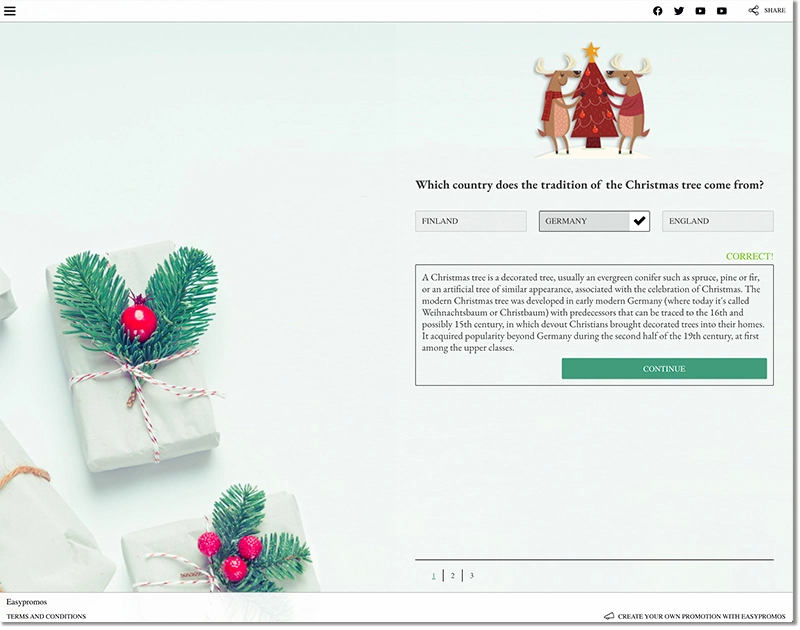 Try this Christmas quiz DEMO and download the template to create a similar one for your brand.
Personality quiz
Interactive marketing is based on customers' interests and preferences. Therefore, what better way to get to know them than a personality quiz? The customers get a recommendation based on their answers and you get valuable information to categorize users for further communications.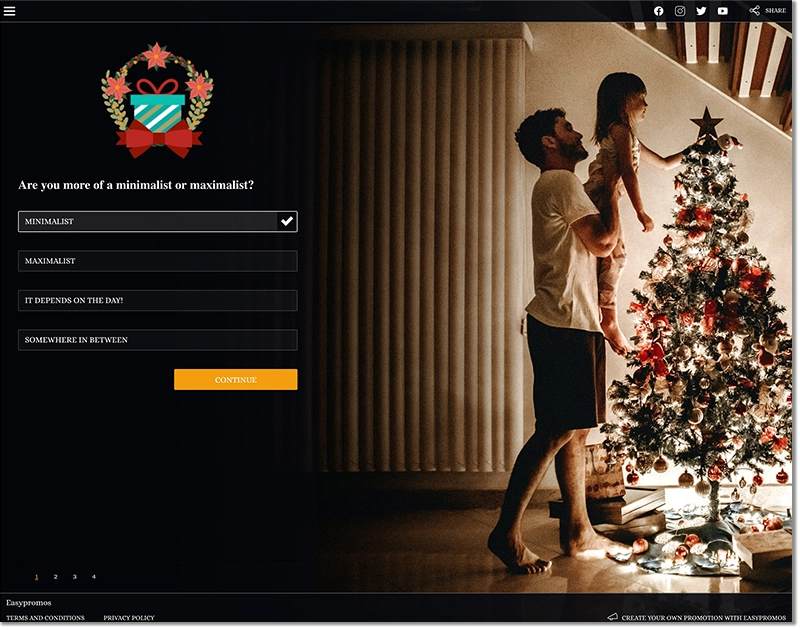 Want to set up a personality quiz for your customers? Check out here how it would look and download the template to edit it.
Distribute coupons
Take advantage of Christmas to boost your sales and increase foot traffic to your shop. How? With the Distribute Coupon Codes app. Collect your audience information by offering coupons, promotional codes, discounts, gifts or prizes.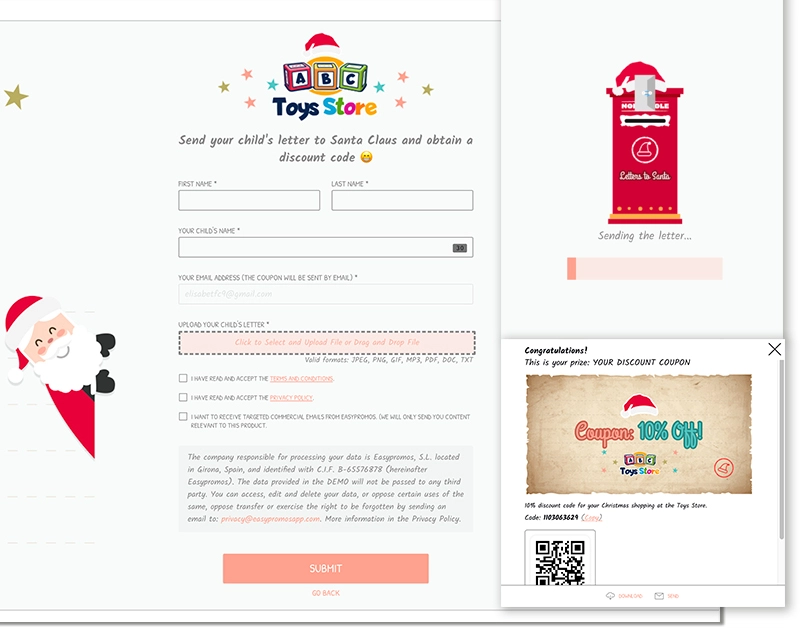 Want to see how the Distribute Coupon Codes app works? Try this Christmas coupons DEMO and download the template to create one for your brand.
What do you think of these Christmas interactive marketing ideas? We hope this article has helped you get some inspiration and some resources for your campaign. If you have any doubt or question, you can contact us via live chat.