Whatever your motivation, we're sure you'll find some ideas in this post. Read on for creative inspiration for winter marketing, with product giveaways, quizzes, photo contests, and more!
Promote your brand by giving away seasonal products
Let's start with something simple. You've got the perfect product to share for the winter months – and you know that email is the best way to generate leads. So you can organize a prize draw for everyone who registers their contact details.
Here's an example from Fowler's, a Canadian brand that produces natural supplements for digestive health. Since people are more likely to get colds or flu in winter, Fowler's decided to share one of their treatments in a giveaway.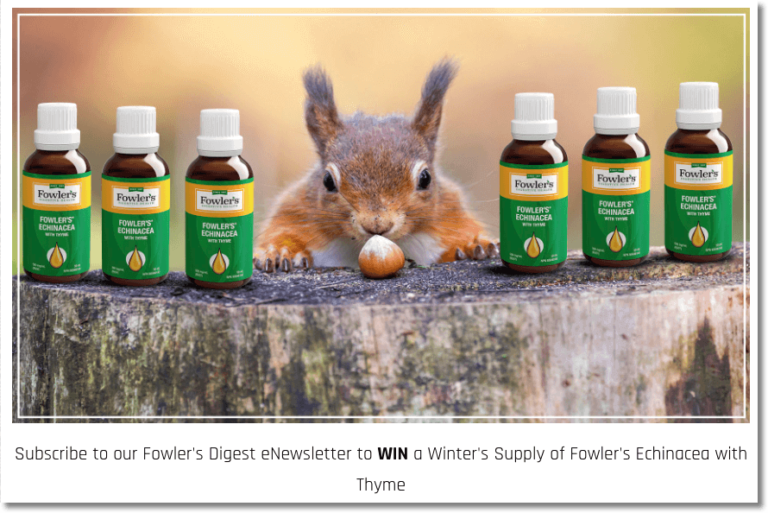 To take part, people just had to share their full name and email address. The brand collected new leads without demanding too much from their followers – and advertized a key seasonal product at the same time.
Treat your followers to an experience
If you want to get customers' attention, you need to think outside the box. As well as products, you can share experiences: family days out, a romantic dinner, branded events, and more.
Here's an example from Beyond Escapes, a luxury hotel and resort in Devon. They offered a delightful spa day for two, including massage treatments and complementary seasonal hot chocolate.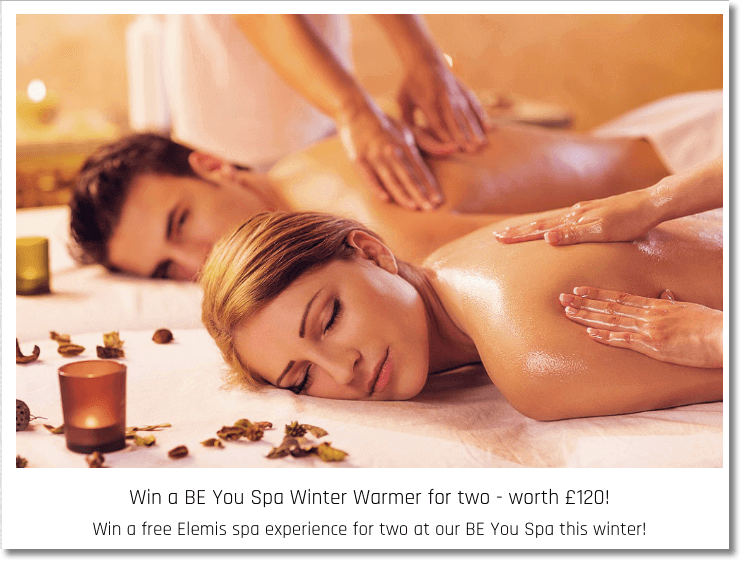 Just like the product giveaway in the first example, this promotion was easy to join – people only had to share their name, email, and phone number.
Everybody loves getaways, winter getaways, too! If your brand is associated with the tourism or travel sector you have an easy task. Simply organize a simple contest which participants enter for a chance to win a mini-holiday!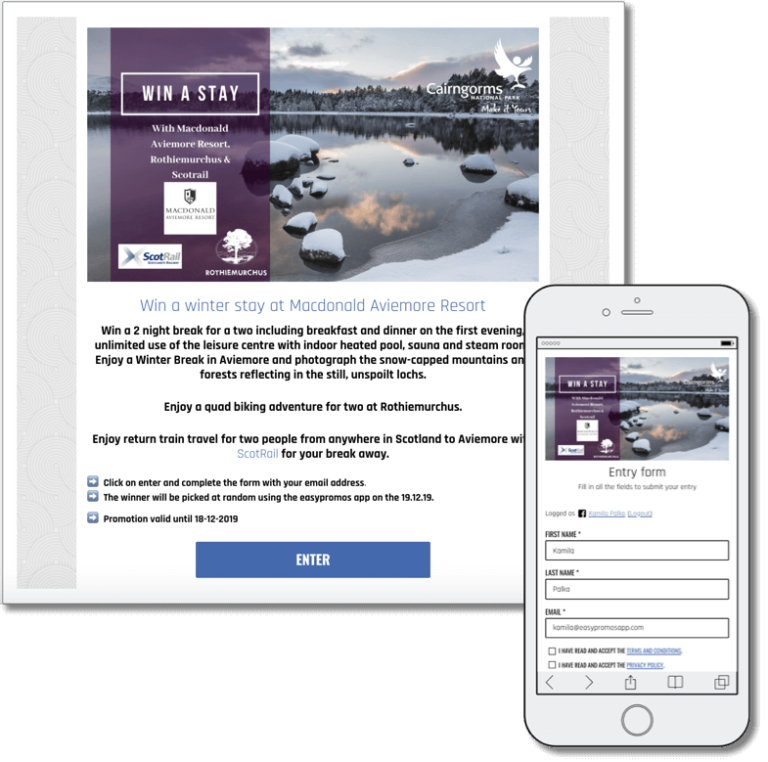 Here's an example of a winter contest organized by Macdonald Aviemore Resort. One lucky person drawn from among all registered participants won a 2-night stay for two with breakfast and dinner and unlimited access to the leisure center. It was a fantastic giveaway that increased brand awareness and successfully grew the hotel's database.
Run a winter photo contest to collect user-generated content
Next, let's think beyond leads and email lists. Once you are in touch with your customer base, you can start collecting user-generated content.
UGC has been a very popular trend in winter marketing and beyond. When you ask your followers for content, you can reuse their comments, videos, and photos in your own marketing strategy. So as well as saving time and resources, you'll demonstrate that you care about your customers' contributions.
Here's an adorable example from HOTMAX, a brand that makes environmentally-friendly fuel. They wanted to run a winter marketing promotion that would get their customers' attention during peak sales season.
Many pet owners worry about keeping their pets warm in winter – so HOTMAX decided to help them out, by giving away a cozy dog bed every week of the promotion. To take part, people shared photos of their pets snuggling up at home.

All the pictures appeared in a public gallery, where people could pick their favorite, share, and even vote. And to complete the campaign, the photo with the most votes won 20 bags of HOTMAX fuel briquettes.
Want to run a winter photo competition? You've got options! Create a classic gallery, connect with Instagram, collect social media entries with a Hashtag Contest, or ask users to decorate their photos with seasonal stickers.
Would you like to create a winter photo contest that reveals the participants' creativity? We have something for you! Invite your audience to enter a Scenes contest. Simply ask your online community to create their own scenario using your branded stickers.
Here's an example from TravelUp, a travel agency from the United Kingdom. They asked their audience to decorate Christmas trees!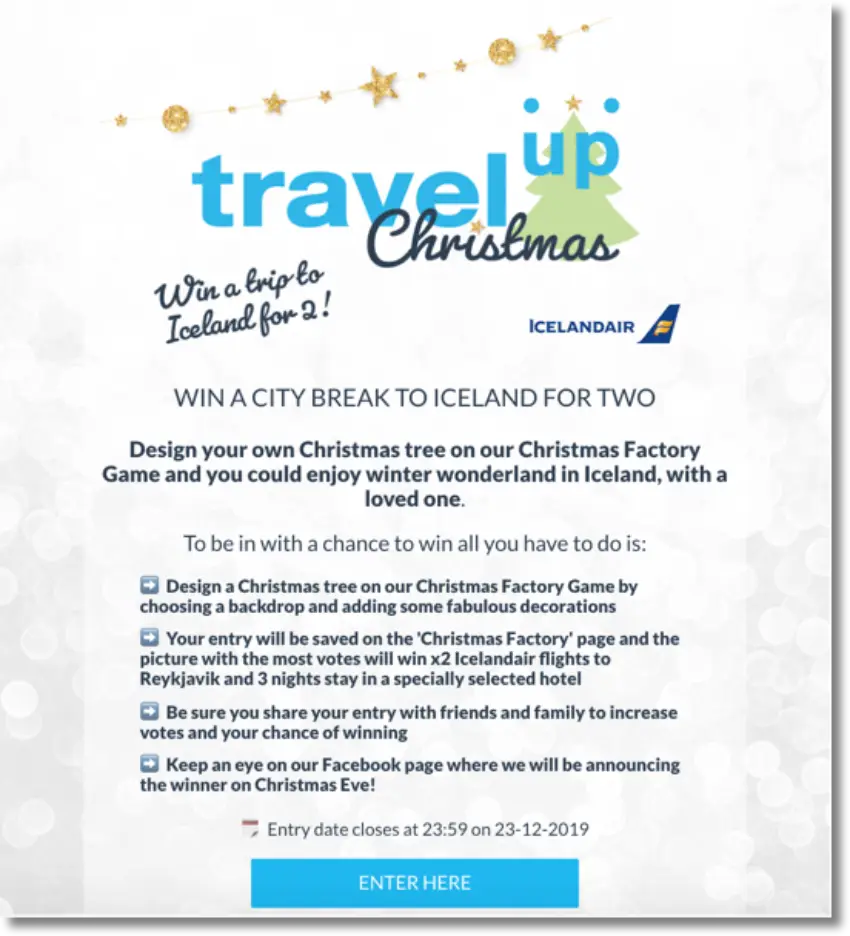 The Christmas tree with the highest number of votes was the winning one and its author won a getaway to Iceland!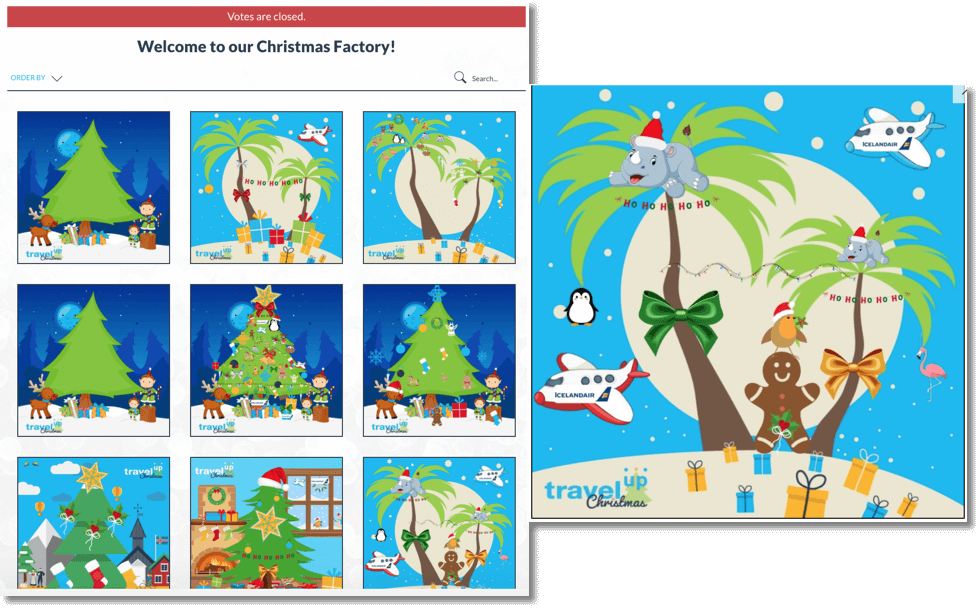 By enabling the voting system the organizers encouraged social media sharing, therefore, making the promotion and brand go viral.
Do you need more winter competition ideas? Head to our Winter Hub to discover tips, ideas, advice, and free resources for your winter campaign!
Share tempting coupons to increase sales this winter
Depending on your brand, budget, products, and marketing style, a simple contest might not be the best option. This is where you need another winter competition idea, and you could consider a coupon campaign. Coupons and promotional codes are always popular with shoppers. And they can provide a massive sales boost.
Let's look at this example from The Bay Brasserie, on the English coast. Winter marketing is often a challenge for bars and restaurants. There are fewer tourists around, and locals want to stay warm at home. So The Bay Brasserie decided to offer a special deal on their comforting winter menu – especially for locals.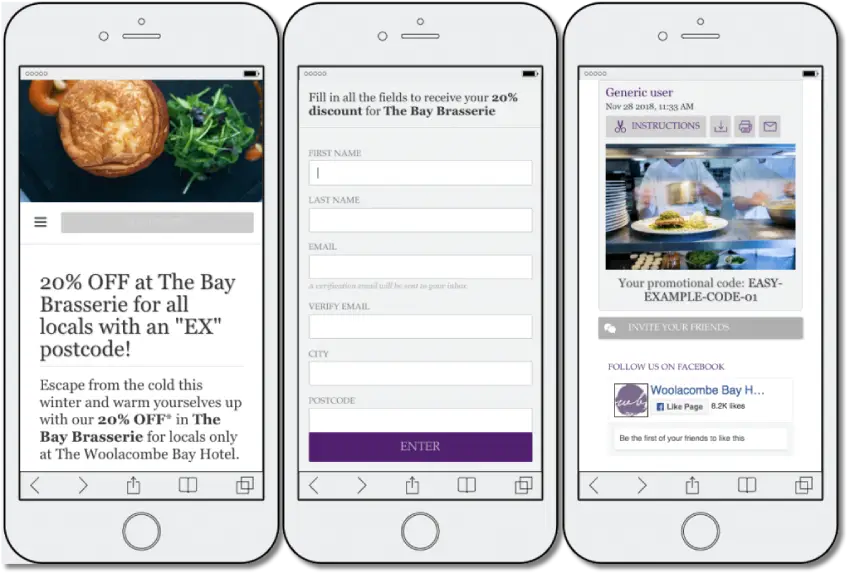 They created a coupon campaign, with email and address verification. When people registered for the discount, they had to use a local postcode – otherwise, they wouldn't receive a coupon. This was a clever way to keep the promotion on a tight budget – while strengthening ties with the local community.
Challenge your followers to a winter-themed quiz
Finally, let's think about quizzes, surveys, and pools. These are all contests where you start by asking a question – and in return, you could get consumer insights, feedback, and valuable information to qualify leads.
For example, you could use a Knowledge Quiz to test how much people know about your brand and tell them more about your story. With a Survey, you could find out more about shopping habits and product preferences.
Then there's the Predictions app or betting pool – where your followers tell you their best guess about the future. This is a great way to interact with a sports championship, tournament, or other types of competition.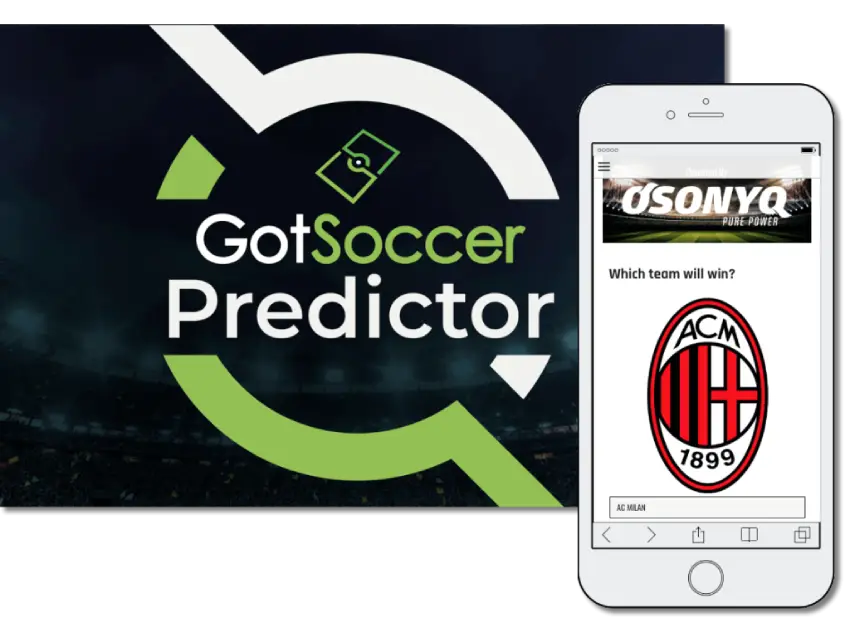 For example, at this year's GotSoccer winter conference, the organizers created a betting pool with three rounds. They asked people to predict the winner of three upcoming football matches. Whoever had the most correct answers would win an autographed football or jersey.
Design your own winter marketing campaign
Ready to get started? Then you can register and draft your promotions for free! Get in touch on the live chat if you'd like to discuss your ideas – and if you're interested in Christmas campaigns, don't forget to check out our festive inspiration.