Most current marketing actions aimed at a target audience use third-party cookies to measure conversion or to do remarketing. This allows companies to track future users' paths on the internet and show ads of the desired products repeatedly until the purchase takes place. Likewise, the use of third-party cookies allows brands to carry out profiling and hypersegmentation of audiences that haven't explicitly consented to it.
However, this behavior invades the users' digital privacy, which has become a growing concern among the digital audience. According to a Facebook Gaming survey, 54% of mobile gamers worry about their data privacy. In a series of three videos regarding the future of performance marketing, Meta's VP Rick Kelley stated that audiences expect to be able to choose and control how they interact with brands. Consequently, sooner rather than later the cookieless world will become a reality. Brands will have to attract and get to know their customers through formulas that don't imply tracking their online activity. Hence, the question arises, how will we communicate with future audiences?
How to gather Zero-Party data that complies with GDPR
It's an easy answer: registration forms. As stated by Rick Kelley in December 2021, brands must own their clients' contact details. Asking for users' explicit consent through a form is the most transparent way of doing so. Not to mention that it fully complies with GDPR. This is to say: using Zero-Party data directly gathered by the brand.
Even so, there's a chance you have never used this resource intensively in your marketing strategy. Hence, it might be difficult to picture. However, it is not difficult to do, but you must know how to do it right. With this in mind, nobody will fill out a registration form if they don't get anything in return. And that "something" can be a number of things: a product recommender, participating in a giveaway, a discount for an online or physical shop, a game, or a prize.
To that end, gathering First-Party data is easy if you have a tool that allows you to create interactive promotions that create engagement with your target audience. Additionally, the form is not only a registration form, but it also holds a reward. In itself, it consists of a website with a registration form and interactive dynamics that aim to capture users' attention and motivate them to participate in exchange for their personal data.
AiThority has outlined the Top Dominant Digital Marketing and Advertising Technology Themes for 2022, which include the upcoming cookieless world. Jake Weatherly, CEO of SheerID, a company that verifies users without using cookies, has mentioned that Zero-Party data will become a focal point of marketing efforts in 2022. "With growing privacy restrictions on third-party cookies, I think we'll see significantly greater use of zero-party data by marketers in 2022. Zero-party data is information that consumers voluntarily provide brands in exchange for some type of incentive or reward, like a better offer or service. Zero-party data also offers a more precise depiction of a consumer because, compared to other types of data, it does not require the brand to do analysis to understand the consumer's intent. With zero-party data, there's no need to infer. Rather, you just ask consumers questions to which they provide answers."
Indeed, there are some advantages to this and to start working on gathering Zero-Party Data. First and foremost, it allows you to gather information directly from the user. The brand asks or offers a dynamic to get to know the users, and they respond and interact.
Let's take a look at some real examples of how brands have obtained Zero-Party Data to nurture their mailing lists and CRMs and generate communications from the leads obtained. Our hope is that this will help you learn how the strategy works, and how to implement it.
Give an ebook away in exchange for subscribing to a newsletter. There are many ways of connecting with users once you've collected their contact information. However, email marketing is still the go-to method. Getting users to subscribe to a brand's newsletter to receive offers or exclusive content is a common way of getting the relationship started. And an effective one too!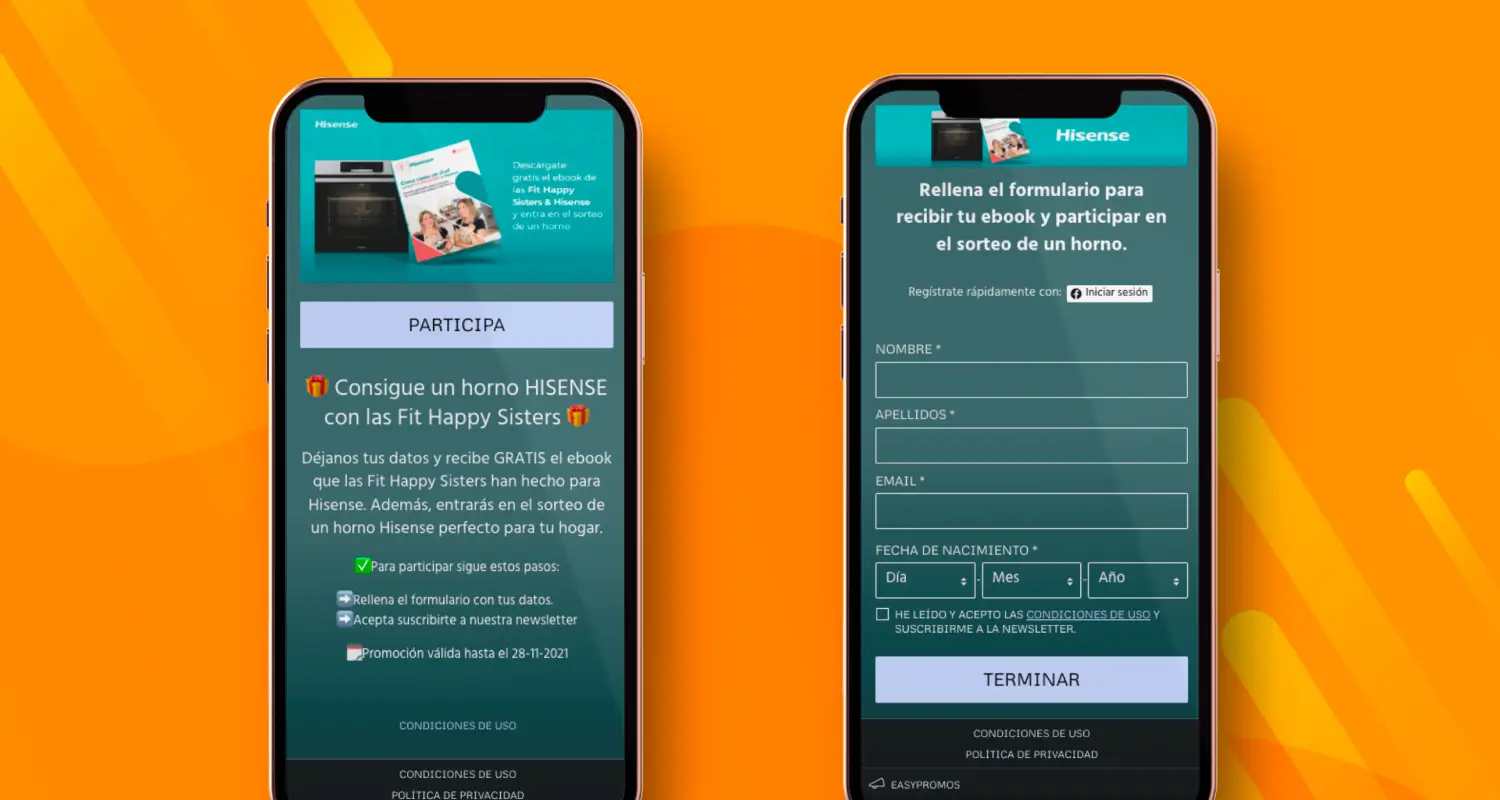 In the example above, the home appliance brand Hisense joined efforts with healthy diet influencers Fit Happy Sisters to organize an online promotion. Both parties shared similar audiences. So, the promotion allowed them to turn the Influencers' followers into First-Party Data that the brand could later benefit from.
Hisense organized the promotion in compliance with the GDPR. Users had to fill out a registration form to participate in the promotion. Furthermore, the brand clearly stated that users had to subscribe to the newsletter to receive the ebook (reward 1). Additionally, users entered a final prize draw for the chance to win a Hisense oven (reward2). This double prize strategy is a common practice in promotions as it increases the users' expectations to win a prize. This, in turn, achieves a higher conversion rate among the users that registered for the promotion.
Easypromos' apps have dedicated sections to display the Privacy Policy, Terms and Conditions, Checkboxes, and disclaimers. These features allow gathering data in full compliance with the GDPR.
Offering prizes in exchange for accepting commercial communications
Another option to collect contact information from your target audience is to offer a chance to win a prize. To be able to manage the prize distribution you need to collect the participants' contact details. Hence, this is a good time to give users the option of receiving commercial communications that will give them access to exclusive promotions and discounts. Moreover, users that accept to become part of your database are loyal and already familiar with your brand.
In the following example, frozen foods brand Fripozo launched a personality test campaign to get to know its most loyal customers. The brand raffled home appliances and gadgets aimed at the promotion's target audience: young people sharing flats. In the registration form, participants had to share their name, phone number, e-mail, date of birth, and city of residence. Besides the checkboxes to accept the privacy policy and the terms and conditions, an additional checkbox requested explicit consent to include the participant in the brand's commercial database and receive commercial communications. All these fields and checkboxes are fully customizable with Easypromos to gather Zero-Party Data in full compliance with the GDPR.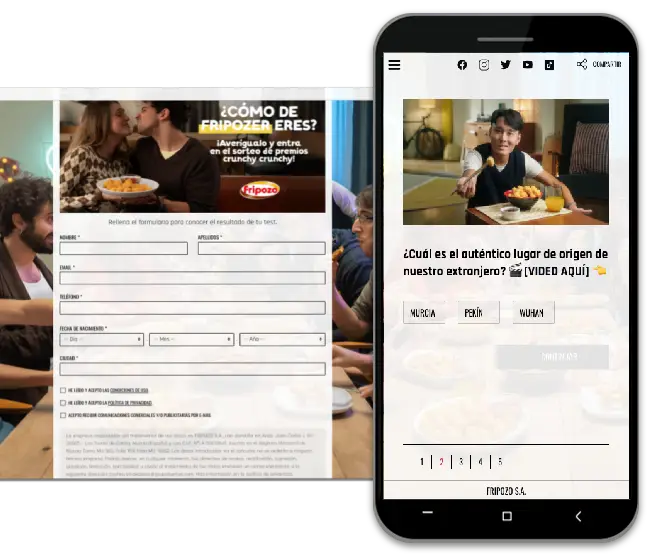 Note that one of the fields requested the user's phone number, as it is one of the most common contact details. Some companies choose to use SMS or other instant messaging options to communicate with their audiences. However, depending on the country or age, this might become a participation barrier. For some kinds of audiences, instant messaging will work better than emails. Therefore, each company should analyze and decide which is the best channel to communicate with their target audience.
Gather future customer data in exchange for product samples or gifts
Giving away free samples among your target audience is very effective to gather First-Party Data and capturing new clients. Brands can distribute samples offline through newspapers, magazines, or distributors. In the online world, a brand can advertise and distribute free samples in exchange for the users' personal information.
This kind of promotion is based on a registration form that collects the necessary information to send the samples to the users. Additionally, it offers the user to become a part of the commercial database through an explicit consent checkbox in compliance with the GDPR. For instance, the baby food brand Capricare launched an online promotion in Portugal so that families looking for baby milk formula could receive a free sample.

Through the registration form, the brand gathered information on their audience such as their city of residence and the babies' age. Moreover, in compliance with the GDPR, the brand asked the users directly if they wished to receive offers and promotional communications from the brand. As well as showing the privacy policy and the terms and conditions.
Brands, and their legal department, decide on the best formula to inform participants how their personal data will be used. With Easypromos, all fields and texts are fully customizable so that all legal specifications can be easily displayed within the promotion.
Online games to engage users and collect data
Add some fun to the reward and you will get a winning combination to attract customers and collect Zero-Party Data. People receive thousands of commercial impacts every day and ignore those that are not in line with their interests. Hence, adding a fun factor, or a challenge to the possibility of winning a prize is a good idea. These could even be considered emotional rewards for participating in a promotion.
In this example, a Singaporean restaurant offered vouchers to users with the highest scores in an online memory game. Users could play the memory game without any previous requirement. However, to see the ranking and opt for the prize, they had to fill in the registration form. This promotion is a good example of how to use gamification as a Zero-Party Data collection tool.

Finally, note that the registration form shows all the necessary information regarding the management of the information that the user has shared in exchange for participating in the promotion. As well as the right to modify or delete this information at any time. And finally, the checkboxes for accepting the Terms & Conditions.
We hope these examples on how to gather Zero-Party data in full compliance with the GDPR are useful to you. We are facing a paradigm change in the marketing world. Thus, a change in the way we relate to our audience is necessary. Organizing digital promotions that engage and entertain your audience will nudge them to share their information with you. Ultimately helping you build a closer and stronger relationship with customers.
Do you have any doubt or question? Contact our customer support team via live chat or email. We will be happy to help you.