Posted in: Digital marketing,Ideas for your websiteLast update: 19/04/22
Customer rewards are nothing new. It is a common practice that companies use to thank customers for choosing their product through incentives, smaller or bigger. It is also a powerful customer loyalty strategy. For sure you can remember collecting bar codes from cereal boxes or chocolate bar wrappers and sending them by post for a chance to win a piece of merchandise or a trendy gadget. This strategy is still very much alive today, however, it has been adapted to modern technology. Customer loyalty techniques have been digitalized. They're now more immediate, simple, and accessible. In this blog post, we take you through successful examples of how a variety of different brands rewarded their customers for choosing their brand. Read on and find something for yourself!

There are many different ways in which brands and companies can reward customer loyalty. We're about to take through the most popular tactics.
Reward existing customers who share their receipt
What's the main reason for giving back to your existing clients? 99% of times, it's customer retention. And you might already know by now that it's cheaper – and easier – to convince existing clients to repeat purchases than to convert new ones. But first, let's take a look at a promotion launched by North Kellyville Square – an Australian convenience shopping center.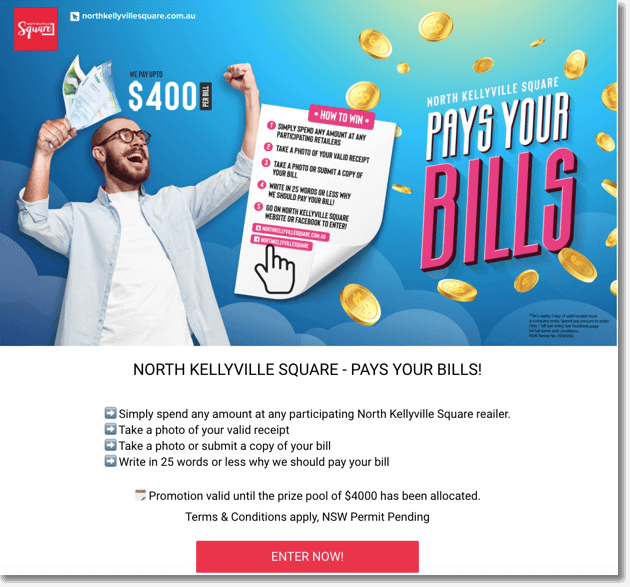 North Kellyville Square wanted to reward those who had recently spent money at their premises. They literally paid for their customers' shopping! Interested participants took a picture of a valid receipt and submitted it along with their contact information via a registration form. Lucky winners had their money returned and therefore shopped for free.
Can you already spot all the other objectives that North Kellyville Square achieved with that promotion? The shopping mall not only retained existing customers but also attracted new ones! How?
Imagine that you were planning to buy a new toaster. If you had a chance to get it for free, you'd go for it, right? Chances are that many people headed to North Kellyville Square for this exact reason.
Would you like to create this type of promotion for your customers? Try our Redeem Codes DEMO for shopping malls and retailers. You can even use our ready-to-use template to launch your own promotion!
Apart from attracting new clients and boosting sales, the organizing brand also gained new contacts for their database, as participants entered the promotion by submitting an entry form and agreeing to terms and conditions. Not bad, right?
Attract customers with a big giveaway and reinforce customer loyalty
Let's now focus on customer awards that are launched simply to attract new customers. Imagine walking down the grocery aisle and spotting a product that you weren't planning to buy, or simply a product of a brand you're not familiar with. If you'd see a promotional poster right next to the product and realize you might win cash or maybe even a new car… You'd probably become a paying customer of the organizing brand. And this is exactly what Seat and Smith & Caughey's – New Zealand's department store – went for.
We love this collaboration! The organizers looked for a way to promote a specific Smith & Caughey's store. Every person who spent at least $100 had a chance to win a brand new Seat Arona valued at $36,500! You can only imagine how successful this promotion became. Apart from boosting sales and expanding mailing lists, customer loyalty and trust were successfully reinforced for both brands.
Reward customers for sharing your brand online and increase your social media presence
The main reason for organizing online promotions is always to achieve some marketing goals, or at least work towards achieving them.
Food-a-Go-Go is an action organized by the Hawaii Agricultural Foundation. The main goal of the Food-a-Go-Go promotion was to spread awareness of local takeaways and restaurants during the COVID-19 pandemic. The promotion dynamics were very simple; participants took it to Instagram to share pictures of their favorite Food-a-Go-Go restaurants and meals. Every day, 10 participants received $100 vouchers redeemable at any participating restaurant or takeaway.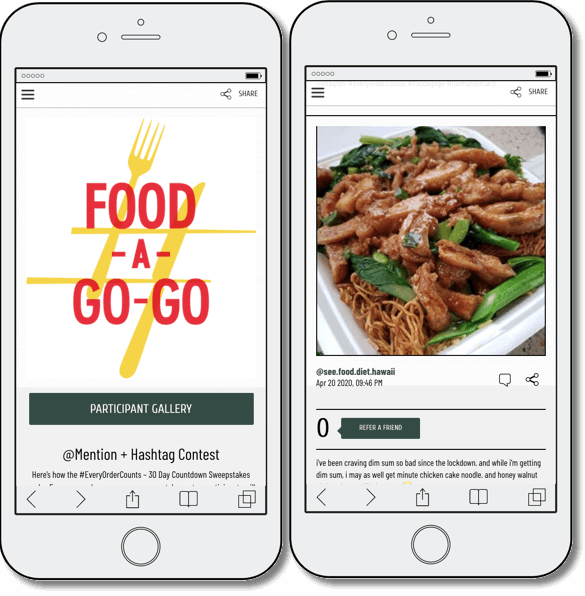 So what was in it for the Hawaii Agricultural Foundation? Apart from promoting local businesses they also boosted their social media presence, concurrently attracting potential new customers and growing their audience. They also gained some loyal brand ambassadors!
Find out more about our Mention + Hashtag app and discover how you can collect contest entries from Instagram and Twitter, the way Food-a-Go-Go action did.
Reinforce clients' feeling of belonging with your brand by resharing their pictures and videos
Did you know that user-generated content is much more realistic than any other content produced by brands? It's something to have in mind. And it's also time to find a way to collect UGC.
Do you want to promote your product? Show it in action? No problem! Ask your previous customers to share videos and pictures of how they use your product. And of course, reward them for doing so!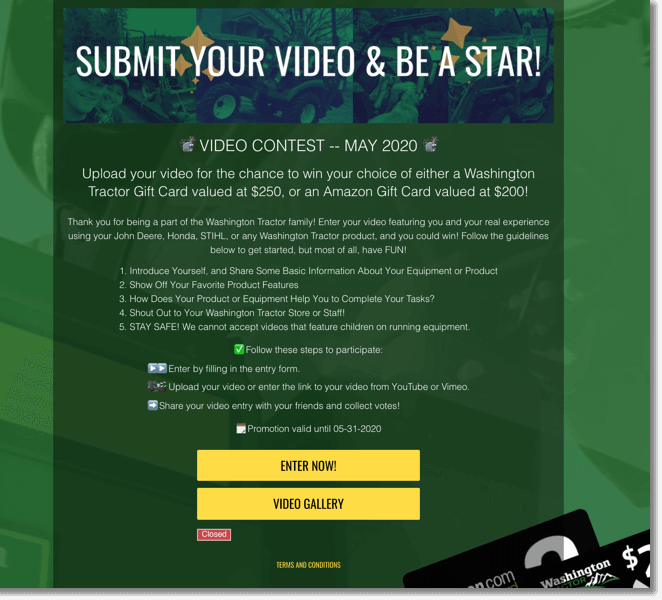 Here's an example of a Video Contest organized by Washington Tractor – agricultural and power equipment dealer. The brand organizes monthly promotions aimed at their existing customers. Interested participants share videos and explain why and how they use Washington Tractor products. Winners with the most votes receive $250 gift cards redeemable at Washington Tractor, or $200 Amazon cards.
Did you know that you can now embed customer-exclusive promotions in customer areas, intranets, and mobile apps? It's possible thanks to the new Easypromos auto login API!
Do you have more questions or doubts? Don't hesitate to chat with us!
Publication date: 2020-08-13