"Instagram" and "Christmas" are two very important aspects of online shopping and retail. To show you how much these two have really in common, let's start by looking at some Holidays Insights and statistics.
In 2019, 75% of shoppers used mobile devices to conduct research for holiday shopping.
The number of Boomers using mobiles to make purchases increased by 85% from 2018 to 2019.
37% of parents said that online videos by influencers help them decide what to buy during the 2018 Christmas season.
Instagram has 1 billion active monthly users! 500 million of them use the platform daily.
And the list goes on…
In this blog post, we've put together some of our favorite types of Christmas promotions on Instagram. They're easy to set up, they're fun, they're engaging and most importantly – they do their job! So if you're still not using Instagram promotions as part of your winter holidays campaign, then be ready, as you're about to change your opinion about Christmas Instagram campaigns!
Christmas Instagram ideas for pet lovers
People love to receive presents, and not just during Christmas! So with Christmas being all about giving, surprise your audience with a gift for their four-legged friends! This is a great opportunity for brands and shops that offer products aimed at pets. Show your online community that you care about their little friends by raffling prizes and gain loyalty and new followers that you can convert into sales leads.
Here's a great example of an Instagram Christmas campaign organized by K9 Sport Sack for dog lovers!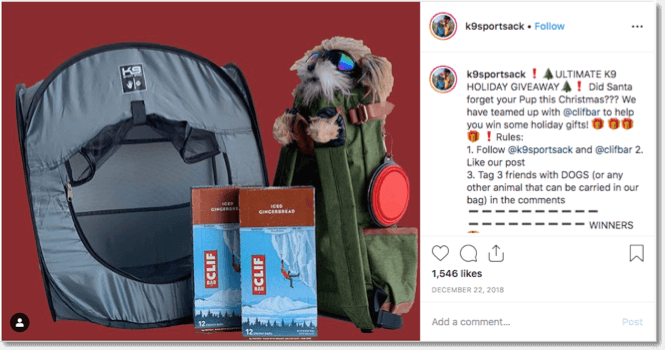 Are you looking for a way to convert social media followers into qualified leads? It's easier than you think! Launch mini-games and promotions with registration forms to capture new contact details. Find out more about our data collection solutions.
Instagram Christmas giveaway with a charity donation
If your business type allows you to award your audience with a money prize as part of your Instagram Christmas marketing, then go for it. Money is probably the most desired prize in contests and giveaways, and no-one ever says "no" to a chance to win. You can gain even more loyalty and improve your brand perception, with the kind of Instagram Christmas giveaway organized by SM Corner Stone. They gave $250 to their lucky follower and another $250 to a charity of the winner's choice.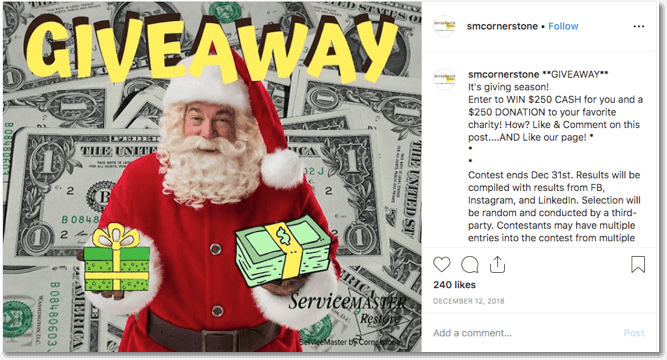 To draw winners of your Instagram giveaways in an easy and transparent way, use our Easypromos Instagram Giveaway tool.
Promote your best products
Do you own a shop? Let your followers try your products! Is there a better way to promote your brand than letting your customers test some of your bestsellers? It can be a single giveaway or part of 12 days of Christmas promotions, as well as one of your Instagram Advent Calendar giveaways. The choice is yours! Here's a giveaway organized by Well Dot Ca to give their followers a chance to win a set of attractive products. Don't worry if you don't feel like gifting your audience a whole set of goodies.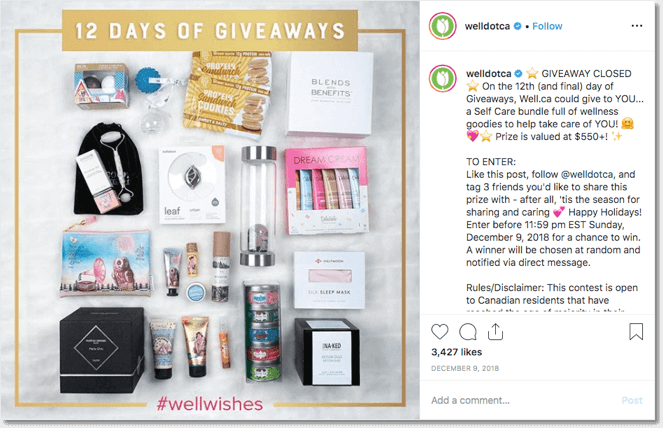 Would you like to discover interactive promotion ideas for your Christmas campaign? Visit our Christmas Hub to find more than 20 festive promotions!
Instagram Christmas giveaway ideas for big brands
Let's stay with 12 days of Christmas giveaways, but this time organized by big brands. Instead of choosing one winner from among all participants, they were giving away 200 branded wrapping papers, 250 sets of stickers, seven drink coolers, a 6-month La Croix supply for six people, and much more! La Croix increased its engagement hugely, and they gained tons of loyal followers.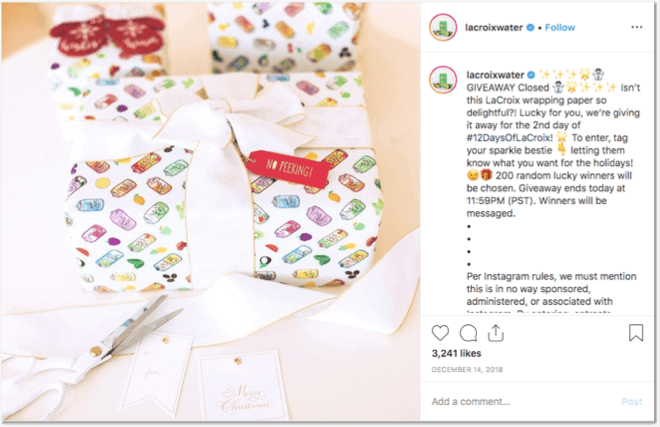 Brand exposure for small business with Christmas campaigns on Instagram
Small businesses are always on a hunt for Instagram Christmas campaign ideas, right on! Promoting your business over the festive season is an essential part of your yearly marketing plan. Take an example from LI Homespun, knit and crochet maker, who organized a Christmas Instagram giveaway. By giving her followers a chance to win one of her products she gained new followers, brand exposure, and engagement!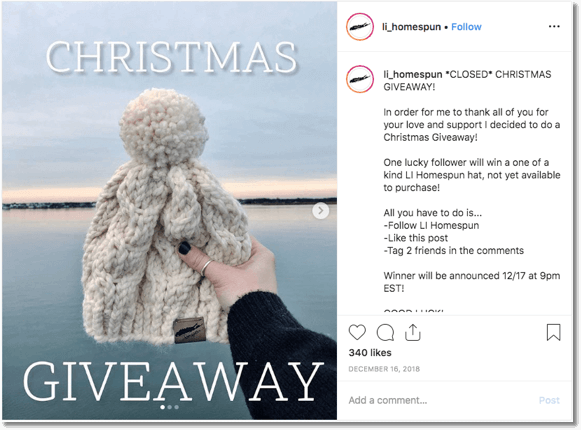 Ideas for fan accounts
Fanbase account? We have something special for you, too! Take a look at this awesome Christmas Instagram campaign idea from The Disney Fox. They decided to give away something that is a dream of all followers of their account – tickets to Disneyland! But that's not everything… The tickets came with a one-night stay in a hotel and a restaurant gift card!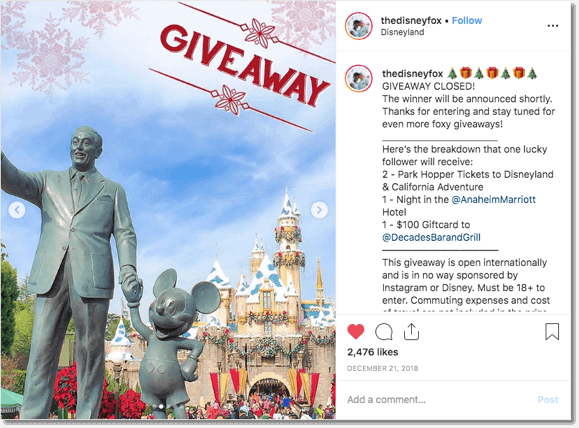 As you can see Christmas Instagram campaigns don't have to be as scary, as they might seem at first. Sit down, think about your marketing objectives, your target audience, and decide what kind of Instagram giveaway would best appeal to your followers. Come up with something attractive but at the same time something that will help you achieve the set marketing goals!
If you have more questions about your Instagram Christmas campaign ideas, contact our Support Team and they will help you resolve all your doubts through our Online Chat.