Reasons for implementing user and customer retention strategies
Did you know that lead generation is the top priority for marketers? This is why you often hear marketing professionals talk about new and effective ways of attracting customers and growing databases. But the interesting thing about leads is that you don't know how good they are until you contact them for the first time.
And this is when the frustrating thing happens; a high number of subscribers don't even open your newsletters and let's not even mention the poor click-through rate. This is the moment when brands realize that their lead generation campaigns weren't as successful as it might have seemed at the beginning. This is when efforts should be placed on customer retention. So let's see how to do it well.
Get to know your database
If over the last years your company has been working on generating leads but didn't put much emphasis on retaining the subscribers they already have, it's possible that many of your leads are dormant. Some brands might simply decide to get along with it, as they accept the fact that a high percentage of their contacts might unsubscribe or become inactive.
And now imagine how helpful it'd be if you could easily qualify each lead before even making the first contact, and then target them with messages and promotions adequate to their preferences. It's all possible with a retention strategy, as its prime purpose is to help you know and classify each prospect better.
Let's take for instance an online clothes shop. Imagine that a customer visits the website and opts in for the newsletter. What do you know about the user that hasn't purchased anything? You can assume they're potentially interested in your products but you can't send them any promotional content being sure that it'd appeal to them, as you simply don't know what they like. But what you can do, is send them a time-limited discount code for their first purchase. It's a great chance to convert them and boost sales, you'd also get to find out what products they're interested in.
Did you know that you can connect your database with the Easypromos platform and send out personalized offers with unique codes? It's a great option for anyone who doesn't have their own coupon editor. 
Use lead segmentation to launch better-targeted campaigns
Let's just say it: sending the same messages to the entire database won't work. Many contacts won't perceive the content as interesting and your email marketing will automatically become highly ineffective. To ensure that each user receives information that they have interest in, you should focus on lead segmentation. It's the only way to understand what groups of clients or potential customers you have, how to retain them, and what to do to reinforce customer loyalty.
Let's stay for a moment longer with the example of an online clothing store. If the customer has redeemed the previously mentioned discount, the brand already has some information about the products they like. Therefore, the next step is to communicate with the customer through better-targeted content, based on their recent purchase. By doing so, you automatically build a better relationship with the customer and start working on their loyalty. To spark their interest further you can, for example, send them an interactive Memory game showcasing the bestsellers of the collection they just purchased.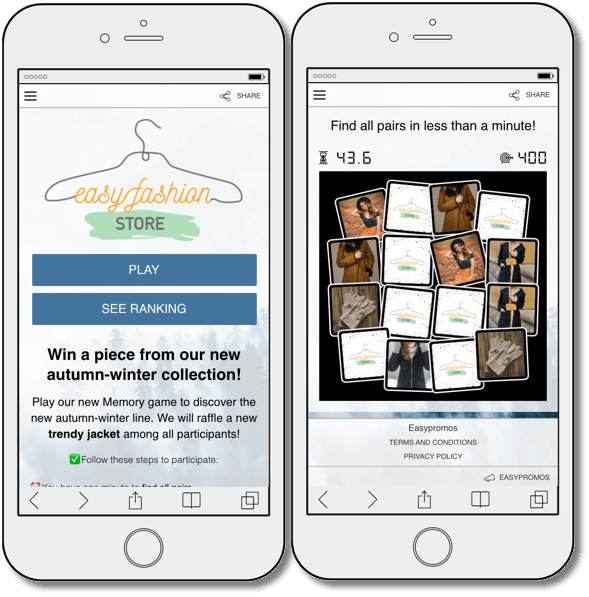 By putting aside direct sales you increase the chances of boosting customer engagement, since this communication tactic is much more casual, and in fact offers high-quality entertainment. In addition, if you incentivize the participation you automatically increase your odds of attracting and retaining customers, as attractive prizes are the biggest motivation to participate in online promotions. If you're looking to reactivate members of private communities you can even embed the promotion in your mobile app or customer area.
Optimize your marketing budget and get better results
Did you know that attracting new customers costs five times more than retaining the existing ones? According to Saleslayer:
It is 40% easier to convince existing customers to repeat purchases than to convert new ones.
You have 70% chances to sell to previous customers, while only 5-20% to sell to new clients.
Loyal clients spend up to 30% more than new leads and they're 50% more likely to try new products than potential customers.
If you're not sure whether you can retain your customers think about the competitive advantage that you already have over the rest of the market:
The customers are already aware of your brand. All you need to do now is take every chance you get to provide excellent customer experience.
You have valuable information about your customers' likes and preferences that your competitors don't possess.
You're in a better position to encourage purchases and increase average order value.
The customer lifetime value is easier to predict.
Well-targeted campaigns can often convert customers into brand ambassadors.
Customer retention and loyalty: two similar but different strategies
Customer retention is a strategy that brands use to keep their customers for as long as possible or for a specific period of time. It is therefore different to lead acquisition strategies. Retaining is also different from loyalizing customers, although at the beginning of the brand-client relationship it might be sometimes unclear in which direction to go.
Putting emphasis on customer satisfaction is the first step brands can take to retain them. It doesn't mean, however, that the customer will be loyal to your brand, as loyalizing customers goes far beyond satisfaction. Customer loyalty comes from affinity and a strong long-term relationship.
The economic aspect can be a great bonus in the loyalty strategy, meaning that the customers are often attracted to the brands that offer the best prices. However, in the current market situation, price is no longer the only aspect that affects long-term customer relationships. An interactive and creative approach to customer communication can do a great job. Here's an example of a gamified promotion that any brand could incorporate into their customer retention strategy.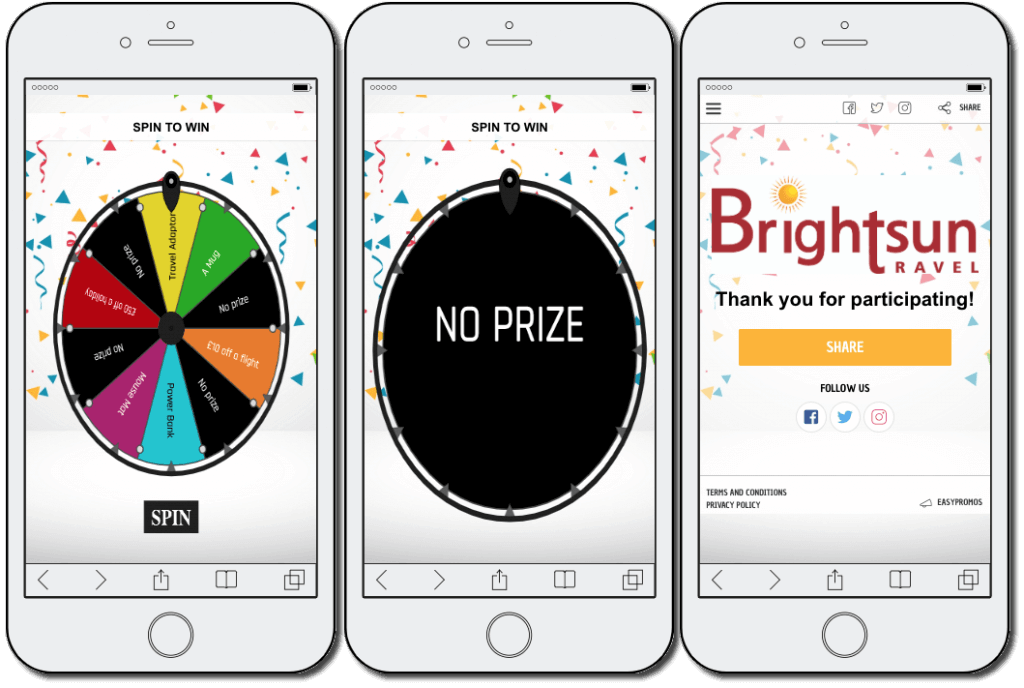 Such a branded prize wheel is a great tool to use in an attempt to reconnect with customers who have been inactive for a while or those who haven't purchased anything in a long time. And any of those clients is a perfect retention target. And the best thing about it is that you'll spend much less than for client acquisition and the results can be far greater.
When it comes to customer retention and customer loyalty, they're both strategies focused on maintaining the client, and in both, there are three key phases:
Capture the client: grabbing the attention of potential customers is the first step.
Guide the client: once the client is interested, it's time to convince them to make a purchase.
Develop the relationship: after getting the client to purchase your products or services, your efforts should go to maintaining the initial attention. Do it well and you'll get yourself new brand ambassadors.
Useful tips for your customer retention and loyalty strategies
At Easypromos we want to help our clients retain their customers and reinforce their loyalty with giveaways, contests, games, and quizzes. All our apps allow brands to launch creative and innovative marketing campaigns that apart from boosting engagement also help brands keep their customers and engage them. However, there are some aspects that brands must keep in mind prior to launching their customer retention and loyalty campaigns.
1. Always have your main objectives in mind
The retention strategy should always be planned and fully prepared before you share it with your target audience. As obvious as it seems, it's easier than you think to miss some important aspects out. If we want to retain customers from the very beginning, you have to have it planned and know what action would work best for your objectives. Maybe a customer survey, or a discount voucher? Or maybe a short email with an engaging game for Mother's Day?
2. Incentives are the best motivation
Just like we already mentioned before, if you want to attract customers to your promotion you have to give them a good enough reason. And this is when prizes and special offers come into play.
In many cases, brands send out follow up emails, trying to obtain feedback. How often have you just deleted the email and moved on to open the next one? Well, imagine if you receive an email from a company asking to review the shoes you bought last week. Wouldn't you be more likely to fill out the form if in return you'd receive a discount code or a chance to win another pair of shoes? That's the easiest way to attract more participants! This also works if you're trying to reconnect with previous customers.
3. Make the participation process easy and without registration
The ideal retention and loyalty promotion doesn't ask the users to register again. If you're targeting existing customers you should already know who they are when they participate. How? If you have the users already identified and segmented (dormant, new, old, regular customers) you should offer them a promotion that automatically identifies them and doesn't require to repeat the registration process. So if you're looking to send a prize wheel or a Puzzle game to your email subscribers you should go for the Easypromos auto login API – affordable retention and customer loyalty tool.
The auto login API redirects participants to the brand's intranet or app, where the user is already registered and logged in. Therefore, users get to participate in your promotions without having to register themselves again. It speeds up the whole participation process and provides a much better and simpler experience. Here you can see how campaigns with enabled auto login work.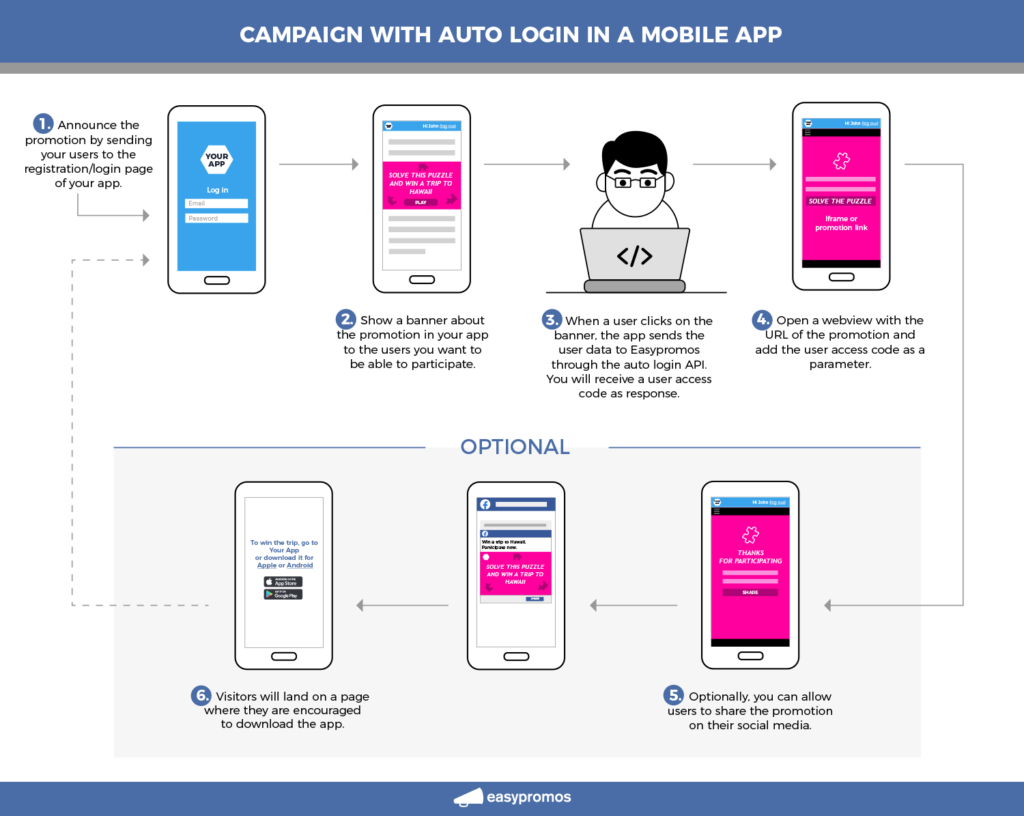 With the auto login API you can easily identify the participant using the credentials of the app – your brand's database. It allows you to obtain more user information, such as knowing if they partake in promotions. With the auto login API, you can also convert and retain more users.
4. Target segments, not the whole database
In order to retain or loyalize customers, you must target segments and not the whole database. Adjusting the way you communicate with different groups of customers is one of the best approaches to building better customer relationships. Simply put, you can't send the same emails or offers to heavy and dormant customers.
Do you have more questions about customer retention and loyalty? Don't hesitate to contact our Support Team!