The greenest day of the year has been crossing borders and is quickly becoming a celebration not only of Irishness but also of joy and happiness. Most importantly, and a big issue to keep in mind, Paddy's party is not limited to bars and pubs. Hence, the celebration can take place everywhere: street parades, schools, social networks, commercial venues, and well yeah… pubs too.
This is an important thing to keep in mind for your marketing plan as it opens up a series of scenarios where you can run digital promotions, contests, and games. Because of how widespread this celebration has become, it is important to choose the right action for the right audience and offer the right prize. Thus, a case of Irish beer might not be the most appropriate prize for a family-oriented promotion. Or a make-up set might not seem alluring enough for the blokes at the pub!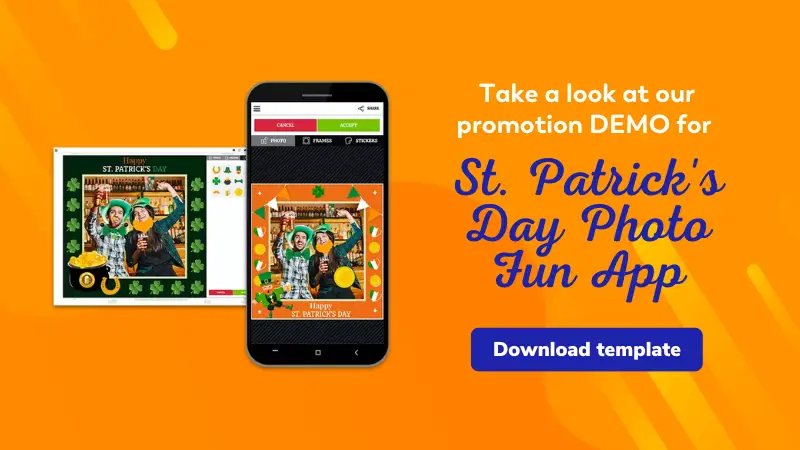 Imagery and outfits play a major role in this festivity and contests are a powerful way to increase brand visibility and collect user-generated content. Online communities love a bit of a challenge and there's even more fun if the competition is themed, so St. Paddy's Day is a perfect occasion to organize one.
So grab on to your green stovepipe hat and let's get down to these St. Patrick's Day contests and games ideas!
Create a St. Patrick's Photo Contest to engage with your community
Organize a St. Patrick's Photo Contest and ask your online community to share pictures of their costumes, favorite traditions or they can show how your product can be used on this fun holiday! If you want to expose your brand further, use our PhotoFun app where you can upload personalized stickers and frames. They can be customized with your corporate image, or shamrocks, Celtic crosses, and leprechauns to add more into the holiday vibe! Then you can display all submitted pictures in an online public gallery, enable the voting system to attract more attention, and encourage social media sharing to collect more votes.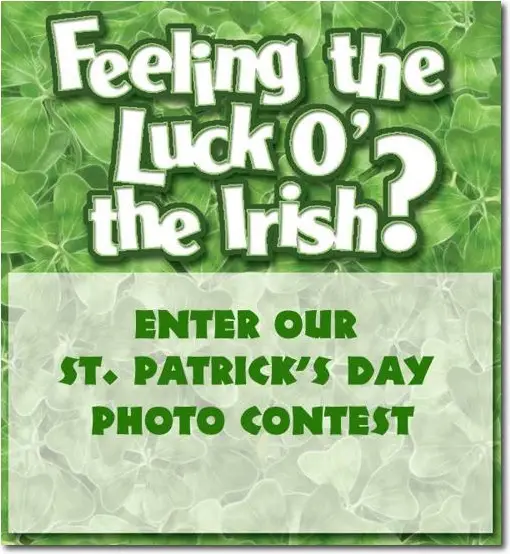 Organize a St. Patrick's Video Contest and show your brand's commitment with the Irish national party
Take advantage of the festive mood and add a little more fun with a Video Contest for your brand's audience. Ask your followers to send a video of their celebration, you could ask them to come up with their own mini-parade, do an in-character performance, or even have a go at stepdance! Whichever the choice, participants can upload their videos directly from their mobile device or through a YouTube or Vimeo link.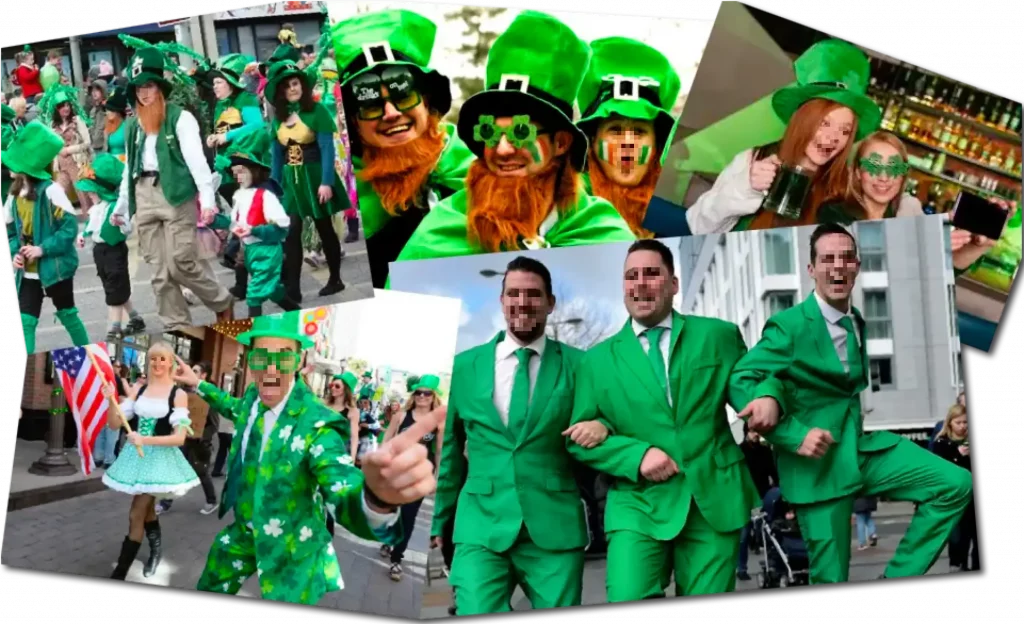 The contest and participating videos can be shared on social networks or embedded on your website to promote it and increase its reach. Not to mention that it will provide you with valuable UGC.
Launch a St. Patrick's Instagram Contest
However, if your goal is to increase social media presence you can organize the contest fully on Instagram. With our Mention + Hashtag app, you can collect all the content that mentioned your brand and used your campaign hashtag.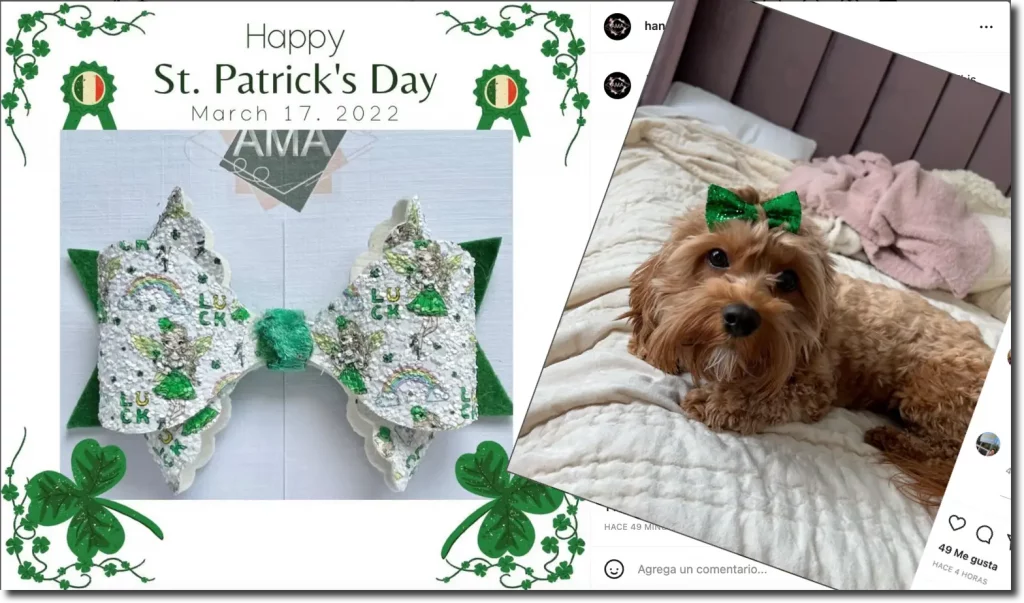 User-generated content builds customer loyalty as it's more trustworthy than content generated by your brand. This is why UGC is great to share on your social media channels!
Do you want it a bit more easy in the mix? Publish a post in your Instagram brand profile and ask your audience to comment on it to enter the prize draw. Your brand can celebrate the festive day by giving away a prize among the followers that comment on the post and mention a friend. Learn more clues, examples and templates about it with this St Patrick's day Instagram contest type.
Launch an Instagram Stories Giveaway
Instagram Stories 24-hour format fits just perfectly for holidays like St. Patricks Day, when celebrations take place for a single day. With Easypromos you can now organize fully automated and reliable giveaways on Stories. Ask your followers to post a story of their St. Patricks Day celebration on their profiles mentioning your brand as a requirement to participate in your giveaway. This dynamic will help you give you reach a wider audience on Instagram and boost brand awareness!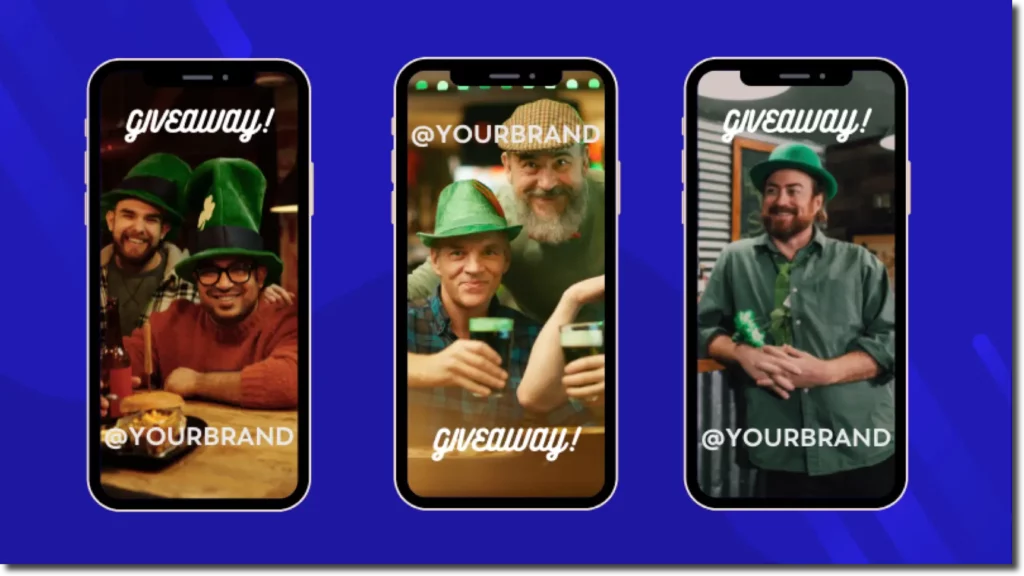 Organize a St. Patrick's Drawing Contest
If your target audience is on the younger side or more family-oriented, a drawing contest is a good idea to involve the youngest at home since Leprechauns, rainbows, shamrocks, and gold pots lend themselves perfectly for a drawing contest. This action can be easily organized with the Photo Contest app. Children create a St. Patrick's themed drawing on paper. Parents then take a photo of the drawing and upload it to the contest microsite to participate. Don't forget prizes to incentivize participation! You can decide how to choose the winners, either by popular vote, jury pick, or a combination of both. And of course, the participating drawings can be displayed in the contest gallery.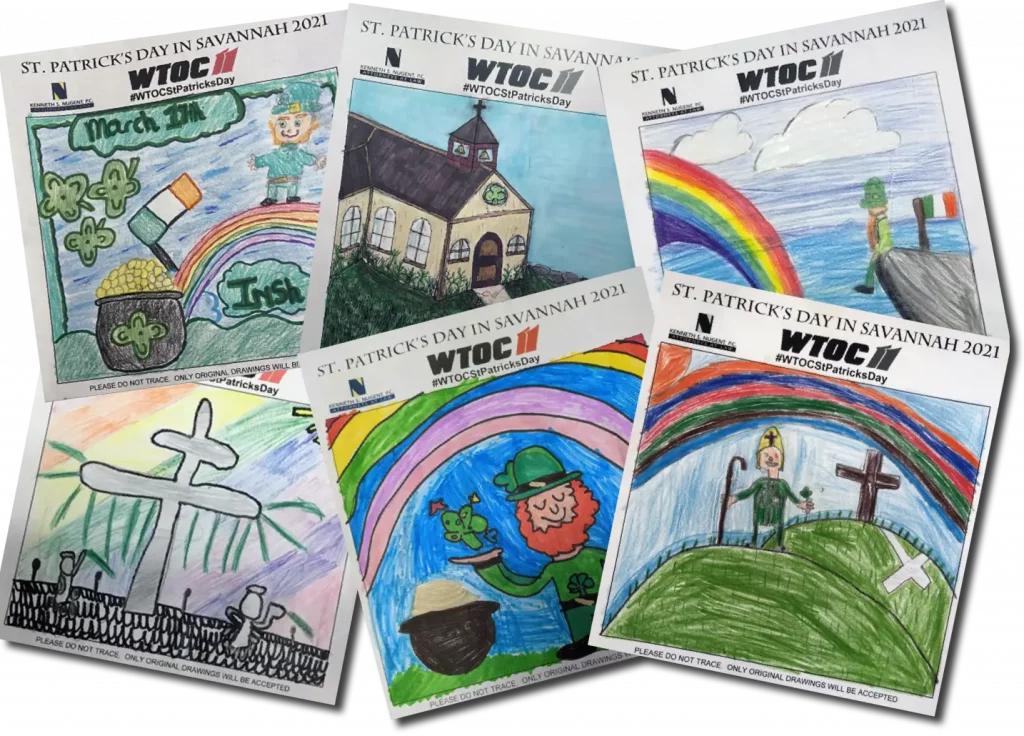 Reward and entertain your audience and collect Zero-Party data.
Treat your audience with a chance of winning something with a fun and exciting dynamic while you collect Zero-Party data with a Reveal & Win promotion. Could there be a better day than St Patrick's day to try luck? Users have 6 chances to find 3 hidden prizes to win and the customizable registration form allows you to decide which information the user has to enter to participate.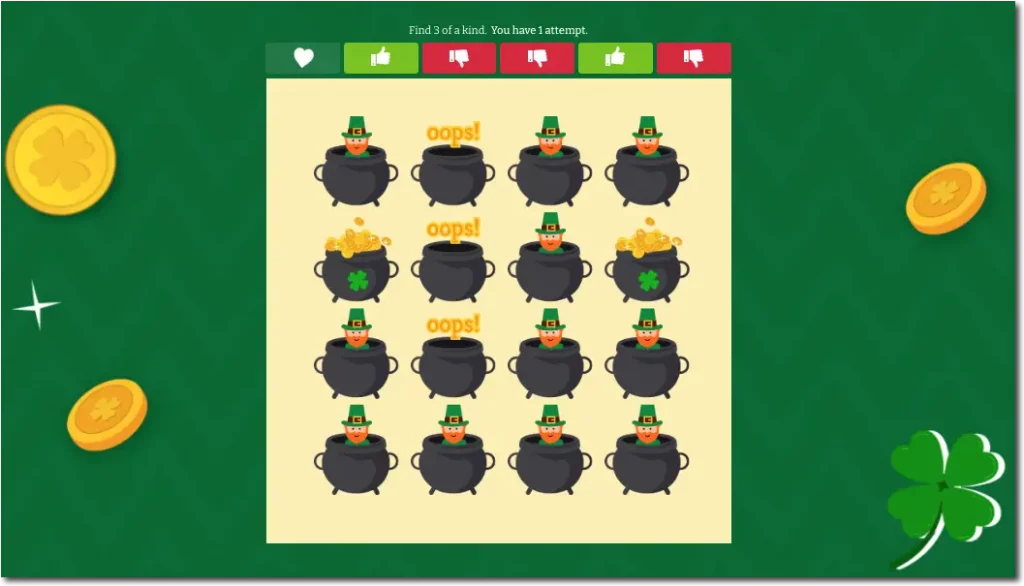 Want to check out the user experience? Try our St. Patrick's Day Reveal & Win DEMO and if you like it, download the ready-made template and create your promotion in minutes.
Additionally, every promotion created with Easypromos has its own URL so you can easily share it on your social media networks like Instagram, Twitter, Facebook, Tik Tok, by email, or through a link on your website.
Still not sure about which promotion is the best for you? Contact our customer service team via live-chat, we will be happy to help you!