Depending on where you're from your Easter egg hunt experiences will be different. If you're from North America it's most likely you've frolicked through backyards in search of decorated or chocolate eggs. However, if you're from Europe – like us – your Easter egg hunt was probably limited to watching American movies played during the holiday season. But times have changed and so has technology. And Paschal egg hunts can now be held all over the world, no matter the culture or the country you live in! Today we show you how easy it is to launch an online Easter egg hunt promotion to entertain and engage your audience, even at times when the weather or other circumstances prevent you from holding outdoor Easter egg hunts.
Create an online egg hunt to engage your audience in Easter
It's no news that at Easypromos we love digital and interactive promotions, and that gamification is one of our favorite aspects of digital marketing. Also, it's common knowledge that interactive content is more attention-grabbing than static content. Therefore implementing branded mini-games into your Easter campaign is a smart move.
Over the last few years, we had been noticing that our customers were looking for ways to launch online egg hunts, and they successfully ran some Easter campaigns with hidden eggs and bunnies on their websites. However, we decided to come up with a new, more interactive way to do it.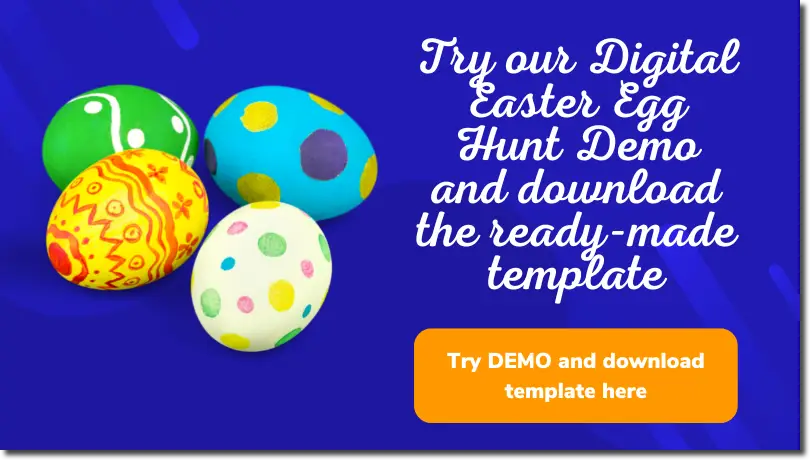 While looking for a way to create an Easter egg hunt we realized that our Hidden Objects app is perfect to create an interactive egg hunt. The app allows brands to accomplish their marketing objectives while entertaining and engaging online communities. The Hidden Objects game by Easypromos enables organizers to upload personalized images to the platform and select areas that need to be marked by players.
Start by configuring the registration form for your Interactive Easter Egg Hunt
Configure the registration form so that you can collect the user information that you are interested in. Choosing the information fields to include in the registration form depends on the marketing objectives that you wish to achieve. Are you looking to nurture your email database for future email marketing campaigns? Or is it market segmentation information you're looking for? Or is it simply that you want to entertain your audience? Having clear answers to these questions will help you configure the right registration form for your promotion.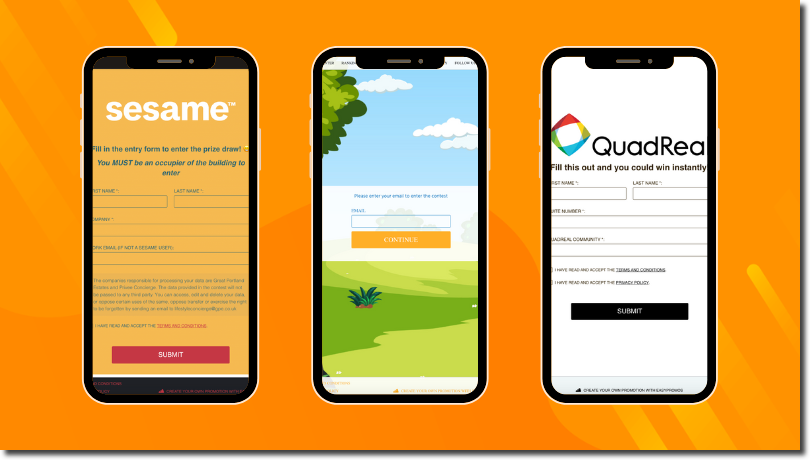 In the example above, you can see three examples of the registration forms of three different real-life promotions. Each brand included the information that best suited their campaign needs.
Custumize your digital egg hunt with your brand image or products.
Next step is to configure the digital egg hunt itself. The Easypromos Hidden objects app is fully customizable. You can edit and change all the texts and images, and customize the game to fully match your branding. Adjust the colors and images to convey your brand image for increased brand awareness and exposure. You can upload your edited image to the platform and manually select the correct areas that users will look for.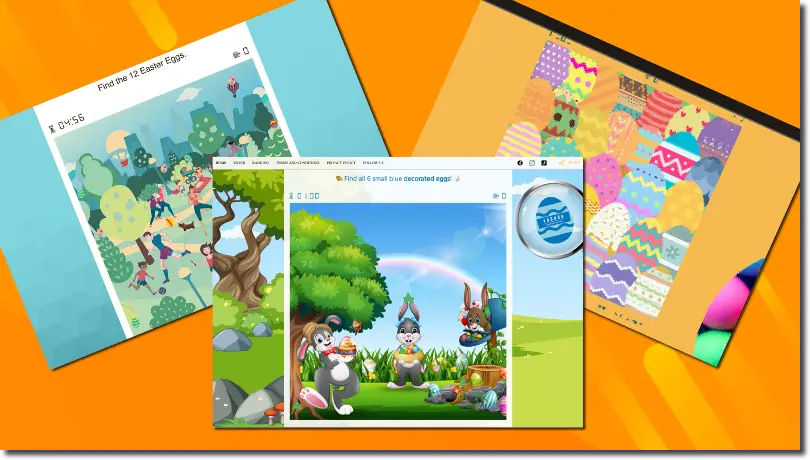 If the idea of designing and uploading an image is not your cup of tea, or if you're pressed with time, worry not. Download our ready-made Easter Egg Hunt template and viola!
The importance of prizes for your digital Easter Egg Hunt
Motivate your followers to join your digital Easter egg hunt by offering a chance to win. The prize must be attractive enough to encourage your community to invest some time into your promotion. The users will be also asked to leave their contact details in order to join the prize draw so you will also collect new leads for your future marketing campaigns. This is when the importance of the prize is even more significant; users will not share their contact details if the prize is irrelevant to their interests or likes.
Therefore, if you're a bakery, offer Easter cakes, if you're a jewelry shop give your audience a chance to win a bracelet or earrings. Remember, it's important that one of your products is the main prize, as it will reinforce product awareness. However, if you think your products or services are irrelevant as prizes of Easter promotions then collaborate with another brand! Both of you will reach a wider audience and therefore increase brand awareness.
Allow single or multiple participation in your online Easter egg hunt
Depending on your marketing objectives you can decide whether you go for a pre- or after-participation registration.
Pre-participation registration: choose this option if you're looking to reinforce customer loyalty and build brand trust. You will be able to allow multiple participation, and there should be multiple prizes involved in the promotion.
Registration after participation: go for this setting if your main goal is lead collection. Users will register only once and there will be just one big prize associated with your Easter egg hunt.
Anonymous participation: if your only goal is to entertain and engage your audience you can fully disable the registration form and allow users to participate anonymously.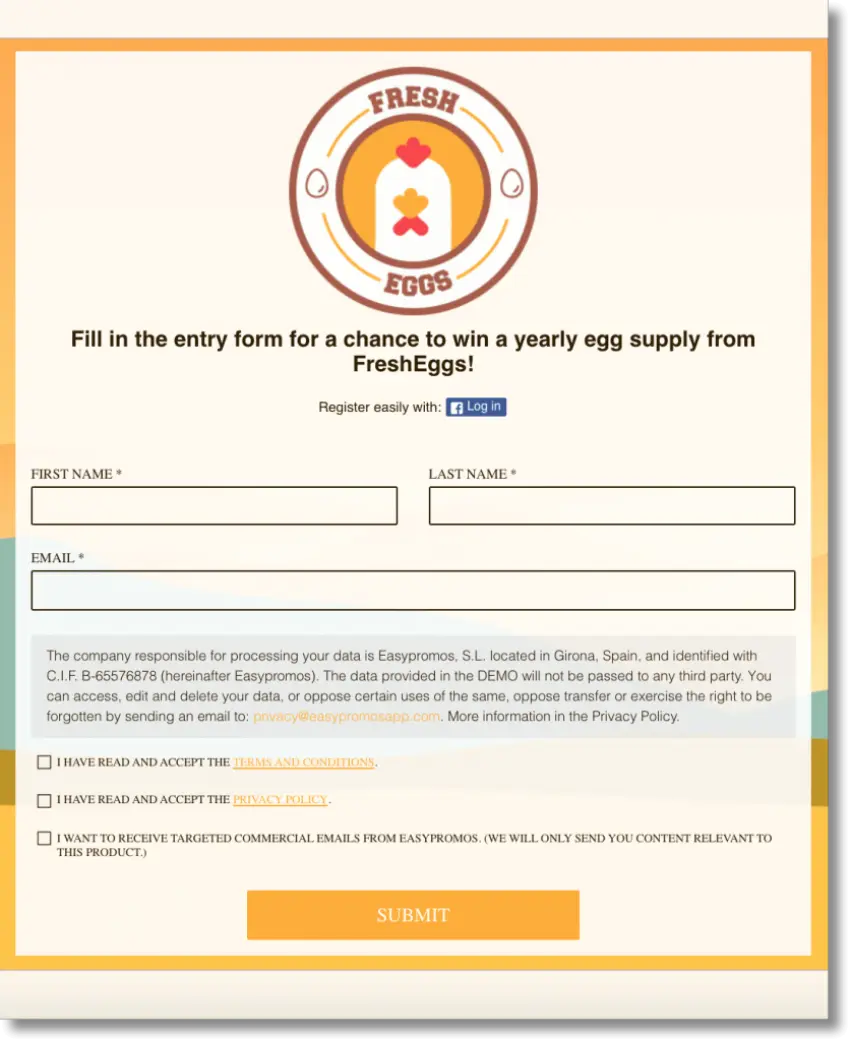 One thing to have in mind is that you shouldn't be asking for too much information from your participants. If you ask for too much they will be discouraged to fill in the registration form.
Once you finalize your promotion you can draw the winners! Give the prize to the fastest participant, or do a random draw between the 10 fastest players. You can also distribute discount codes to all registered users.
Still unclear on which option will work better for you? Here's a blog post explaining all the pros and cons of both options.
Easypromos ready-made templates for your egg hunt
Don't worry if you don't have a creative team by your side, or if you're simply not so good with digital design. We have you covered! Our team has created a ready-made Easter egg hunt template that is free to use and edit. Using it you can save up to 70% of your time and have an online Easter egg hunt ready in minutes!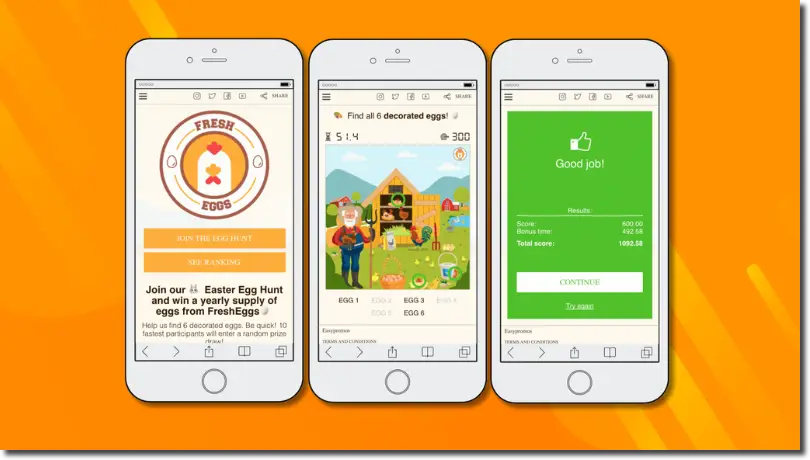 Distribute prizes with an alternative solution to online Easter hunts
At Easypromos we strive for excellence and this is why we came up with another way to run egg hunts. The following example is not a game but it's still an interactive dynamic that allows brands to distribute multiple prizes online.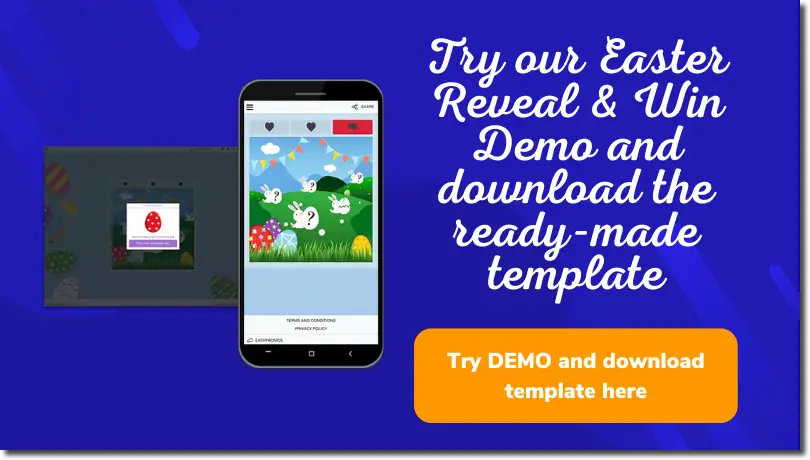 Have you ever watched a TV show with winning vaults? Or maybe you've seen promotions where users look for chests full of gold? Well, this is exactly the same dynamic but customized for Easter! The Reveal & Win app allows organizers to create interactive promotions in which users click on different elements to see if there is a hidden prize. Our Easter example comes with bunnies and eggs. Users click on the eggs to find a decorated Easter egg. You can distribute prizes by probabilities or winning moments. But there's nothing stopping you from running a final prize draw for all registered users!
Create your own digital Easter egg hunt
Ready to create your own Paschal egg hunt online? You can create your free Easypromos account and start working on your promotion. The system won't ask for any payment unless you decide to activate the campaign. Before you start, take a look at some of our favorite examples from our clients!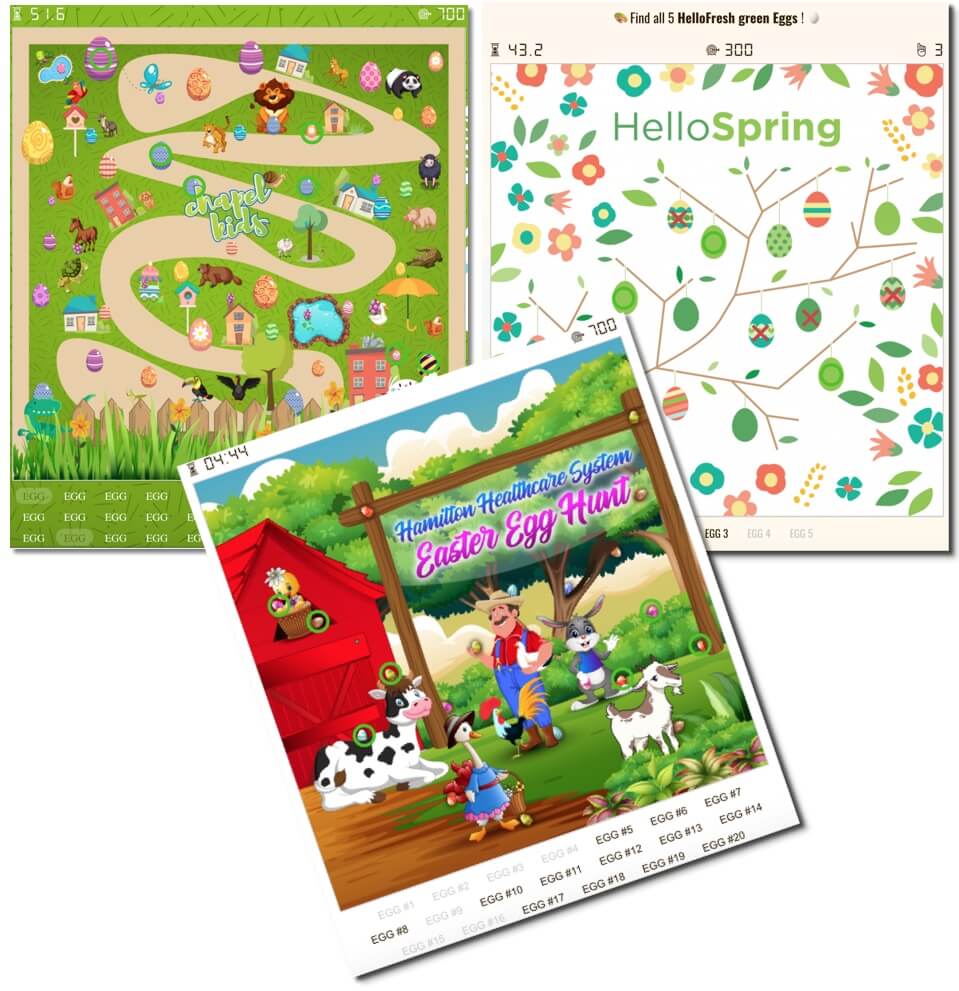 If you need more ideas and inspiration for your Easter promotion or contest, make sure you contact our Support Team, ready to answer all your questions!