Posted in: Digital marketingLast update: 28/03/22
The best way to learn something? Watch the experts! Read on for 3 real examples of digital marketing strategies that boost brand awareness. We've included some recommended KPIs and easy ways to apply these strategies for your own brand.

Brand awareness is a tricky element of marketing. It's hard to define or measure, but we know it's essential to a brand's success.
According to Investopedia, brand awareness is "the degree of consumer recognition of a product by its name". If consumers recognize your products, and view them as different from the competition, then you have more chance of making a sale.
Brand awareness can make or break a brand. Products with high brand awareness enjoy the "moat effect": because they're so well known, it's hard for any competition to break through. And in some crowded industries, brand awareness is pretty much the only thing that differentiates products. For example: are you really, 100% sure that you could tell the difference between Coca Cola and Pepsi with the labels taken off?
In this post, we'll cover 3 digital marketing strategies to boost brand awareness. Each strategy has a different approach. But they're all designed to improve brand recognition, position your brand with consumers, and ultimately increase sales.
Get more views on social media from new customers
Reinforce customer relationships with brand positioning and rewards
Stand out from the competition with original customer experiences
Get more views on social media
Let's start with something obvious: if you want people to recognize your brand, then they need to see it. The best brand awareness campaigns will get plenty of views for your products and brand online.
However, you still need to strike a balance between showing off your products and interacting with consumers. Social media is meant to be interactive, fun, and relational. So you need a way to highlight your brand and products – interactively.
This is why I recommend social media giveaways as a brand awareness marketing strategy. For example, here's an Instagram giveaway by Snüz, a high-end brand for babies and parents in the UK.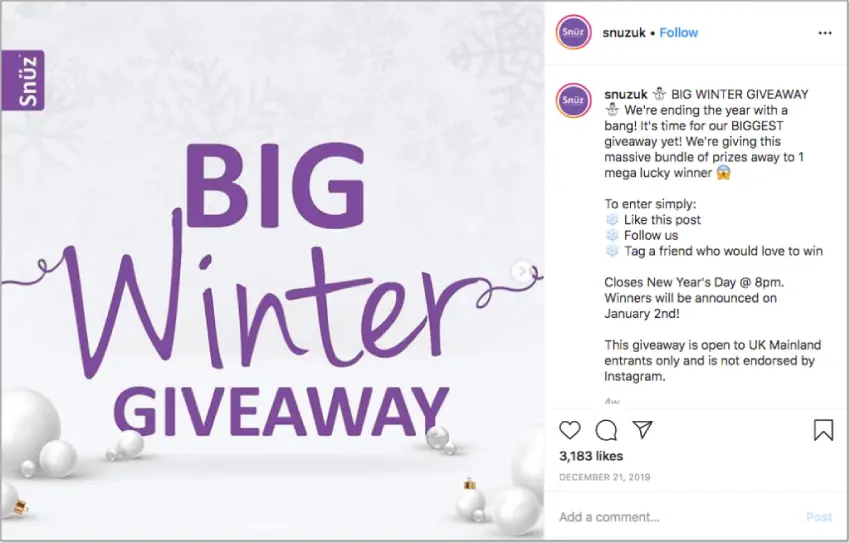 The basic idea is very simple. When someone comments on Snüz' Instagram post and tags a friend, they join a prize draw for a bundle of babywear goodies. They're also encouraged to like the post and follow the brand.
Instagram is one of the only social networks where you can ask for likes and follows. Learn more with our ultimate guide to Instagram giveaways.
Now let's look at how that giveaway boosted brand awareness for Snuz, and hit some key KPIs.
Encouraging comments: Doing something interactive, like leaving a comment, makes the brand stick in people's mind better. Consumers also feel a personal investment in the brand, because they've shared a conversation together.
Increasing reach: Comments, likes and follows will all help to surface a brand awareness campaign on social media. The more interactions you get, the more people will see your posts in the Explore tab.
Brand positioning: Snuz have chosen a prize which targets their key audience and shows that they care about families. Plus, they tied the giveaway to the winter holidays, giving them an extra boost.
The most important metric for a comments giveaway is, naturally, the number of comments your post receives. But you should also be checking other KPIs such as follower counts, likes, shares, and unique views.
Brand awareness with UGC
Our first brand awareness campaign example focused on new views and followers. Simple, social media giveaways are a highly effective way to reach new audiences.
But now let's go a little deeper. When someone sees your product for the first time, it's only the beginning of their journey towards making a purchase. You'll need to guide them on that journey – through brand positioning and the growth of the brand/customer relationship.
We already know that getting people to interact with your brand helps with brand recognition. You can reinforce that effect by responding to what people share with you. So how do you reflect people's interactions back to them?
Here's a really terrific example from another baby-centred brand, the Australian Nappy Association. They asked parents to post a photo of their child wearing cloth nappies each day during October. There was a huge range of prizes on offer, with one awarded each day.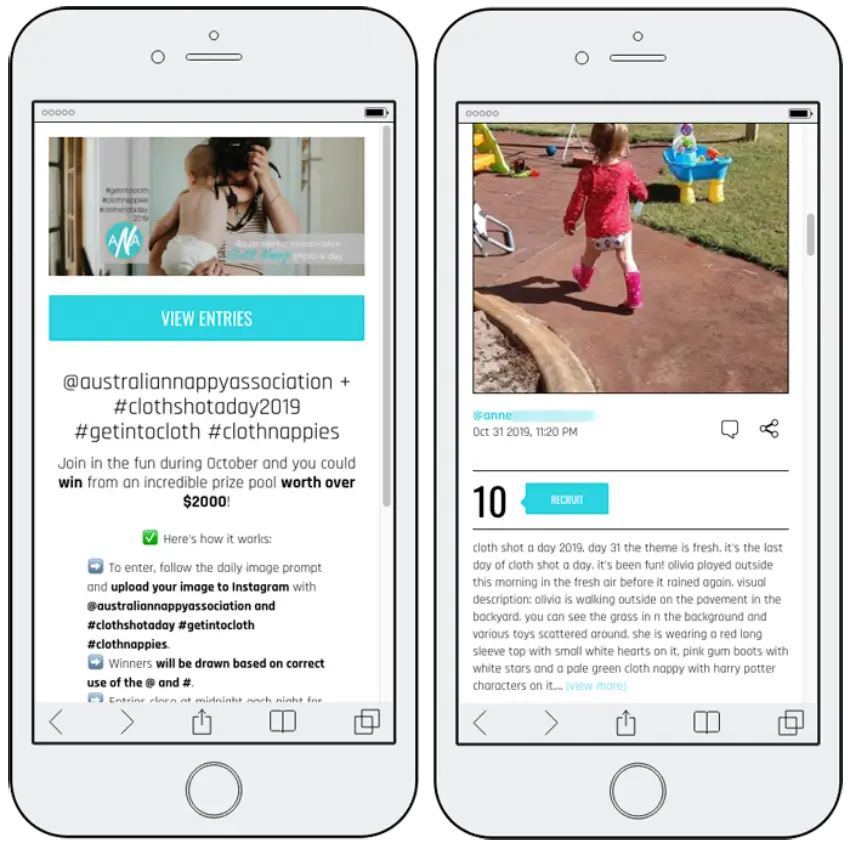 There are a ton of reasons to love this campaign – even beyond the cute baby photos.
User-generated content. Whether you collect photos on social media or set up a photo contest webpage, those images are now yours to use. That's free content – and it shows followers that you value their contributions.
Doubling down on interaction. In this brand awareness campaign example, people could vote on the photo entries. So they had two opportunities to interact: posting photos, and voting for their favorites.
Boosting social media reach. Because the contest used multiple brand-relevant hashtags, the Australian Nappy Association received a huge boost on social media.
Encouraging customer loyalty. There were daily prizes throughout the contest, so users kept coming back. And every time they came back, they were exposed to more brand products.
Brand positioning. Just like our first example in this post, the ANA used the campaign to demonstrate their family values.
Let's focus in briefly on the final point: brand positioning. According to the Harvard Business Review, shared values are behind 64% of brand relationships. That means that customers are much more likely to commit to your brand if they believe you share the same worldview and mission – in this case, caring for young families.
So product positioning and demonstrating values are essential to brand awareness. Every part of a brand awareness campaign should tell consumers who you are: from the rewards on offer, to the user-generated content you collect, to the design of your logo.
Create a brand new experience
What's the hardest part of brand awareness and product positioning?
I'd say differentiation. Your brand, your products, and your efforts to promote them all have to stand out from the crowd. That's why it's so important to offer a unique experience as part of your brand awareness marketing campaigns.
And just to add to the challenge, let's remember the tips we learned from our two previous brand awareness campaign examples. A brand awareness campaign has to be interactive and demonstrate your values and brand positioning.
Here's one example of a brand awareness campaign which really ticks all the boxes. It was created by two brands – TravelUp and Icelandic Air – to raise awareness of their shared products.
The campaign was interactive, because it invited people to create, share, and vote for user-generated content. It highlighted their brand values, by focusing on family and the winter holidays.
And it was original because it gave people something new: a branded mini-game. Instead of passively looking at products or watching ads, consumers had the chance to play and create something of their own.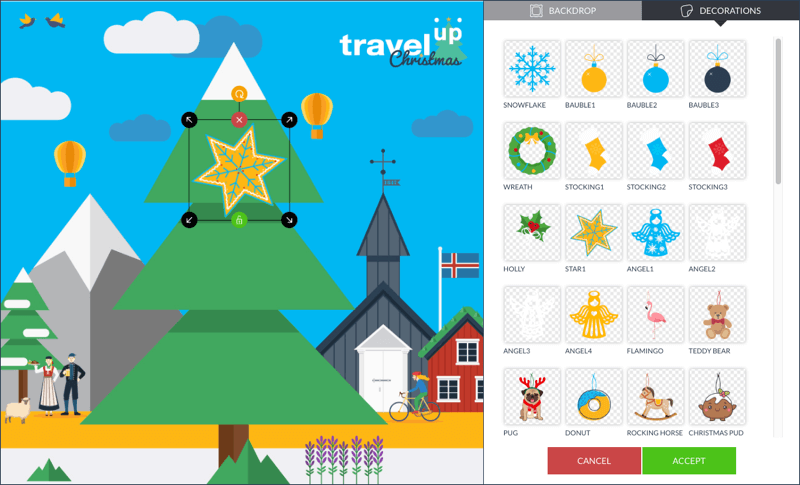 The response from consumers was huge. People loved the Christmas mini-game. And you'll notice that none of the designs were the same. Everyone who saw the TravelUp/Icelandic Air campaign had a totally different experience: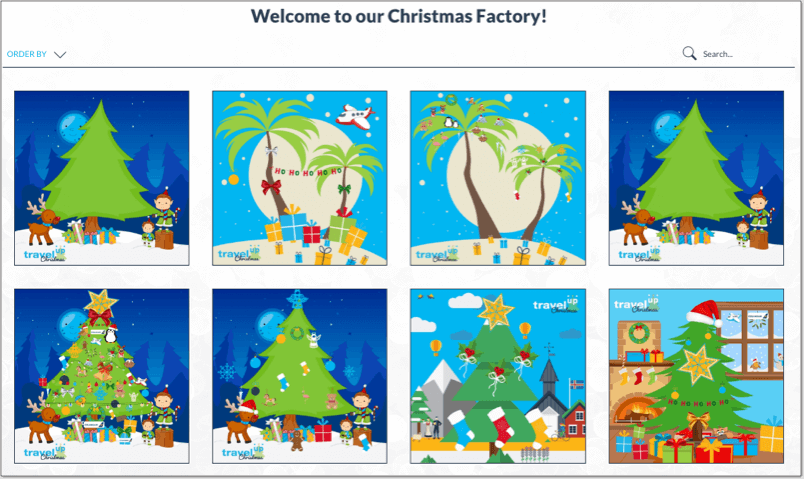 Branded mini-games are easy to create. Click here for three examples that you can build yourself.
Just like a social media contest, there are several KPIs which you can measure to evaluate your campaign. Start by counting how many entries the game receives – but don't forget to look at page views, shares, and votes as well.
Do you want to try any of these ideas? Our Support Team will help you and answer all your questions through our online chat.
Publication date: 2020-01-24